Christmas in Cairo: Where to Find Everything You Need for a Perfect Christmas Dinner at Home
written by
Nadine El Shiaty
It's certainly beginning to look a lot like Christmas – the season of joy, carolling, tree ornaments and food. Maybe not to that extent in Cairo, but the food part is definitely something Egypt's capital gets on board with. And because we're days away from the most wonderful time of the year, pulling a perfect Christmas dinner can be a headache. But sometimes, putting a Christmas meal together doesn't mean paying a fortune; it's about the joy of cooking for your loved ones and choosing what's simple and delightful.
From the amuse-bouche, the sides, the mains to the dessert and where you can find everything, we've gathered up a list of dishes to help you pull your best Christmas dinner yet.
Appetisers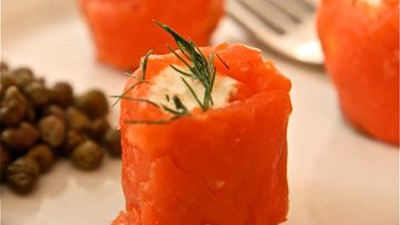 Your appetisers are much easier to put together than you think and they can be anything that's simple and tasty. With mini salmon bites with cream cheese, mozzarella and cherry tomatoes skewers, a guacamole dip served with nachos or a serving of delicious cheese fondue, you can have a mishmash of delicious starters to up your Christmas appetizer game.
Tip: Always go for the choices that are more convenient to your budget. For instance, if you find smoked salmon expensive – which can cost around 90LE per 200gm for local brands and up to 120LE for imported ones— you can just buy buffalo mozzarella (65LE per 250gm) to make the mozzarella tomato skewers. You can also use peas instead of avocadoes, to make a budget friendly pea dip. To make the fondue, you'll need either a classic cheese fondue mix (120LE per 500gm) or you can go for both a Swiss gruyere cheese (around 52LE per 200gm) and Emmental cheese (38LE per 200gm). Otherwise, you can resort to local and cheaper cheese brands, to create your own cheese platter alongside some dried fruits and nuts.
Sides & Salads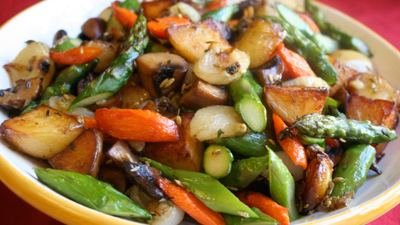 Ideally, your sides and salads shouldn't overshadow your main dishes but they should nonetheless carry an air of sophistication – it is Christmas after all. Aim for a nice refreshing green-infused salad bar with a spinach and pomegranate salad, an apple cranberry pecan salad, a seafood pasta salad or you can go for typical choices including Greek salad or a colourful salad comprised of seasonal veggies. As for your sides, you can't go wrong with roasted vegetables seasoned with apple cider or a delicious dish of sweet potatoes.
Tip: Choose your sides and salads based on winter fruits and vegetables; this is when you can reap all the nutrients and freshness. Buy your greens fresh from your nearest grocery store or packed from the supermarket and check their expiry dates. Cranberries and pecans are available at Abu Auf.
The Main Dish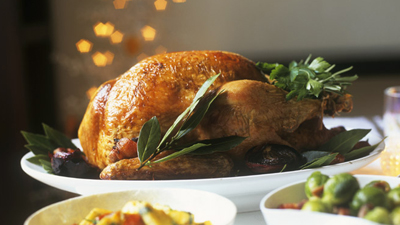 Now comes the hard part. When it comes to your mains, it all depends on the budget and the time you're willing to put in the kitchen and there's no rule that states that you have to eat turkey on Christmas Day. Aside from the customary turkey and gravy combo, a roast beef is a viable, not to mention, a delicious option, as is rosemary-infused hen, spinach sea bass fillets or, for meatless choices, you can go for a mushroom lasagne and a casserole of baked eggplant parmesan.
Tip: Get a full turkey from Gourmet at 273LE for 5 kilos or if you're making a dinner for two, you can buy one kilo of turkey at 35.5LE from Dina Farms Supermarket.
Dessert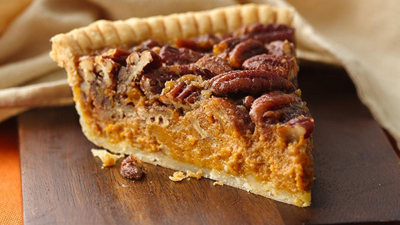 We're almost at the finish line: figuring out what's for dessert. Because a Christmas dinner calls for an outstanding dessert, we recommend a delicious pumpkin pecan pie – a winter must regardless of the occasion – or if don't have time to make dessert, you can't go wrong with a Christollen cake, a Panettoni cake or a simple pot of chocolate fondue, served with some seasonal fruits.
Tip: Panettoni cake is available in many local supermarkets including Seoudi and Alfa Market starting 100LE, whereas the bestseller Christollen cake is available at Gourmet.
Cairo 360 Christmas Dinner Tip:
Choose the dishes that are most convenient to your budget and the number of guests. Remember, you don't need to overdo anything; you can grab your favourite takeout and still have a great Christmas party. After all, it's the company that matters. Most of the time.
Merry Christmas!