Darb El Barabra: Preparing a Party Has Never Been Easier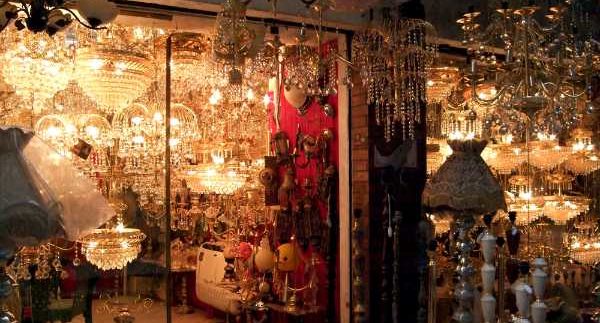 El Attaba market has existed in Cairo
for hundreds of years, creating the energetic pulse that the heart of the Capital
is known for. Anything in this area is purchasable, salespeople are truly
helpful for a change, and the market expands through many streets full of several
little shops, which would satisfy every shopping need.
Right when you think that you have seen everything that El Attaba has to
offer, a narrow alley sparkles with hundreds of lit chandeliers that can be
seen from afar. That is the clearest sign to indicate the entrance of Darb El
Barabra, the market to be in if
you're preparing for a wedding, a baby shower (sobooa in Arabic) or any other
party.
From paper lanterns and Chinese lamps starting at 5LE, all the way up to
pure-crystal chandeliers worth thousands of pounds; there isn't a single shape,
style or quality of lighting missing in this narrow alleyway. Handymen can also
be spotted inside the shops and are available anytime to repair or replace a
broken piece at a minimal cost. A variety of house decorations and ornaments
are also available, making Darb El Barabra a favourite among Egyptian brides-to-be;
especially those seeking cheap, effective products.
Darb El Barabra is the perfect and perhaps only market to sell
reasonably priced baby shower items. Traditional sobooa products are sold here,
such as little decorated boxes containing sugar almonds and chocolate. The
boxes come in all shapes and sizes, and can cost between 2LE and 5LE a piece. You
can buy the sweets from the same shop, but be sure to go through a few shops
and compare their prices and products before making a purchase.
Also be careful when bargaining the price down; an insider told us that
the shop owner can reduce the empty box's price then raise the rest of the
contents to absurd prices. However, the cost will normally be reduced if you
buy by the dozen.
Following the festive shopping spirit, the market displays colourful paper
and light decorations that would make you want a party if you aren't planning
one already. Almost every variety of celebration signs and decorations can be
found here: signs for birthdays, bachelorette parties, baby showers and get-well-soon
balloons. Granted; many of the items here are of lower quality than high-end and
more expensive shops in Cairo;
but it generally doesn't differ that much. With prices as low as 0.50LE for a
birthday hat, a whole party can be planned with less than 20LE. Look out for
the fun fruit and animal-shaped paper lanterns, as well as the star-shaped
light decorations, all ranging between 5LE and 20LE a piece.
To reach Darb El Barabra, you can park your car in the multi-level El Attaba
parking lot, but taking the metro would also save you a lot of time spent searching
for a parking spot. Be sure to dress appropriately and if you're
claustrophobic, prepare yourself for huge crowds packing the tiny alleyways.
Darb El Barabra is truly one of Old Cairo's wonders, a get-it-all-in-one market that will never disappoint you. It is a shame that the influx of touristic goods, people may assume that it is becoming more of a touristic market than the popular local market that it once was.