Debenhams Brings Cairene Shoppers to Alexandria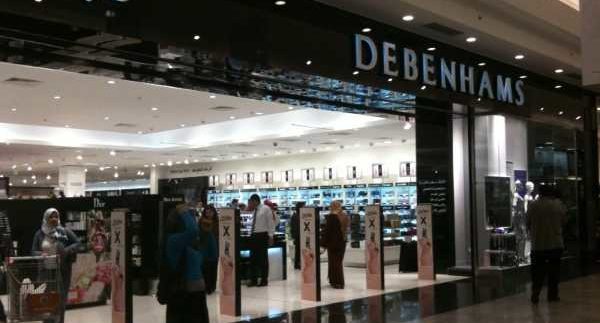 written by
Soraya Morayef
While Alexandrian shoppers have been commuting to Cairo for years in search of decent shopping and fashion labels, the recent opening of UK department store Debenhams in Alexandria indicates that the tides may be shifting in Alexandrian shoppers' favour.

Debenhams is the latest international brand to open in Carrefour City Centre Alexandria, which also hosts labels such as Zara, H&M, Home Centre, New Look, Tommy Hilfiger and Bershka.
While the store layout is impressive, those familiar with the UK department store's multilevel, multi-brand offerings may be disappointed: it's nowhere near the size of Debenhams in London and it lacks many of its popular brands.

Smartly dressed and eager sales assistants wait at the store front, positioned on every corner of the beauty section like soldiers on a warfront ready to aim. All major perfume labels are displayed, though there's nothing out of the extraordinary that can't be found in Faces or Mazaya. A Victoria's Secret booth carries the brand's body sprays and perfumes, but sadly, not the body lotions.

The store's clothing department is equally divided into sections for men and women, displaying mid-range designer labels such as J by Jasper Conran, Star by Julian Macdonald and Butterfly by Mathew Williamson for women, in addition to Red Herring, Thomas Nash and St. George for menswear. Unfortunately, there is no sign of Debenhams staples such as John Rocha and Ben Sherman, or high street labels such as Warehouse, Dorothy Perkins, Oasis and Coast.
With sizes ranging to only XL, plus-sized women and men may have a hard time finding their sizes here, despite Debenhams' reputation for its generous size range.

There is no footwear department, and the ladies' bags corner is exactly that; a corner with a few leather bags by Fiorelli and satin evening clutches that start at around 300LE. The swimwear section has a limited range of trunks, tankinis and bikinis that don't cater to all body types.

The underwear section was definitely better stocked, with the Debenhams range of two-bras-for one at an average price of 300LE. However, one complaint is that the sizes only range up to a 38.

In general, the women's section seems to be geared towards the middle-aged businesswomen; young trendsetters probably won't find anything in their style here. On the other hand, the men's section seemed to be a lot funkier, with superhero print t-shirts, comfortable polo shirts and a solid range of jeans available.

So if you ever find yourself on a weekend trip to Alexandria, make a stop in Carrefour City Centre and give credit where credit is due; this coastal city may one day soon rival Cairo in its fashion stores and shopping trips.