Egyptian Clothing Guide: Top Local Brands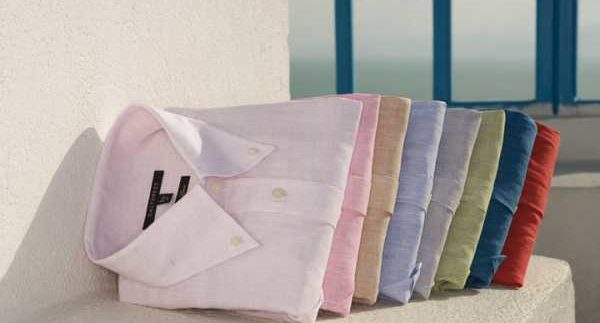 Given Egypt's
international fame for its high-quality cotton, it seems natural that the local
fashion industry would be a flourishing one. Think again. The
local obsession with imported fashion in recent years hasn't helped home-grown
fashion labels, but a few smart businesspeople and local designers
have managed to successfully tap into the potential of the country's
most famous commodity. Their companies
are producing ever-more fashionable, affordable and chic designs for local
consumption and international export. We applaud them for their efforts to take
back the local fashion market– they've put the 'Egyptian' back into Egyptian
cotton, and it's never looked better.
While mostly known for their heavenly bedding (the
most luxurious of high-thread count Egyptian cotton sheets and duvet covers
ever), And Company (also referred to as & Co) offers a nice
selection of simple, high-quality garments in Zamalek and Maadi. Think
deliciously soft trousers, tank tops, casual t-shirts and tunics in classic
pastel colours and black, brown and white. We adore the flattering yoga trousers,
which can be stylishly worn outside of the yoga studio. While these clothes
aren't cheap– prices start at about 150 LE– they are
made of the finest cotton and will last for a very long time.
Offering classic and casual menswear as well as a
kids' collection, Concrete is one of Egypt's most successful local
brands. Concrete's acquisition by Arafa Holding took it from a small local
business to a regional fashion powerhouse with numerous outlets around Cairo as well as across
the region. With prices at the higher end, a shopping excursion to Concrete
won't save you money but could net you some enviable wardrobe staples that will
last for years. We love their classic menswear; look no further for a
well-cut suit in quality fabric or the perfect button-down shirt. Kids' clothes
are adorable, too– think bright colours, fun patterns and comfortable
cuts.
Despite the dowdy name, Dalydress actually offers the
stylish shopper a respectable range of sweaters, tops, oxford-style shirts and
accessories. We especially like the flowing, silky tunic-style tops in
appealing prints for a classy yet relaxed outing outfit. The classic
sweaters come in a variety of colours and necklines, and the oxford shirts are simple
enough to jazz up with accessories. Some very nice scarves, casual jewellery
and surprisingly stylish handbags are also on offer. The organisation of
the shop by colour is helpful– go straight for your preferred hue and look
through the various styles to find exactly what you're looking
for. While not as cheap as we would like, with tops starting at around 200LE,
we feel that the quality and style-quota of the garments is
high. Dalydress is definitely worth a look, especially for those basic,
durable pieces that are hard to find elsewhere.
This local fashion chain has been largely ignored by
chic Cairenes. We can't really blame them; the shop's kitschy sign isn't
exactly an invitation to style and some of their stock is simply a fashion
nightmare. Despite these drawbacks, Fabulous does actually offer some very
wearable options and deserves a second look. The shop has a great selection of
basic tops, maxi dresses, lycra skirts and leggings in every colour and in
relaxed cotton. Prices are ridiculously low, starting at around 25LE for
a basic tank top or 50LE for a cute, empire-waist stretch shirt in
basic black. Stock at the shop's various branches is not
created equal and is better on some days than others– be sure to check
regularly for the best finds.
Mix and Match is a women's brand with branches around Cairo, offering great
seasonal collections designed by brand owner Madame Shahira. The shop targets
mature women with a slightly hippy edge, with sizes ranging all the way up to
plus-size options. The shop's designs feature pieces in wool, silk and
luxurious Egyptian cotton with subtle Oriental detailing. Mix and Match clothes
are well-made in great materials, some of which are reasonably priced (clothing
starts at about 200LE). For great casual wear and grown-up work pieces; Mix and
Match is a great brand to check out.
Everyone knows Mobaco for its Camel icon polo shirts.
Indeed, this local brand is ace when it comes to branding and image. What many
people don't know about Mobaco is that they offer so much more than polo
shirts. the brand's menswear and women's wear collections are varied,
high-quality and of international style standards. We adore their sweaters and
their excellent selection of dark-wash jeans. With prices beginning at around
150LE for a top and 300LE for jeans, Mobaco's selection is not to be missed.
This brand is not all about Safari clothes; the name
is just another ill-advised branding choice. Looking past that; On Safari does
offer some potentially interesting finds at ideal prices. On a good day at
On Safari you, could potentially walk away with a nice top or two, and maybe a
key accessory or a surprisingly chic scarf. Don't get your hopes up too high– low
expectations are key to any shopping venture– and you just might find a good
piece at On Safari. With prices starting at a reasonable 150LE, it's worth a
look.