L'Oréal's First Hijabi Model Leaves Beauty Campaign in Controversy

Bless the modern world for making tweets condemning, right? But before we get into that, those of you who have not been following the story are sure to be surprised that L'Oreal Paris hired a Hijabi model in the first place. Well, we were surprised as well, but there may have be a point to it all.
Her name is Amena Khan, she's a UK based model and a YouTube vlogger. Her previous accomplishments include  cofounding Ardere Cosmetics, and designing her own line of headscarves. L'Oreal Paris prides itself in inclusivity, so they may have thought, what more can a hair product company do than feature a woman who cannot display her hair in their campaign, in order to come off as inclusive?
In an interview with Vogue UK, Khan indicated the extent to which she agreed with both the messages of inclusivity, and women empowerment. She argued that very few brands would attempt something like this, and praised their courage for "putting a girl in a headscarf — whose hair you can't see — in a hair campaign. Because what they're really valuing through the campaign is the voices that we have."
The limelight would soon stray away from Amena. Tweets that Amena made in 2014 were discovered, and she received backlash for them; in the tweets, Amena had called Israel an illegal and sinister state. She didn't hold back and accused them of being child murderers, and in support of Gaza, hoped for the state's defeat.
According to CNN, Khan was quick to apologize for her tweets. She tried to explain that these tweets "do not represent the message of harmony that [she] stand[s] for." And how "Championing diversity is one of [her] passions." After the backlash, she finally "decided to step down from this campaign because the current conversations surrounding it detract from the positive and inclusive sentiment that it set out to deliver."L'Oreal Paris appreciated Amena's apology, and supported her decision to step down from the campaign.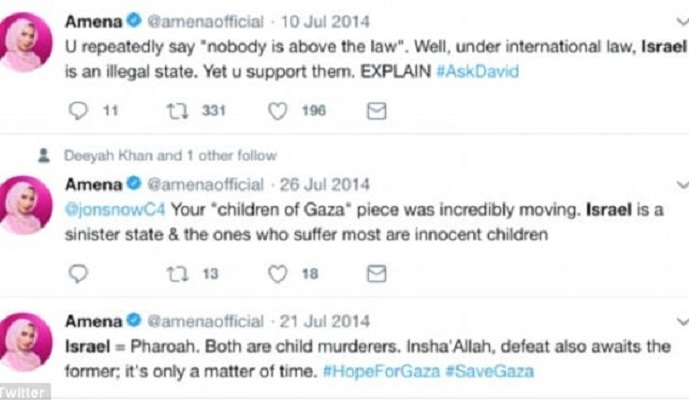 The backlash, however, continued after her apology, with people claiming that she only made that statement to maintain her modelling career. They were not impressed by her words of regret, and stated the irony in her partnering with L'Oreal Paris, when the company has had a factory operating in Migdal Ha'emek for decades. On the other side of things, the opposing party actually condemns her for apologizing, and believes she should have stood by her words and continued her stance against Israel.