Mall of Arabia to Announce Grand Prize Winner as Jurassic Shopping Festival Wraps Up
In the annals of Earth's history, nothing quite captures the imagination like dinosaurs. Whether it's blockbuster movies, or even an educational, purple T-Rex, there's a certain intangible magic to it all – something that Mall of Arabia have channelled in spectacular style over the last month with the Jurassic Shopping Festival.
While a dinosaur isn't the first things you'd pair with shopping, Mall of Arabia's Jurassic Shopping Festival has ad shoppers at the 6th of October City Mall were treated to a host of special offers, competitions and, of course dinosaurs.
The festival saw 11 blinking, moving dinosaur replicas dotted around the spacious shopping centre that were a hit with kids (and adults!) alike.
Many customers have also been taking part in the festival's Spin the Wheel game; shopping for 500LE at any store gave shoppers the chance to win vouchers and discounts at shops and restaurants around the mall – on Mondays, though – called 'Gold Mondays' – the Shop, Spin & Win offer's prizes even included gold coins.
That's not the only chance customers got a chance to win with the Jurassic Shopping Festival, however; Tuesday's Selfie El Dinosaur promotion gave people the chance at a free spin by simply taking a selfie with one of the 11 dinosaurs and using the #SelfeElDinosaur hashtag, while on Sundays, Tuesdays and Wednesdays, Cash Arabia gave put 1000LE vouchers up for grabs.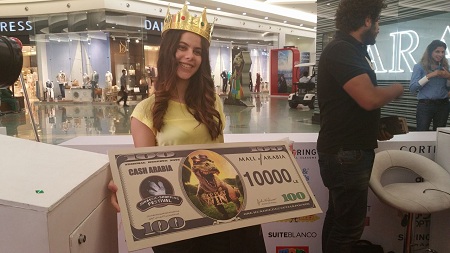 The big prize, though, has been the brand new KIA Carens that has been up for grabs; each spinner has been put into a raffle draw, which will be announced on June 4th.
For more information on Mall of Arabia and the Jurassic Shopping Festival, click here.