News Flash! Villa Baboushka Opens May 16th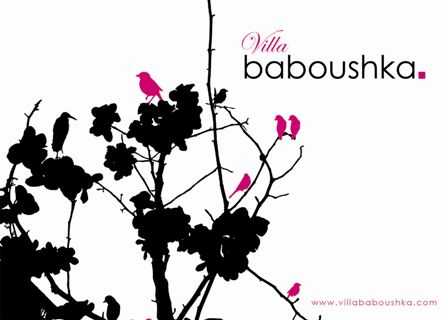 If the name Vivienne
Westwood makes your palms sweat, or the image of a Helmut Lang jacket makes you
willing to sell your firstborn for a piece, then check yourself into Villa
Baboushka on May 16 for some retail therapy.
Set in a
quaint 1930s villa in the heart of Zamalek, Villa Baboushka promises more than
just your average retail experience; shoppers will be immersed into a unique
blend of fashion, art and design, thanks to the boutique's display of original
art pieces by accomplished artists from all over the world, including France, Brazil
and Argentina.
Apart from
fashion icons Westwood and Lang, the store also stocks an impressive selection
of trendy fashion labels such as Paul and Joe Sister, Vanessa Bruno and
Elizabeth and James. Fancy yourself a star-on-the-rise? Then try on streamlined, elegant evening
dresses by red-carpet favourites Badgley and Mishka, or chic cocktail dresses by Los Angeles label
Bianca Nero.

If you're nostalgic for London shopping, Villa
Baboushka will bring London boutique shopping to you with labels like Nougat London and
Maggy London.

For something a little edgier, try Spanish cult label Hoss
Intropia or Korean contemporary label Kaylee Tankus. Mara Hoffman's brightly
coloured mini dresses will leave you swooning, while Parisian label Lespetites
will provide that much needed dose of relaxed French chic.

Vix swimwear has
been featured on Sports Illustrated and will now be available in Egypt just in
time before the summer season, while NYC label Milly will bring the embellished mini dresses and silk maxi dresses.

If any of
this has you emptying out your bank account and relocating to Zamalek, you'll
have to wait until May 16 for Villa Baboushka to officially open its doors.
Head on down at 8PM and claim asylum among the dresses. We know we will.