Shoe Shopping Guide: Cairo Kicks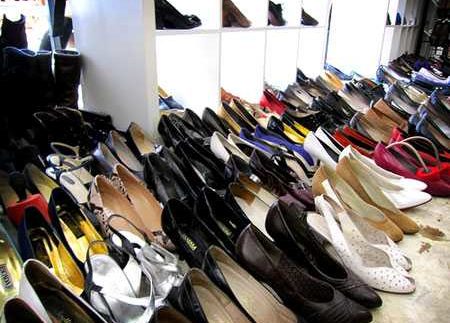 Shoe shopping has never been
a strong feature in Cairo's
retail scene. Let's face it: the shoes available around town tend to be either
inexpensive and badly made or gorgeous and bank-breaking. Add to this dilemma
the fact that the urban jungle of Cairo
likes to eat new shoes for breakfast makes shelling out half a month's salary
for the perfect pair even more devastating.
Luckily, the shoe situation in Cairo has been slowly
improving along with the rest of the city's retail options. There are now a
select few shops where cute and affordable shoes can be obtained– this is one
urban trend that we can't wait to see more of.
69: Although known primarily as
an edgy clothing boutique stocking fairly pricey items, the 69 secret is its
stock of amazing and reasonably priced shoes. We love the selection of on-trend
sandals, ballet flats and heels priced around 200LE. The best time to stock up
is at sale time; head there now to pick up cute sandals at great prices that
will still be stylish next summer. We can't wait to see what they have in store
for winter footwear: affordable boots and patent pumps? Heaven!
Club Aldo: Not
to be confused with international shoe chain Aldo, this shop is the Cairo
fashionista's dirty little secret: everyone shops there; but few will admit to
doing so. If you ask us, there's nothing wrong with wearing a bargain shoe loud
and proud– as long as it doesn't look like one. Shopping at Club Aldo requires
making strict distinctions between copied trends done well and copied trends
gone wrong– stick with the simplest models in the best-looking materials for
optimal results. Club Aldo's wide selection of sandals, flats, pumps and high
heels are priced from just 50LE to 200LE. The shoes can often trick even
experienced shoppers into making impulse buys; so tread carefully.
Khan El Khalili: Laugh all you want, but we
think this market may just be the new place to head to for dirt-cheap shoe
shopping. Yes, parking is a hassle, vendors are annoying and a lot of effort
needs to be put in to produce results; but if you can look past these issues,
we can guarantee that a respectable and affordable pair of shoes awaits you in
Khan El Khalili. We particularly like the Moroccan-style leather shoes in a
variety of colours from black to orange for less than 50LE. Look for the plain
ones that are virtually indistinguishable from your basic ballet flats and will
probably last longer, or opt for the flashier patterned varieties. Next time
you find yourself short on cash and in need of new shoes the Khan is your place–
what's the worst that could happen?
Shoe Room, Maadi: Tucked away near Maadi's
Grand Mall, with numerous other locations in Mohandiseen, Nasr City, and New Cairo to name a few, Shoe Room offers affordable sandals, flats and a few heels along
with a surprising collection of beach bags and accessories. While the offerings
at Shoe Room are not always appealing, regular visits can yield results in the
form of cute and cheap footwear. We suggest procuring your entire repertoire of
beach accessories from this shop: the beach tote bags are surprisingly stylish,
while the casual sandal selection is the store's main strength. With prices
starting at just 50LE, Shoe Room is worth checking out on a regular basis.
Shoe Express, Obour City: A little out of the way for
some shoppers, but still a saviour for inhabitants of New Cairo; Shoe Express in Obour City
is a reasonably priced shoe haven offering a good selection of footwear for
both men and women. With prices starting around 80LE and rarely exceeding 350LE,
plenty of good deals can be found at this shop. We like the casual flats and
sandals for daily wear and tear; and we suspect that a reasonable pair of
evening shoes could be found with enough patient searching. Just remember: not
all affordable shoes are created equal; so be careful not to be seduced by
cheap price tags into buying hideous footwear.
Tata Tio:With branches around Cairo, Tata Tio is one of Cairo's fastest-growing local shoe retailers.
Offering a wide range of styles from sandals to boots and bags, affordable and
attractive options are ripe for the taking. We love Tata Tio's great sandal
selection, which features replicas of the latest seasonal trends from oversized
jewels to gladiator heels. They also have a solid collection of evening shoes
and bags to choose from. It goes without saying that some of the models on
offer at Tata Tio are huge misses, but the amount of great finds are a pleasant
surprise, with prices starting at 100LE.