7 Breathtaking Holiday Destinations in Egypt this Eid
written by
Nadine El Shiaty
The Eid Al-Adha weekend is just a few days away and while some have been planning their holidays since the last Eid break, many others continue to hesitate – even squabble – over where to spend the 'Bairam' break. Many Cairenes' go-to getaways revolve in and around the North Coast and Alexandria; but we're here to tell you that there are plenty of alternatives to escape Cairo's brouhaha this Eid.
From the primitive paradise that is Siwa, to the nightlife-buzzing Red Sea destination that is Sahl Hasheesh, there's plenty waiting to be explored across Egypt's coasts.
Dahab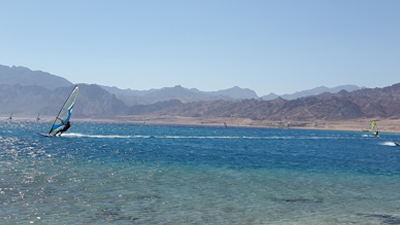 A beautiful coastal city situated 500km away from Cairo and most known for being the-go-to destination for those seeking a water-activity-themed holiday, Dahab charms with its breathtaking Red Sea locations overlooking the Sinai desert and by its underwater wonders.
In Dahab, you can enjoy a variety of activities including rock climbing, windsurfing, desert hiking, snorkelling and scuba diving.
Combining a budget-friendly accommodation, alongside a laid-back hippie lifestyle, Dahab continues to be an alternative holiday destination for lots of independent travellers and an outstanding spot for water-sports.
Enjoy your Eid break at Dahab's Sindbad Camp or at Dahab Divers Hotel – if you don't mind going a little over budget. While you're at it, try the Kitchen Restaurant for tasty meals at extremely affordable prices.
Castle Zaman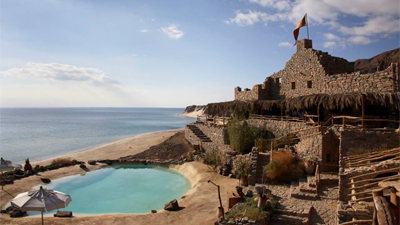 With its perfect location between Nuweiba and Taba, and its breathtaking view overlooking Jerusalem, Jordan, Saudi Arabia and Egypt, Castle Zaman is that one destination for vacationers looking for a private, mystical and a less mainstream escape.
While that stone-carved castle with a mountain-like exterior—combining an old, historical and authentic ambiance—does not offer accommodation, the castle offers, nonetheless, a pristine stone pool with panoramic Red Sea view, alongside some delicious slow-cooked meals served in pottery dishes. Only 30 minutes away from Taba and Nuweiba, Castle Zaman encourages a natural experience, where you can enjoy the weather, the water and the tranquillity.
El Gouna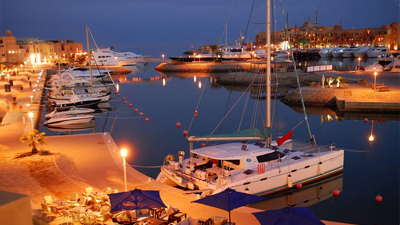 El Gouna is an ideal destination for vacationers looking to have a bundle of sea, sun, pool, while enjoying top-notch hotel and nightlife experiences. Gouna's resorts are equipped with top quality services –spa, private beaches, gigantic pools— promising you a lavish stay, not to mention some exceptional dining options such as the Club House, Maritim, Pier 88 and Jobos Sportsbar.
In terms of day-time activities, El Gouna offers a range of water-sports including water skiing, kite surfing, sailing, diving, yachting, in addition to aquarium trips, desert safari and mangrove promenades. If you don't mind spending a bit and looking to have that little-bit-of-everything getaway, El Gouna is perfect.
Siwa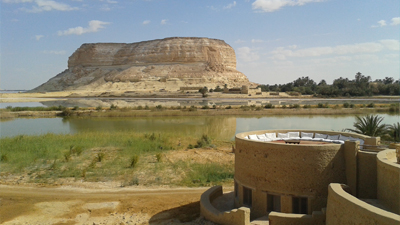 An oasis holding one of the most unique primitive ambiances you'll find in Egypt – as well as some monumental sights including the Mountain of the Dead and Alexander's Temple of the Oracle –Siwa has its own unique Berber culture.
Worlds away from El Gouna, the oasis is brimming with palm trees, with houses made from salt, donkey carts roaming the streets and has several eco-lodges with natural-spring pools, equipped with all the necessary accommodation services.
Eco-lodges like Taziry or Adrere Amellal, though quite expensive, offer magical holiday experiences with a no-electricity policy, authentic Bedouin aesthetic and breathtaking views overlooking the lake and the Adrère Amellal (the White Mountain in the Amazigh language).
We also highly recommend Siwa Gardens or Carols Ghaliet Lodge; wherever you stay, there's nothing quite like taking a stroll downtown to relish the oasis' local artisanship, with vendors selling basketry, silverware and embroidery.
Sahl Hasheesh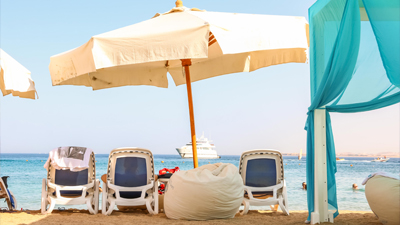 Though previously favoured as a honeymoon destination for couples, over the past few years, Sahl Hasheesh has evolved to become a popular spot for a relaxing holiday and one of the hottest go-to nightlife destinations on the Red Sea.
A 20 minute drive from Hurghada, the resort encompasses dozens of hotels with premium services, including Oberoi Sahl Hasheesh, Premier Romance Hotel and Tropitel Sahl Hasheesh.
With a breathtaking sea view, diving trips to explore its marine life and underwater wonders, relentless DJ beach parties, exclusive fine dining spots and many others, you shouldn't hesitate to pack your bags and spend your holiday there; Sahl Hasheesh has something for everyone.
Nuweiba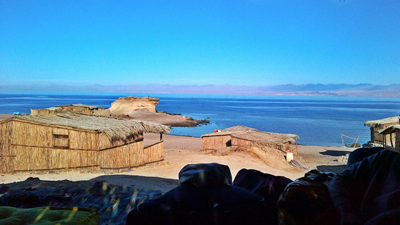 Located on the eastern tip of Sinai, Nuweiba is another perfect destination for vacationers looking to have both a laid-back and a budget-friendly holiday.
Primitive in its existence, Nuweiba is a coastal city ideal for those who are looking for peace and tranquillity; with several attractions including water activities—mainly diving and snorkelling— affordable restaurants offering tasty organic food, and several local shops selling Bedouin crafts.
Nuweiba combines some decent resorts –of which we recommend Nakhil Inn and Dream — alongside cheap camps and lodges convenient for backpackers; including Habiba Beach Lodge, Dayra and Moon Island Camp.
Ain El Sokhna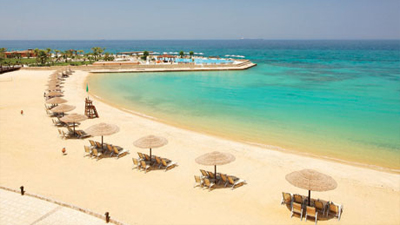 A mere one-and-a-half hours away from Cairo, Ain El Sokhna has always been that quick – sometimes spontaneous – chill-out destination for many. While most Sokhna getaways usually entail staying at a friend's – or more likely, a friend's friends' – place, hotel options at Sokhna include the town's popular resorts Moevenpick Resort and Jaz Little Venice. If you play your cards right, you can have a cheap and cheerful holiday, but with Tabla being one of the only venues that might take you away from the beach, you'll have to make your own fun.
Happy Eid!