A Veteran's Guide To El Gouna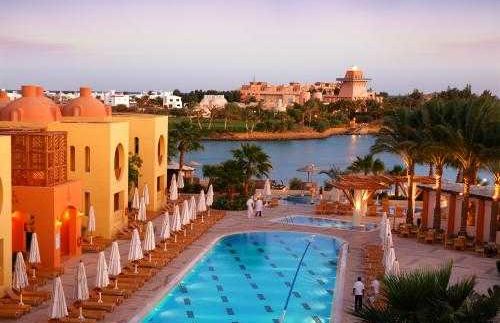 When you think of El Gouna,
you think elite, sky-high benchmarks; supreme quality of living … the list goes
on. Built two decades ago on 10km along the Red Sea coast, this quaint resort
town is very cosmopolitan yet very local, with many Egyptians and expats
choosing El Gouna as their retirement destination or the perfect summer getaway.
Getting There: Located 450km south
of Cairo, the best way to get there is to fly to Hurghada and cab it to El
Gouna (the taxi ride should cost you around 90LE). Your second best option is to
drive from Cairo, which takes around four-and-a-half hours. Having your car inside
El Gouna isn't necessary, but would be convenient if you want to go down to
Hurghada for some shopping or a night out. For travelling around El Gouna, take
a tuk tuk for just 5LE per person. You can find them at a tuk tuk stop or just
holler when you see a free one.
Staying There: If you're after five
star-pamper-till-you-drown hotels, you have the Steigenberger (famous for its pool and spa where you can get the best massage in town),
the Mövenpick, and the Sheraton– designed by the famous architect Michael Graves. For something a little more
wallet-friendly, book in Dawar El Omda
or Sultan Bey.
Both hotels are located in downtown El Gouna, conveniently across from the Clubhouse, a
popular hangout where you can tan by the pool during the day and enjoy live
music at night. At night you can go for a romantic walk on the
cobble stone bridge just round the corner of Dawar El Omda.
Breakfast: For breakfast, your
options are rather slim. Seven Stars is also located on the Abu Tig
marina, an intricately designed marina with a South of France vibe to it. Seven
Stars hosts 90% of the passionate breakfast seekers in the area. It's a nice
place to sit outdoors and soak up the warm rays of the early sun. It serves
freshly brewed coffee, along with home-baked bread, croissants and biscuits.
Dive into the croissants wholeheartedly; they are a bit overly buttered, but
nicely crisped from the outside with tender layers forming its centre. A large
breakfast will average at 75LE per person.
Head to the Beach: Avoid Mangrovy
Beach if you have no plans to wakeboard or kite surf– this packed beach is
extreme water sport terrain. Zeytouna Beach is more lounge-friendly,
though the loud animation team games and classes can be a little annoying. For
a quick escape, take a boat out to Tawila Island, which is one-hour away
from Gouna and a breathtakingly beautiful spot for snorkelling and
dolphin-sighting.
Dining Out: You're spoilt with
culinary options from Italian to Moroccan to Indian. An all-time favourite has
to be Saigon (Call 010-6762329): mouth-watering Vietnamese cuisine is
served by an efficient staff in a mellow ambiance. For starters, go for the
fresh spring rolls: the raw pastries are filled with exotic fresh vegetables
that boost your senses, and served with tamarind and peanut sauce on the side. An
average meal for two including a main course would cost between 300LE and 400LE.

Not in the mood for Vietnamese? Then try Pier 88 (Call
065/3580032) – a boat restaurant by the marina with great cocktails and
impeccably prepared food. The place is relatively small and intimate; you can
either get a table or sit by the bar. For appetisers, order the Pil Pil– prawns
in garlic sauce. A great dish to kick off your meal, the shellfish is perfectly
cooked; giving that scrumptious crunch in every bite, and the sauce is
exquisitely flavoured. Be warned: you'll
guarantee a one-meter buffer between you and your significant other for the
rest of the night from all that garlic!
Call it a seafood night and ask for the parrot fish–
yes, the parrot fish! It might sound politically incorrect but it's worth
breaking the rules for. Served with vegetables and a mash on the side, it
presents itself covered in rich creamy sauce. Boned, skinned and juicy, it has
the perfect thick texture. Make sure you order a mojito to wash down all the
flavours with. The only disadvantage was the open kitchen engulfing us in
pungent aromas. Prices vary from 150LE to 200LE per person.
Chill by the Marina : At the very
end of the marina, you're welcomed by Moods.
This chilled lounge/bar/restaurant/shisha hangout also has its own beach. A
nice place in theory, this place is always busy, which brings out its weak
point- efficiency! One has to be on the sharp lookout for a waiter, fish him
out of the crowd and place an order. Then, forget about it; your order will
never make it to your table, and if it does, chances are it won't be correct. Despite
all that, they're not that bad during low season.
El Gouna is a blissful town, but with some extra skill
put into the cuisine business, the experience there could be eternally engraved
in your memory.