Al Rifai Mosque: Cairo's Islamic & Monarchical Past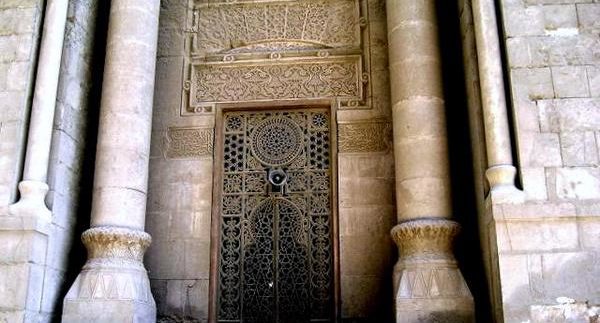 A joint architectural venture between an Arab and a Hungarian, Husayn Fahmi Pasha al-mi'mar and later Max Herz Bey, Al Rifai Mosque ceased its construction in 1912. Taking 43 years to build and covering an area of 6500 metres, Al Rifai is one of Cairo's largest mosques. The mosque was primarily built to bring the 19th century rulers of Egypt closer to their much glorified past predecessors who were responsible for historical Islamic buildings such as the neighbouring Sultan Hassan Mosque. It was also constructed in an attempt to kick start a vast campaign that would further modernise Cairo. The mosque serves as the burial place of many prominent Egyptian as well as non-Egyptian figures. It is located just across of the famous Sultan Hassan Mosque in Salah El Din Square, which is an easy yet adventurous walk from the
Mohammed Ali Citadel
.
Al Rifai Mosque is the burial site of Kushyar Hanim, who ordered its construction in 1869, and her son the famous Khedive Ismail; greatly responsible for modernising Egypt and the once included territory of Sudan. The mosque briefly hosted the deceased body of Reza Shah Pahlavi, renowned for being the final Shah of Iran prior to the Islamic Revolution, which brought about the Khomeini rule. In the same burial chamber lies the Shah's son, Mohamed Reza Pahlavi, who died in 1980 while in exile in Cairo. Another notable figure buried here was Yehya Al Ansari, a companion of the Prophet Mohamed and local saint Ali Abu-Shubbak. Although not technically buried in the mosque Sheikh Ali Al Rifai, who was a prominent Islamic figure during medieval times, has a shrine where many locals come until this day to pray and receive some of his blessings. Prior to the massive reconstruction, Al Rifai Mosque was located at the site of a small mosque named Rifai Zawiya and was believed to bring about many of the renowned scholar's followers and students.
If you choose to walk down to the mosque from the Citadel, on Salah El Din Street, there is an enjoyable view of old Egyptian houses waiting to be appreciated; Sayeda Aisha Street will also lead you to the entrance gate. Upon entering the main gate that belongs to both Al Rifai and Sultan Hassan, you will need to pass through a metal detector.. The two mosques are separated by a relatively narrow pedestrian street and the huge structure of Al Rifai Mosque should come as no surprise seeing that its size, and its ability to compete with the neighbouring Sultan Hassan Mosque, had been of utmost importance.
After a short walk to the entrance of Al Rifai, a tall staircase leads you to a large doorway. To avoid confusion, and an overall awkward situation, be ready to remove your shoes; females should bring along a headscarf.
Similar to a lot of the 19th and 20th century's prominent structures, Al Rifai has a clear Bahri Mamluk design. Once inside, one cannot help but notice the beautiful ceiling; gold was especially imported from Turkey for the gilding process at a price of 25,000LE, which at the time was a significant amount. Visitors should feel free to wander off inside this architectural wonder; we suggest you visit the burial places of Khedive Ismail and Reza Shah Pahlavi.
Once done with the viewing of the serene Islamic designs, feel free to run your hands across the shrine of Al Rifai – marked by green lights in a room at the centre of the mosque. You can even say a prayer or make a wish! We visited on a Friday morning so the mosque was quite empty; we were luckily able to rest our heads against the wall and take a quick and peaceful rest away from the outside heat. An area designated to females is also available in case they would also like to rest a while.
We also suggest you visit the ancient Sultan Hassan Mosque after you've finished with your visit to Al Rifai; as it is truly a part of the package and being so close in proximity, it is too convenient to pass up on.
The walk back on Salah El Din Street offers a number of 'ahwas', or coffee shops, one can rest and reflect in. A cup of Egyptian mint tea will surely get you back on your feet ready to explore more of the area.
Visiting Al Rifai Mosque will definitely familiarise you with the era of Egypt's once long-lasting monarchy, and its rich Islamic background. By viewing the tombs of King Farouk, the last king of Egypt, and Reza Shah Pahlavi, the last Shah of Iran, it helps form a better understanding of both the Iranian and Egyptian conclusions to their monarchies. Perhaps in these times, it's best to look back; to analyse and learn past leaders in order to get a tiny glimpse of the possible future.