Amigo Ain Sokhna: Red Sea Serenity at a Low Price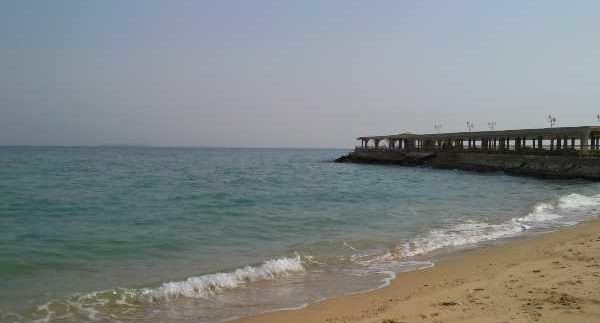 Located on the Red Sea Coast just one hour away from
Cairo, Ain Sokhna is a resort town that means 'hot spring' in Arabic, was and is named after
the nearby sulphur springs.
Ain Sokhna is generally famous with its calm sea,
amazing atmosphere, fish and dolphin sightings as well, but the problem is that
the area is quite expensive if you choose to stay in a hotel– some hotels charge higher prices than those in
Hurghada and Sharm El Sheikh!
The road to Ain Sokhna is quite smooth: it's a freeway
with a maximum speed of 120KM/hour, and offers some great natural landscapes as
most of the road is built inside and between mountains. The disadvantage of the
road is that it has nearly no rest houses or petrol stations on the way; so
make sure that you fuel up before you leave Cairo.
Located about 20KM North, after the Ain Sokhna gates on the Suez road,
Amigo Resort is a simple and small hotel. It's not as fancy as Stella Di Mare or
Palmera but it's much cheaper of course: full-board accommodation in a double
room costs 450LE while half-board costs between 350LE and 375LE depending on
the seasons. A triple room cost 515LE, while an extra bed varies from 140LE to 160LE.
Amigo's prices are quite reasonable when compared to 810LE in Palmera or over 1200LE in the Mövenpick,
for example.
The hotel's rooms are decent, adequately clean and
simple. The resort has a small swimming pool but people rarely use it: who
needs a swimming pool when you have the Red Sea? The beach itself is small but
never crowded, which gives you a sense of privacy, and the water is quite calm
and clear on most days.
Breakfast is served from 8AM to 10AM at Amigo. It's
usually a standard breakfast of three plates: omelette, chopped hot dogs with
sauce and onions, and a plate of cheese, butter and jam alongside juice and tea.
Dinner is served from 6PM to 8PM, where the hotel usually serves one of two
dishes: either meat or chicken alongside soup, vegetables and salad.
After dinner, you can take a walk on the beach,
enjoying the soothing sound of silence and the fascinating view of the Red Sea
at night.
There are also two big supermarkets across from the
resort's entrance to buy whatever you need; and also a kabab and kofta place
alongside a small fish restaurant, where you can order a seafood meal to be
brought back to the resort.
Amigo resort is considered a 3-star hotel and a
relatively cheap option for an easy Red Sea break. One of the major pros of Ain
Sokhna is that it's an all-seasons resort; so even in winter, it's still
bearable and enjoyable even if the water may be too cold for many to swim in.
To contact Amigo resort and book a room, call 06-23410000,
06-23410001, 06-23410002, 06-23410003 or 06-23410004.