Birqash Camel Market: A Souq since the days of Ibn Khaldun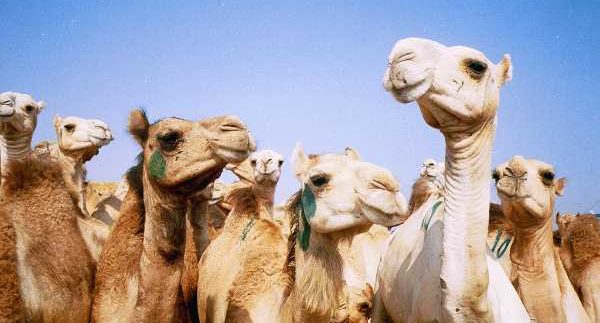 written by
Atanacia Franco
If you thought the only popular markets in Cairo were Khan El Khalili, Wekalat El Balah and El Tawfiqiyya, think again. The Birqash camel market is one of Egypt's most sensory experiences: one of the biggest markets for camel meat in Africa located on the desert plain 20 kilometres (13 miles) northwest from Cairo, this souq is active and vibrant every day of the week. Fridays are especially popular for tourists to visit as it sees the height of the traffic and bartering in the market.

On a daily basis the camels are herded up the famous Darb al-Arba'in, the '40 Day Road', the ancient caravan route that starts in Omdurman near Khartoum in Sudan. Many of Sudan's three million camels, the second largest camel populated country in the world, are herded along a dusty trail to Daraw, a camel market north of Aswan, Egypt. From there, the animals are shipped to Birqash via several oases in the back of large trucks covering a total distance of over 800 miles and taking around three months to complete. By the time they get to Birqash, many camels are somewhat emaciated due to the poor travelling conditions from being in the back of trucks for several days. Camels are also herded from Eritrea and Somalia into Sudan and then along the Darb al-Arba'in.

In ancient times the famous Arab historian, Ibn Khaldun, reported that there were as many as 12,000 camel caravans travelling along the Darb al-Arba'in to and from Cairo. Centuries ago the market used to be located just steps away from Al-Azhar mosque in Islamic Cairo but as the city has grown, along with its booming population, the camel market has been moved a number of times due to the massive amounts of space required to house them.

The prices for a camel vary depending on its appearance and health, from 300 to thousands of dollars. The more expensive camels will have shinier hair, a long and wide neck, a big hump, and strong legs. Unblemished and solid coloured camels are highly prized, while those that are white or black tend to be extremely rare and are pricey.

Upon entering the gates of the large compound, you may be overcome with the circumstances under which these camels are kept. Most camels have at least one leg tied up to limit their mobility. However, this doesn't seem to stop some of them who'll run from their owners at high speed with scant regard to anyone in their way, so always be on your guard! There are many camels with bleeding sores or bloody noses from blows taken from the sugar cane sticks, and their droppings are everywhere, so take care where you step.

The camels that have gotten too sick on the journey will be killed on site and left for some time to have the blood drained from their bodies. Usually this killing occurs close to the main gate and is not for the faint of heart! The camel's owner or herder will slit the throat of the camel in a nonchalant fashion, perhaps internally mourning the loss of potential income.

A camel owner, a kabir, may have a compound from which he brings out each camel one-by-one to be auctioned off. As a group of potential buyers surrounds the camel, each holding a sugar cane stick, they may smack the camel if it's not as submissive as they would like. The air fills with the shouted bids, camel yelps, and the whacks of the sugar cane sticks against camel flesh as each auction proceeds.

The bargaining and auctioning of camels is fascinating to watch, but do take time to explore different parts of the market. Watch Cairene butchers load camels into the back of pick-up trucks – you'll be surprised by how many can fit. Talk to different camel owners and learn about their diverse backgrounds; many of whom come from neighbouring African and Sub-Saharan nations. If circumstances permit hear some of their amazing stories, as these camel owners relive a relic of the past in our modern world.

Travel Tips:

-Wear protective shoes as you might have to run from a camel. You also don't want to make any contact with camel droppings.

-Hire a taxi from Cairo or rent a car for half a day. Taxi rides can be arranged for around 100LE for about a total three hour excursion.

* For some of the information for this article, Mohammed and Ahmed (camel traders) at Birqash Camel Market where interviewed on January 9, 2010.