Cairo 360 Guide to Hurghada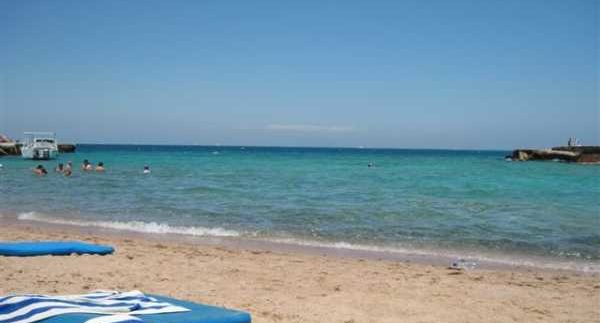 Sprawling package
hotels and lobster-red Russians are some of the clichés that come to mind when
you think of Hurghada. Some love the never-ending party scene, while others prefer
its scuba-diving sites and beautiful islands. Hurghada is like a year-round
summer destination, with warm temperatures averaging around 22 ˚C in the winter all the way up to 40˚C
in the summer.
Getting
There: A car ride
from Cairo to Hurghada will take around six hours, while a flight to Hurghada
Airport will take a little under 40 minutes via Egypt Air. Superjet buses also depart
every day to Hurghada from Cairo bus stations.

Where to Stay: Triton Empire is one of the affordable Three Corners hotels
located in the quieter, old Downtown (aka Dahar), for around 260LE per night
for a double room in high season. Two pools and private beach access at a
sister hotel five minutes away are also included, which is great; as it's one
of the only ways to access Hurghada's sandy beaches. For more upmarket accommodation,
check out the five-star Marriott Beach Resort and the Steigenberger Al Dau.
Dining Out: In Dahar across from
the Triton Empire, the Dutch-owned Red Sea 2 restaurant serves up
some delicious seafood. The Monica fish in garlic sauce (45LE) is a small but
fabulous portion, as is their tropical Florida cocktail (15LE).
Just a few
streets down, El Zahraa sweet shop offers delicious cakes and pastries
for ridiculously low prices– just 3.50LE for a medium-sized gateau. They're so
fresh and light; you'll want to stock up for your trip back to Cairo.
Hurghada's Marina area has a variety of
restaurants, including B's at The Marina, which is run by a Michelin Star chef
and is famous for their camel steak, while La Voile Blanche (Call 0141111978) offers French cuisine on a terrace facing the
marina. Sushigushi, the sister-restaurant of B's at The Marina, serves fresh
sushi starting 5PM every day, and is located between Papas Bar
and Shade in the new Marina. Call 0105667700 for reservations. If you don't feel up to quiz nights at Papas or
lounging on Shade's fatboys, the marina also houses several popular bars,
including Friends Bar, which has a red brick bar and an open-air seating area
(Call 0107707864 for
reservations).
Dive In: The best thing to do in this town is
to take a boat trip for the day to the abundant reefs
and pristine Giftun Island about an hour off of Hurghada's coast. Though
the island can get incredibly busy during high season, it's definitely worth
the visit; as the white sands and turquoise waters are just as gorgeous as any
Caribbean isle. Trips cost 150LE, including lunch and snorkel gear, start at
9AM and end around 5PM.
Hurghada has over thirty diving sites
in the area that will impress both beginners and experienced divers. Located 11km south-east
of Hurghada, Shaab Abu Ramada is a
500-metre reef known for its numerous shipwrecks. Giftun Seghir Island, just slightly north of Hurghada,
offers a spectacular vertical coral wall dive on the south-eastern side of the
smaller of the two Giftun Islands. Careless Reef is one hour north-east of Hurghada and
famous for its large gorgonians, which light up like brilliantly coloured fans.
Popular dive sites include Gulf Divers, Discovery Divers and Emperor Divers.
Surf
Heaven: Hurghada's
reliable winds and flat waters attract thousands of beginner and professional
surfers to its shores every year. The area offers a host of surf clubs,
including Pro Centre Tommy Friedl and Colona
Water Sports, which offer equipment and lessons at competitive prices. There are three
popular surfing bays, including Baby Bay, a downwind area offering plenty of
space for flying kites, body-dragging and water-starting, extending far enough
from the beach to allow 100-metre runs before getting into deeper water.
If lounging on
the beach is more your style, Dream Beach offers beach use and a towel for 40LE. Food and drinks are moderately
priced, and a nearby gym and spa are available. We recommend you avoid
Fridays, though, as a rather loud and outrageous Russian show takes place then.
Night
Out: A trip to
Hurghada would not be the same without a visit to the only Ministry of Sound Red Sea Club in Egypt, where international DJs regularly host big parties, including the
club's annual White Sensation Party every July 31st. Located in the Marina, Hed
Kandi Beach Bar is one of the world's most iconic
dance music labels, and hosts pool parties every Friday from 2PM to 8PM. Be
sure to make reservations in advance. For something more chilled, Little Buddha is more
spacious in Hurghada than its Sharm El Sheikh counterpart. Ladies get free wine
every Wednesday, the most popular day of the week in Hurghada, and while their
bar service is excellent with great cocktails, be advised that their sushi is
not always good.
With all
this in mind, you're guaranteed to have a fun and exciting time in Hurghada,
thanks to Cairo 360*.
*Special
thanks to Mayan Fawaz.