Cairo 360 Guide to The Ultimate Weekend in Sahel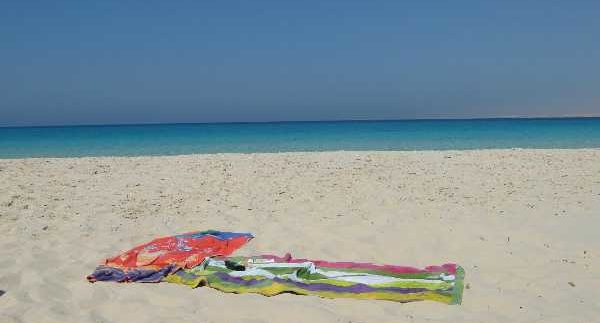 Sahel season in Egypt is currently at its
peak, especially given the fact that the holy month of Ramadan is round the
corner, and many nightspots are set to close during that time. This summer, it
looks like most of Cairo's top nightspots and boutiques as well the partying
crowd have joined in the weekly migration to the North.
Getting
There: Egypt's North Coast generally starts at Sidi
Kreer resort, a half-hour from Alexandria, all the way up to Marsa Matrouh, a
staggering 290km away. The resorts lack a specific address, since the North
Coast is one straight road, but they're referred to as 'Km 40' or 'Km 120,'
meaning their distance from Alexandria. For Cairenes, the only way to get to
Sahel is via the Wadi Natroun road, located off the Cairo-Alex Desert Road at
around 120KM from Cairo. If you drive within the speeding limit (as you should), reaching the route from the Cairo gates should take you 90 minutes- or
three hours if you're unlucky enough to be caught in the Thursday night clampdown at
the gates.
From Wadi Natroun to Marina is another 150km (give or take), and be
advised that there are several traffic control points along the way; so don't
be stupid and speed. Also bear in mind that there may be long gaps between
petrol stations; so fuel up at Masters rest house, 15-minutes before the route's
entrance, or at the first rest house point on Wadi Natroun Road, which has a McDonald's
drive-through. Once at the North Coast entrance gates, take a right to head to Rowad,
Balah and other relaxed North Coast beaches, or left to Marina (stay
tuned for our upcoming guide to Marina on Cairo 360). A mere twenty minutes after
Marina is Marassi/Sidi Abdel Rahman and the Diplomats' Beach. Hacienda White
and Hacienda follow 50 minutes later, while Ghazala beach and Sidi Heneesh
beach are located almost two hours away from Wadi Natroun. Again, your arrival
time depends solely on how fast you'll be driving, and please note that the
road between Hacienda and Sidi Heneesh is almost pitch-black at night and full
of dangerous pot-holes.
Staying
There: The bad news is that navigating Sahel pretty
much requires having a house or a friend with a house in one of the many beach
resorts. If you're planning on hotelling it, the good news is that there are
several options. The worse news is that accommodation doesn't come cheap. Porto Marina on Km 105 has over 300 rooms at a starting price of
2000LE upwards with many
eating chains such as Johnny Carino's, Chilli's and Hal'et Samak close by. Also
in Marina at Km 98, the Ocean Blue Hotel
has 24 suites with starting prices of 3500LE on weekends for Egyptians, 4500LE for foreigners. Ouch.

Al-Alamein Sidi Abdel Rahman Hotel (0464680140) is located on Km 129 with 69 rooms at a starting price of 1900LE. We recommend you
book a one-level chalet with three rooms or a two-level with five rooms if you're
moving in a large group and fancy an outdoor barbeque on their impeccable white
beach. Located on Km 141, Ghazala Regency Hotel (0464190060) has single rooms
for 1550LE (breakfast not included). Located on Km 250 and a mere
twenty minutes from Matrouh, Jaz Almaza
Beach Hotel offers 395 rooms at a starting price of 2200LE for Egyptians.
At almost Km 250, the awkwardly named
Peace Spa& Resort has just nine small suites located around a small pool, but what makes
this hotel an absolute winner is its location on Sidi Heneesh beach, arguably
one of the North Coast's best beaches with its pure white sands and lagoon-blue
waters. Prices are comparatively moderate at 1400LE per room, while three
villas have been added to the hotel, with four rooms each at 15000LE.
Partying
There: To many Sahel-bound Cairenes, the best thing
about the coast is the party options at night. While long-time favourites such
as Omar Rateb's Andrea restaurant
(located in the ever-popular Hacienda
beach) continues to draw crowds with its
chilled atmosphere, multi-level seating areas and excellent trademark food, new
options include the much-talked about Tamarai
NC151,the Sahel version of one
of Cairo's chicest nightspots, inside of Bianki resort at around Km 151. This Thursday, July 15th, the beachfront nightclub will feature an allegedly 'sexy oriental jazz
fusion' night courtesy of Beirut's Music Hall, while the Awadi Brothers are set
to spin on Friday, July 16th. For reservations on Thursday, call the ByGanz
hotline on 0107774040. As for Friday, word on the street is that you need to
be a friend of one of the owners to get on the guest list. Door entrance will
set you back 200LE if you're sitting at the bar, which, by the way, doesn't
include a single drink, while a ten-person table will cost 3000LE, according to
our sources. We highly recommend that you get there before midnight, as we've heard
horror stories of long queues and a longer wait if you arrive late. Also, avoid flip-flops
and shorts.
For
a casual upscale lounge, try Indigo
Beach Bar and Lounge in Marassi Beach– one of the latest Cairo nightspots
to take to the sea. Call 0106015036 or 0102507370 for reservations. Featuring
a chilled and picturesque outdoor area as well as an indoor area that can be
reserved for parties, the restaurant features a fusion of Indian and Asian food
as well as sushi, much like its Cairo branch.
Located on the desert side of the route on Km 124 in the Mercedes Benz Showroom, Star
Lounge operates on a guest-list basis only and promises weekend parties full
of go-go dancers (gasp!), fire stunt acts and DJs. International act Tom Novy
will
spin on Thursday, July 15th. For reservations, call 0123125120 or 013459246
before 9PM. According to their Facebook group, if they approve you, you should
get a confirmation message. If all this
doesn't tickle your fancy, there's always Sky
Bar, though rumour has it that the Beirut-based brand had a mishap last
weekend that included a blown electrical fuse. But don't listen to us, call 0120666660 for reservations and check it out yourself.
And
remember, drive safely and slowly.