Cairo Guide: Shopping in Khan El Khalili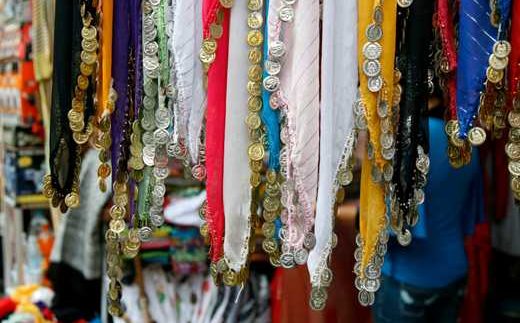 written by
Aleksandra Sekinger
There's absolutely nothing in Cairo like exploring the enormous shopping
labyrinth of Khan El Khalili, the city's largest souk that has preserved much
of its original structure since its days as a famous medieval bazaar. Tourists
and Egyptians alike arrive at this densely populated maze of streets and
alleyways to find all sorts of gifts, including Egyptian antiques, fine
handmade crafts, shishas and spices.
El Azhar Surroundings
It's not a terribly far walk from Downtown Cairo, but
the easiest way to get to Khan El Khalili is by taxi (5LE from Tahrir Square). Tell
the taxi driver 'Midan Hussein,' not Khan El Khalili; unless you want a price
increase. The taxi will drop you directly in front of El Azhar Mosque. Across
the road, you'll see a grassy knoll that is called Hussein Square, where Khan El Khalili is
located.
El Sheikh Mohamed Abdu, the street that runs behind El
Azhar mosque, is famous for three things: an old-world book binder called Abd
El Zaher Atelier, a shop full of unique jewellery and lighting fixtures
known as Al Khatoun, and the Sufi
Dancing performance at Wikalat El Ghori.
If you continue walking eastward down the street, away
from El Azhar Mosque, to the left there is the opening of a deep market that
sells non-tourist home furnishings such as curtains, fabric, tapestries, bed
sheets and towels.
The Maze of
the Market
The traditional Khan El Khalili is off the
aforementioned Hussein Square.
To reach the other side without risking your life; take the underground
passageway that connects both sides of Islamic Cairo. Once you're in Hussein
Square, walk eastward away from the grassy knoll and into the maze of the
market.
While we'd love to give you a detailed, guided tour,
these streets are ancient, unmarked and unplanned; meaning that much of the fun
is getting lost and stumbling upon something amazing in the process. Our advice
is to go as deep into the market as you can: the deeper you go, the more prices
go down and bargaining power goes up. If you ever get lost, politely ask someone
for Midan Hussein; and you'll be right back where you started.
What To Buy
Skip the touristy key-chains, fake papyrus and plastic
figurines of Egyptian gods. There are lots of treasures in Khan El Khalili that
make great gifts. Be on the lookout for alabaster pyramids and statues; these
are an Egyptian specialty. There are also several shops that sell quaint
jewellery boxes, backgammon and chess boards made with mother of pearl designs.
When it comes to handmade crafts, we encourage you to inspect the item closely for
quality of workmanship. Do not pay for faulty work.
There are many stores selling gold and silver jewellery,
home accessories and trinkets. Traditional jewellery includes kaf Fatima , evil eyes and pharaonic symbols like Horus' eye.
Several shops offer your name in hieroglyphics framed in a cartouche. Make sure
all gold and silver is weighed before the price is determined.
There are several stores that sell Egyptian antiques,
including lighting fixtures, movie posters and old books. Spice stores sell
inexpensive common spices, Egyptian incense and shisha tobacco.
El Fishawy Café
Shopping in Khan El Khalili can be exhausting and
overly stimulating. If all of the shopping has left you weary, and you're looking
for a nice mint tea and apple shisha, El Fishawy Café is just the
place to do that. Open 24 hours a day, seven days a week for the past 250
years, this mirror-laden alleyway café has hosted dozens of notables including
Egyptian literary legend Naguib Mahfouz. During the evenings, you might see oud
players, poetry readings or women offering henna tattoos.
Bargaining Tactics
Don't forget that prices in Khan El Khalili are not
fixed and you should bargain your little heart out or prepare to be properly
robbed. Generally the rule is to ask how
much the item is, and aim to pay exactly half of what the initial price was.
Walk away if you don't like their offer; they will either agree to lower the
price when you show disinterest.
Visit several shops to see what the going rate
is before agreeing to buy anything. And for the love of shopping; do not ever
show that you're interested in whatever you want to buy. You'll never get a
good price like that!