Cairo to Amsterdam: Go Dutch!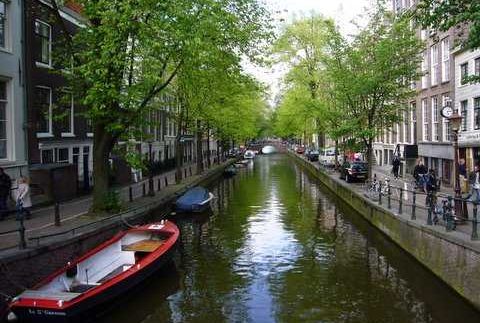 written by
Aleksandra Sekinger
While we love Cairo,
sometimes we just need to get away for a weekend and have a Eurotrip. With inexpensive
roundtrip flights (between 1700LE to 2000LE via KLM) from Cairo, you're only four and a
half hours from exploring a city of canals bursting with old world charm and a
hip counterculture– Amsterdam! Read on for must-dos and must-sees to make the
most of your Amsterdam
weekend.
Dutch Dining: No trip to Amsterdam
would be complete without trying pannekoek,
traditional Dutch pancakes. Meneer
Pannekoek offers a large variety of sweet and savoury pannekoek (10-25EUR) that are filled
and topped with all kinds of treats, including apples, ginger, cheese, raisins,
liqueur, brown sugar and bacon.
From the days of Dutch colonialism, there are several Indonesian
restaurants scattered all over Amsterdam.
If you want to try a traditionally-prepared Indonesian dish, head over to Tempo Doeloe. The rijsttafel (27-35EUR) or 'rice table'
comes with a cornucopia of savoury dishes of spicy meat and veggies.
And now, the best part: dessert. If you're in Amsterdam, and you don't stop by Winkel 43 for some apple pie, you have
seriously not done the city justice. The Hollandse appeltaart (8-10EUR) is an
authentic Dutch apple pie served warm and full of apples and raisins, a thick
shell and homemade cream.
Amsterdam Art & Culture: When visiting Amsterdam for a short
weekend, there are three sites that cannot be ignored: the Anne Frank House,
the Van Gogh Museum and the Rijksmuseum. The Anne Frank House (admission is 9EUR)
is the historic house in which Anne Frank and her family went into hiding from
the Nazis during World War II. The museum is an exhibition of Anne Frank's life
and tours of the family's living quarters.
The Van Gogh
Museum (admission is 14EUR) is the only museum in the world dedicated exclusively
to the Dutch post-impressionist painter that greatly influenced 19th century
art and beyond. Skilfully organised, the museum holds the largest collection of
the painter's works, including many uncommon works like those inspired by
Japanese prints.
The Rijksmuseum (admission is 12EUR),
or the national museum, has a large permanent collection of artwork from the
Dutch golden age. It's a must for lovers of Rembrandt van Rijn and Johannes
Vermeer.
Nightlife: When tourists think of Amsterdam,
they don't often think beyond experiencing legalised mind-altering substances
and the Red Light District. However, assuming that's all there is to Amsterdam would be a
tremendous oversight.
Amsterdam's young
population ensures a lively city nightlife. Options include festivals, pubs,
live music and cafés. Don't miss Café
't Arendsnest, which is located in an old canal house not far from Dam Square. While
many pubs sell Belgian beers, Café 't Arendsnest proudly presents over 150
varieties of beer from breweries all over the Netherlands. Tell the knowledgeable
staff what kind of beer you're in the mood for and they'll have a
recommendation for you. Beers on tap cost 3Euros to 4 Euros.
A visit to one of Amsterdam 's
most famous clubs, Escape (admission is 12-20EUR),
is a must. Every Saturday is the club's 'Chemistry night,' where famous local
DJs spin on the club's three floors. It's contemporary pop music, awesome club
lighting and partying at its best. Dress to impress, and expect to stand in a
queue; but it's well worth it!
Aside from these nightlife hotspots, Amsterdam's Red Light District is full of
other adventures we're not allowed to print. Let's just say options include coffee
shops, eager young women and the Sex Museum.
Go Local!: Although the city is super walkable, why not go Dutch? And by that we
mean, get yourself on a bike. Whether you're interested in renting a bike or
having a proper bike tour; look no further than Mike's Bike Tours Amsterdam.
This company gives proper tours (18EUR) through city centre including Dam Square, the Red
Light District, Vondel Park, the Old
Church, Niew Market and
the trendy Jordaan district.
Canal cruises are essential for any visit to the Venice of the North. The St.
Nicholas Boat Club of Amsterdam is a non-profit, volunteer-based group that
preserves historic boats on Amsterdam's
canals. The group gives informal tours around the city; so pack a picnic and a
bottle of wine and tour the city through the canals. The tours are free of
charge but they welcome donations.
No trip to Amsterdam
is complete without a browse through some of the city's most famous street
markets. At the Albert Cuyp
market, you'll find fine and inexpensive Dutch products, including herrings and
cheeses. Try the delicious Dutch
street food called stroopwafel from a street vendor, which is a thin waffle-cookie
sandwich filled with caramel-like syrup.
For more tips on uncovering all that Amsterdam has to offer, check out Time Out Amsterdam , Why Go Amsterdam or Lonely Planet Amsterdam.