Cairo to Dubai: A Cheap Deal Guide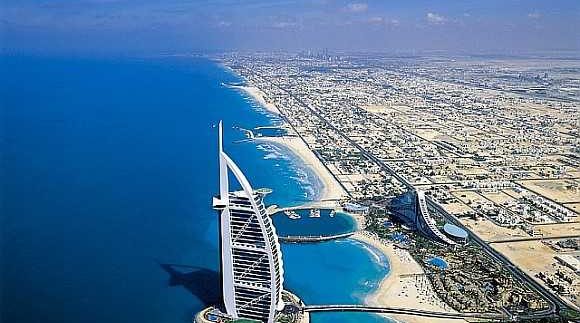 written by
Jennifer Brooks
While the hot weather is
a major deterrent for some, if you are looking for an affordable time to visit
the quiet and peaceful version of Dubai,
then seize the moment and pack your bags for a summer weekend! If humidity is
not your nemesis, then this is the perfect opportunity: you can hit the pools,
the nightlife and the malls without being too bothered by the powerful summer
heat. Since many leave the UAE for summer, you will have the shops to yourself
and won't need to worry about reserving every activity well in advance.
Getting
There: Egypt Air offers tickets for
under 2000LE, while budget airline Fly Dubai offers midseason sales
for as little as 800LE; but you'll have to travel from Alexandria's Burj El Arab Airport. If you are looking to fly to Abu Dhabi , then Etihad Airways has some similarly low rates. To book online, also
try some travel sites such as Vayama , Kayak
and Cheaptickets for shockingly cheap deals.
If you need a hotel, hotels.com , booking.com and kayak.com can provide a range of hotels at the
best prices for your budget. So coordinate dates for flights and hotels on one
easy site and you're off for a mini-break!
For early July into
August you can stay at Grosvenor House for around 1000LE per night, Sofitel Dubai Jumeirah
Beach starting at around
775LE, Atlantis the Palm starting at 1700LE per night.
Transportation is easy and
unlike in Cairo,
all taxi cabs are air-conditioned and easy to flag, with several limousine services
that you can call to reserve. The newly opened outdoor metro system is the
stuff of science fiction dreams; fully air-conditioned and impeccably clean,
the carriages have premium seating areas, TVs and wireless internet for working
commuters.
Eating: Try Lime Tree for the most colourful and
flavour-packed breakfast that you can imagine. Most of the food is displayed in
a floor-to-ceiling glass refrigerator case holding fresh and zesty salads,
juicy and unique sandwiches, in addition to the most luscious and tempting of
baked goods. From raspberry chocolate cake to hearty cheesecakes and every
tart, cake and cookie you could dream of; the selection is mouth-watering.
JW
Steak House, Prego and Da Vinci's come highly recommended for
some refreshing Italian cuisine. Take advantage of the multicultural population
and try foods from around the world; be it Asian, Italian or anything else that
strikes your fancy.
Night
life: Stop for an exotic cocktail and some Latin dancing at Trader Vic's, a local favourite that will
have you feeling as if you are vacationing in Maui .
Cavalli Club has created quite a
stir lately: for those in search of the chic, glamorous and branded type of
night on the town, this is your spot.
If you crave a good
party or a casual night out with your friends then try 360° and Barasti for day
partying, Sanctuary at the Atlantis
or Club 400 at the Fairmont for
clubbing, while drinks at Sho Cho's is an absolute must-
especially on Sunday nights.For the
high-end places, be prepared to spend around 400LE to 700LE. It's not cheap
at all; but it will be a night to remember.
Activities: A trip to Dubai would not be the
same without a visit to the unbelievable 800m-high Burj Khalifa skyscraper (formerly
Burj Dubai). Dubai Mall's promenade has the best view of the skyscraper, and if
you wait around till 9PM, the supersized fountain will hold a breathtaking
fountain show with oriental music.
For adventurous
travellers, Dubai
boasts countless daytime activities. Dubai
Dolphinarium is perfect for marine life-enthusiasts, while daredevils should
try Sky Dive Dubai, where you can
take the plunge over a breathtaking aerial view of the Palm Islands.
Other ideas range from water parks and safaris to good old-fashioned bowling,
Dubai-style. A few to check out are: Aqua
Venture, Wild Wadi, Dubai International Bowling Centre, Sega Republic,
Desert Safari, Jebel Ali Shooting Club and Ras Al Khor Wildlife Sanctuary.
Shopping: Dubai is well-known by Cairenes
as a shopper's dream come true, with plenty of international brands to choose
from, without Egypt's
burdensome sales tax. Take the opportunity to roam the many stores of Dubai Mall from high-end labels to
average to off-the-beaten-track shops. Mall of the Emirates has your
favourite international brands from Harvey Nichols to Top Shop, and houses the Middle East's first indoor ski slope, Ski Dubai. The recently opened Mirdiff City Centre has Pottery Barn and Dubai's
first branch of Cairo's
very own Abu El Sid if you're feeling homesick.
Whether you recline at
the hotel pool, spend the day feasting, err on the side of daredevil or buy your
own weight in cloths; Dubai
in summer may no longer be just a sweltering city to be avoided. Reduced summer
rates and low crowds can make it the perfect weekend getaway; but only if you
do it right.