Cairo To Paris:Everything You Need to Know about the City of Lights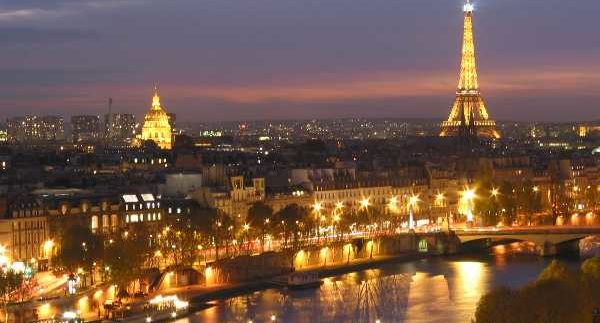 written by
Soraya Morayef
To many Egyptian aficionados of arts and culture, nothing quite beats Paris when it comes to
sophistication, refined taste, exquisite cuisine and an appreciation for the elegant life.
Before you leave Cairo
International Airport
for the glittering lights of the most romantic city in the world, there are a
few things you need to know about Paris:
Don't
Believe Ze Hype: A common stereotype that you may hear about Parisians is that they are rude and aloof. The truth is that Parisians can be rude, but in all
fairness, they're also rude to each other; so don't take
it personally. On the other hand, Parisians can be impeccably well-mannered, charming and
polite; so don't let this stereotype hold you back from making friends.
Parlez
Francais: One thing that ticks the French off (and
many other nationalities for that matter) is when tourists insist on speaking
to them in English. So make a little effort, and learn to say a few words in French,
even if it's just Excuse me and Thank You. Personal experience has shown that
it makes a huge difference in the way the locals respond to you and just how
helpful they will be to you.
Pay Through Your Nose: Paris is not cheap; in fact, it is rated the world's 16th most
expensive city by Bloomberg
Businessweek; so be prepared for exuberant prices. An average breakfast or
lunch at a brassiere will start at 25Euros, while a two-course dinner can
easily reach 50Euros, and that's just in a standard restaurant. Hotels don't come cheap either, and if you're
looking for a basic Bed & Breakfast, make sure you read the user reviews on
booking.com before making your reservations: some cheap hotels in Paris are notoriously
dirty with poor service.
Avoid
Tourist Traps: All tour companies, hotels and
travel sites heavily promote the Paris
Pass, which offers free access to over 60 museums with
discounts on several other tourist destinations. The pass will set you back
97Euros for a two-day pass and 169Euros for six days. Unless you're planning on
going to all the museums, it's best that you stick to buying individual museum
tickets. There are walking tours for the
different districts of Paris,
but you can ditch the high prices and do it yourself; all you need is a good
map of the city and an updated Lonely Planet. Another tourist trap is
currency exchange bureaus, which have much higher exchange rates than elsewhere
in Europe; so be sure to exchange your Euros before arriving.
Navigate
the Metro: Paris has arguably one of the most
complicated metro systems in the world; so take some time to study the metro
map and always remember the name of your metro line, direction and stop, as
well as the route's colour. Buy a Paris Visite
Pass for 28Euros upwards,
which gives you unlimited access to the metro and bus system.
Avoid The Crowds: To cut the lines and see all of Paris in one day, take a Paris Open Bus around the
city's main tourist spots, including the Eiffel Tower and the
Louvre. A day pass costs 25Euros and is valid all day long; so you can get on
and off the bus as often as you want. If you absolutely must climb to the top of the Tour Eiffel, get there
before 9AM; same goes for the Louvre, which becomes unberably crammed later on. If you're planning on some department store shopping, avoid Galeries La Fayette and stick to the more spacious Printemps, which has the same brands at similar discounts and one of the most spectacular terrace views of Paris.
Visit
the exquisite Art Nouveau Museum at legendary nightclub
Maxim's. The museum houses the private collection of French designer Pierre
Cardin and is full of Art Nouveau furniture, Toulouse Lautrec paintings and beautiful boudoir items. Entrance costs 15Euros. Another stellar museum is the Jaquemart-Andre Museum, which houses a
private collection of supreme art pieces by Van Dyk, Picasso,
Miro and Dali. Entrance costs 11Euros.
Take
a Walk: Paris is a walking-friendly city with parks, galleries, winding
cobblestone paths, and plenty to stare at along the way. The hill of Montmartre starts off with the Red
Light district and the iconic Moulin
Rouge, and as you take its many steep steps up to Sacre Coeur Basilica,
you'll come across an artists' market full of beautiful
on-the-spot portraits. Have an evening picnic along the Quai de La Rapée, a popular Friday night hangout for young Parisians. You can easily spend a whole morning at Pere Lachaise Cemetry, which houses the graves of Edith Piaf, Jim Morisson and Oscar Wilde. Le Marais is a perfect area to walk
around for a spot of vintage shopping,
while the Quartier Latin on the Rive
Gauche is full of bistros and bars with
live jazz music. Just across from the spectacular Notre Dame Church (entrance is free), Shakespeare
And Company is a small but very popular bookstore that was featured in Before Sunset and houses arguably the best and most diverse collection of English literature,
both vintage and brand-new.
Be
Safe and Clever: Like any metropolis, Paris has its dodgy areas like the 18th and 19th arrondissements at
night, as well as Les Halles and Gare Du Nord. Don't
take the RER over-ground trains after midnight if you're alone; so always keep
some taxi money with you. Pick-pocketing is a common problem, especially in crowded areas such as
the ground floor of La Fayette; so keep your bag shut and
under your arm with the zipper side facing the front so that you can always
keep an eye on it.