Cairo Tower: The Ultimate Guide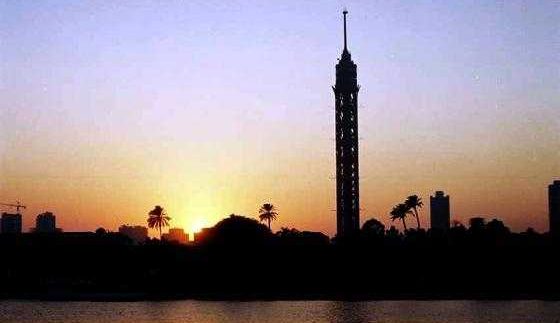 Shooting up from the middle of the Zamalek Island in Cairo; the Cairo Tower
is Egypt's tallest structure at 187 meters. Completed in 1961 and built with
funds from the USA, this landmark means different things to different people.
An amusing rumour surrounds the Cairo Tower's history, in which an aid donation
from the US government was allegedly used by President Gamal Abdel Nasser to erect
a structure evocative of an obscene hand gesture, pointed towards the USA in a
grand gesture. As much as we would like to believe this entertaining tale, it does lend the Cairo Tower some personality all the same.
The
Naoum Chebib-designed, lotus-motif concrete structure was among the tallest
concrete structures in the world when it was completed, and its summit
immediately became a favourite spot of the elite. Heads of state and even
Katherine Hepburn visited the Cairo Tower for its spectacular 360 degree view
of Cairo reaching as far as the Great Pyramids of Giza.
After falling into a state of disrepair and neglect for much of the 80s
and 90s, the Cairo Tower subsequently lost
much of its cachet as a prime tourist destination. Instead, it started to
resemble a tourist trap, and was disregarded by most people visiting Cairo as
unnecessary– after all, people come to Cairo for the Pyramids, not to see a 20th
century site.
The tower was renovated and refurbished in 2009 to once again attract millions
of Cairenes – both temporary and permanent residents. The site now boasts
five different venues for fine dining, snacking or lounging around. The ground
level has a souvenir shop selling guide books, papyrus and other various knick
knacks, and right next to it is a World Gate Tourist Information kiosk complete
with helpful attendants and a complimentary map of Cairo. Opposite these is the
Villa Zamalek, a laid-back and modern shisha café that serves light dishes and
flavourful shisha in the outdoor breeze. Impressively, there is no minimum charge.
Getting the best view in Cairo is easy; tickets to the Panorama
Observation Deck cost 20LE for Egyptians and 70LE for foreigners. The tower is
open from 9AM to 1AM in the winter, and from 8AM to 12PM in the summer. It is
followed by a speedy and ear-popping elevator ride to the top and punctuated by
breathtaking vistas of Cairo. After photographing as much as you want to, you can
enjoy light snacks at the Sky Garden while planning the rest of your day.
If your plan happens to include dinner, then the Cairo Tower may still
be the place that you want to go to. Just under the Sky Garden Lounge is the 360
Restaurant, a circular revolving dining room offering classic European and
Middle Eastern food with an elevated and rotating view of Cairo. A single
rotation takes just over an hour; so it's not too slow so as to be imperceptible, and
it's not too fast so as to induce vertigo.
Elegant classical French dining also makes its home among the upper
floors of the tower at the VIP
Restaurant and Sky Bar, while corporate meetings and seminars can be
accommodated at the mid-level Galleria floor, which is fully serviced with its
own kitchen and can be catered to specific needs.
It's good to have you back, Cairo Tower.