Castle Zaman: Nuweiba Lounge and Retreat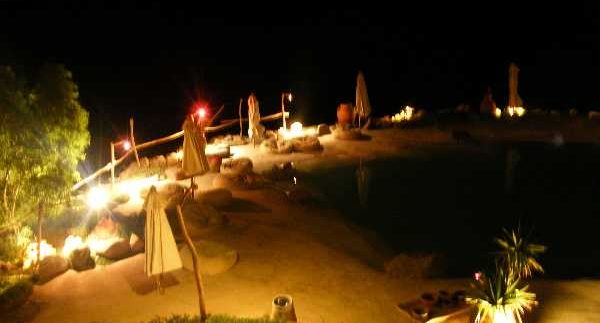 Perched on a desert hill on the coast of
Nuweiba between the Taba Check Point and Basata, Castle Zaman glitters
prominently in the evening like a lighthouse on the Red
Sea. Veteran travellers to the area view Castle Zaman as a rite of
passage: if you've been to Nuweiba often enough, you must have visited Castle
Zaman.
Located just minutes away from the always
popular and crowded Basata and several decent Nuweiba camps (we recommend The
Good Life, Sondos, Sawa, Makati and Bawaki), Castle Zaman offers pristine views, cool
cocktails and a swimming pool surrounded by comfortable bean bags to lounge on.
You can spend a long and relaxed day at the castle, which you probably should
do to get your money's worth: the venue imposes a 100LE-minimum charge at
entrance and requires reservations several days in advance on busy weekends and
national holidays. The venue's
management is absolutely adamant about not allowing anyone in without paying
the minimum charge, even if just for a quick look around.
Guests are also asked to sign a
no-substance-abuse waiver at the door, meaning that if you're caught consuming
mind-altering substances on the premises, you will be asked to leave. That
being said, you come to Castle Zaman for the drinks (seeing as it's the closest
bar for the many Nuweiba campers) and for the excellent slow-roast meals, which take up to three and a half hours to be cooked.
Ideally, you show up at the castles around midday
for a long, relaxing day of swimming in the stone pool and sunbathing with an
ice-cold drink while waiting for your dinner. The bar serves juice, cold beers and cocktails made with fresh juice. Cocktails with local liquor will cost around 30LE, while mixing with
imported liquor will raise the price tag to around 68LE (try their lemon-mint tequila or guava-mango vodka). Drinks are served in
rather small blown-glass cups; so you may need to top up your drink in
another hour or so.
The kitchen menu is limited: you can order
seafood, fish, lamb, veal or turkey. Each dish can easily feed up to three
people and comes with brown rice or barley as well as some roasted vegetables.
Our order of lamb was accompanied by a large bowl of brown rice surrounding a
healthy serving of molokheya.
None of these meals come cheap: one dish
will start at around 120LE, so if you're sharing a meal with two other friends
or more and have had a few drinks, be prepared to pay around 300LE each for the
whole day in total.
The meals are served in quaint pottery
dishes, either in the semi-open dining room or outside along the castle's
terrace. Chairs and tables are fashioned out of tree bark, the ground is
scattered with pebbles and dark tiles, and the castle's walls are made out of stone from the nearby mountains.
Every aesthetic of the Castle, every
aspect of its decor and ambiance remind you that you are in the midst of
nature. The castle has tried as much as possible not to disturb the serenity of
its surroundings; that's why the colours used are muted, and the
materials are all either recycled or natural.
Aside from the view, the food and the
wonderful pool, Castle Zaman also offers free Wi-Fi and decent changing rooms
with showers. You can rent out a towel for the pool for 10LE, or
browse through their lower-level gift shop for some Red
Sea memorabilia. At the end of your evening, it's worth hanging
around the terrace and enjoying the view of the boats on
the Red Sea. Be sure to order their mermereya
tea before heading back to your camp: the tea is served in a quaint ceramic
kettle with a camel-shaped nozzle and cute little tea cups emblazoned with
camel motifs.
The venue can be rented out for private
parties, but you need to notify them several months ahead, and the
Castle is quite strict about not allowing in kids under the age of six, as the
venue is not child-friendly.
When you're tired of the lazy life and lounging
in your Nuweiba camp, Castle Zaman is a refreshing alternative and a great spot
for a romantic dinner or fun day out with your friends.