Dahab: Snorkelers' Paradise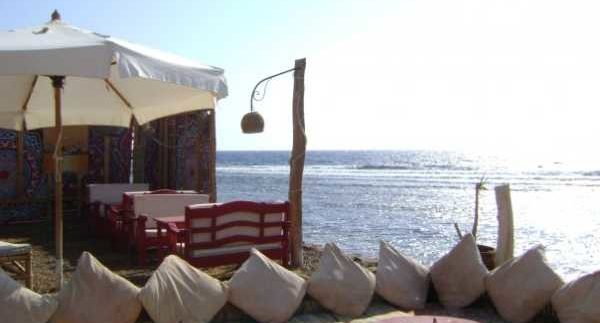 Three words:The. Blue. Hole.Nuff said. These three little words either evoke images of danger and death, or of some of the best coral reefs on the planet. While many have lost their lives attempting to navigate the blue hole's arches, staying surface-side will ensure your safety and still give you plenty of little Nemos to explore.
Imagine this:you crawl out of bed after a nice sleep in your poolside room, have breakfast on a chaise longue and make your way down the boardwalk, where you grab your snorkel gear, reserve yet another lounge chair, and dive right in. The sun is calling, and after a refreshing half hour exploring the lighthouse and saying hello to all the little fishies, your chair beckons and you collapse into it. Dripping wet and utterly relaxed, you sip on your complimentary karkadeh and let the gorgeous sun do the drying.
Too perfect? We know! And we haven't even gotten to the Blue Hole yet.
To experience the Dahab fantasy, stay at La Reine Hotel, just a few streets from Dahab's centre, with poolside balconied rooms at reasonable rates that include a decent breakfast, free internet and private beach access by free shuttle. Like many Dahab hotels, they also offer safaris courtesy of Dahab Dive Paradise, though we'll be honest; we can't vouch for them.
Another more budget-friendly option is the highly popular Penguin Hotel, which offers various room styles to suit you, as well as desert and dive safaris that have garnered a following. We hear their discovery dive for absolute beginners is a newbie's dream.
While we're on the subject of diving, do take heed.There are dive outfits on every corner promising you a wonderful time. Ask around for some recommendations (but make sure the dive master isn't their sister's 3rd cousin) and check out the business and shape of the equipment– especially if you're diving near the Blue Hole.
The lighthouse reef is easily accessible to snorkelers; just head past the bridge, at the end of the boardwalk and off the pier. There are tons of reef, mostly dead and dull, but surrounded by lots of fish. This is where you should rent a chair literally on the waterfront for 20LE a day, including karkadeh at the Palmyra Café. Stick around after you're done baking to enjoy lunch and sweet crêpes under the shade of their umbrellas.
The Eel Garden, which is exactly how it sounds, is just round the corner if you'd like to observe the slithering creatures. There are also some reef sites at the opposite end of town, if you're up for a little scouting. And if you're feeling super luxurious, you can even rent a yacht for a day and have them escort you to all the sites while you lounge in shi-shi comfort.
Swimming takes a lot out of you and what's a good vacation without delicious food? Try Al Capone for good seafood and signature Dahab shakes, the Carm Inn for more interesting fusion options, and the Funny Mummy for quality food and some clichéd Arabian-style lounging. For reportedly the best thick milkshakes in town (a Dahab specialty) drop into Same Same But Different – you'll forgive them the atrocious name after you come off your sugar high. All restaurants are located on Dahab's main strip, just ask for directions.
Now, finally– the Blue Hole. For snorkelers, it's really not as intimidating as it's meant to be, for divers, however, it's quite another story. About twenty minutes away from the town centre, the Blue Hole can either be accessed by Dahab's 'truck-taxis', where scores of snorkel providers and restaurants are waiting to greet you, or you can prearrange the trip with one of the centres in town for a morning or an afternoon.
Either way, you get your gear, walk to El Bells a few meters to the left of the Blue Hole, and enter the water. The fish you see as you swim towards the hole are spectacular, and give the hole itself a run for its money. Once you've reached the hole, you're free to explore; though most of it has now been damaged, there's still quite a bit of sea life left.
Diving the Blue Hole is perfectly safe; provided you know your limits and don't attempt anything suicidal. Problems arise when divers push past their limits, goaded by the lure of the fantastical undersea world in store, but at depths and obstacles only reserved for the pros. However, even pros have met their fate in its depths, and so again we urge caution. Go with a reputable dive company, and stay safely within your limits.
Now, we're perfectly content to snorkel, eat and lounge all day, but for your benefit, we'll give you a few more options. Popular activities include quad-biking, wind- and kite-surfing, desert safaris by jeep or camel, exploring nearby canyons and hanging with the Bedouins for tea or a full dinner.
Dahab is the perfect getaway, as clichéd as it sounds; our time spent there is always filled with great memories and is pretty idyllic. Tailor it to your liking, and you'll soon be making return visits. We dare you not to.