We've always prided ourselves for being Cairo's Ultimate Guide, and we've chosen to carry that mantel because of the love we have for the beautiful and utterly full city of Cairo, as well as its lively Cairenes. However, as with all relationships, we couldn't help but be a little tempted with a love for another city, and while we remain completely loyal to Cairo, we must confess that a small part of us has truly fallen for Dubai.
Visit Dubai invited us on an ultimate trip to Dubai, showing us every nook and cranny of the glamorous city, and showering us with the sophistication, beauty, and luxury of Emirates' Dubai. Visit Dubai is a website and an entity founded to be the guide to all those looking to travel to Dubai. It helps travelers plan everything from accommodation to travel arrangements and helps you with planning an itinerary that includes all the most important sights. They've collaborated with TRACCS, the largest independent public relations network in the Middle East and North Africa, and organized a truly amazing trip.
So, let us take you through the trip that Visit Dubai & TRACCS took us on. We're sure you'll be as captivated and taken aback by it as we were.
Day 1 – Arrival
We arrived at Dubai International Airport at about 5pm, completely astonished by the airplane itself. You see, Visit Dubai booked us a Business ticket on Fly Emirates, and you haven't flown business until you do so with Fly Emirates. We couldn't find much difference between our seats and a 5-star hotel room, from the leather ergonomic seats to the 23-inch entertainment screen, surrounded by the sleek finish of all the materials around us; we really didn't want the flight to end.
The spoiling resumed upon arrival with a luxury car waiting to transport us to Zabeel House Hotel, a beautifully eccentric establishment filled with quirky decorations. We were treated to a delicious dinner, then invited to rest, ready for the first real day of our trip.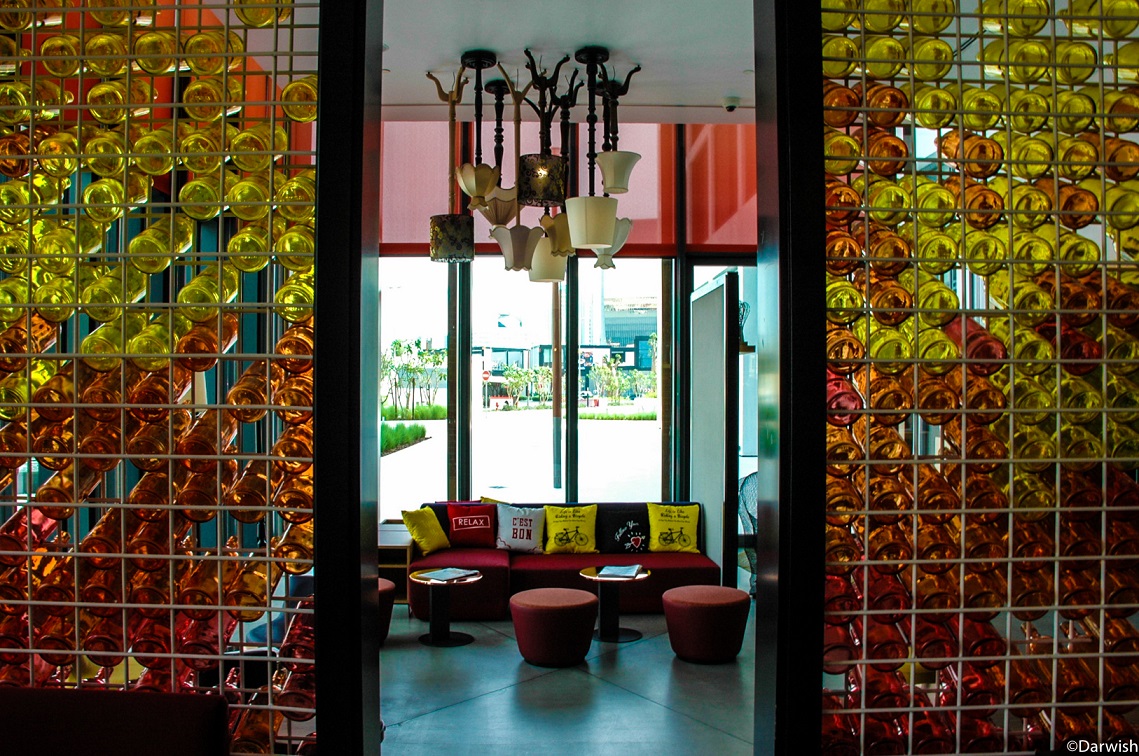 Zabeel Hotel, Taken by: Ahmed Darwish
Day 2 – The Green Planet Experience
After breakfast, we were taken to City Walk Mall, but we weren't there for the shopping. The Visit Dubai team took us to the Green Planet & Hub Zero; a small slice of nature highlighting its sheer beauty. It's like walking into a jungle with the most gorgeous and rare animals. Bamboo bridges take you around stunning trees where you could marvel at the birds, insects, and snakes.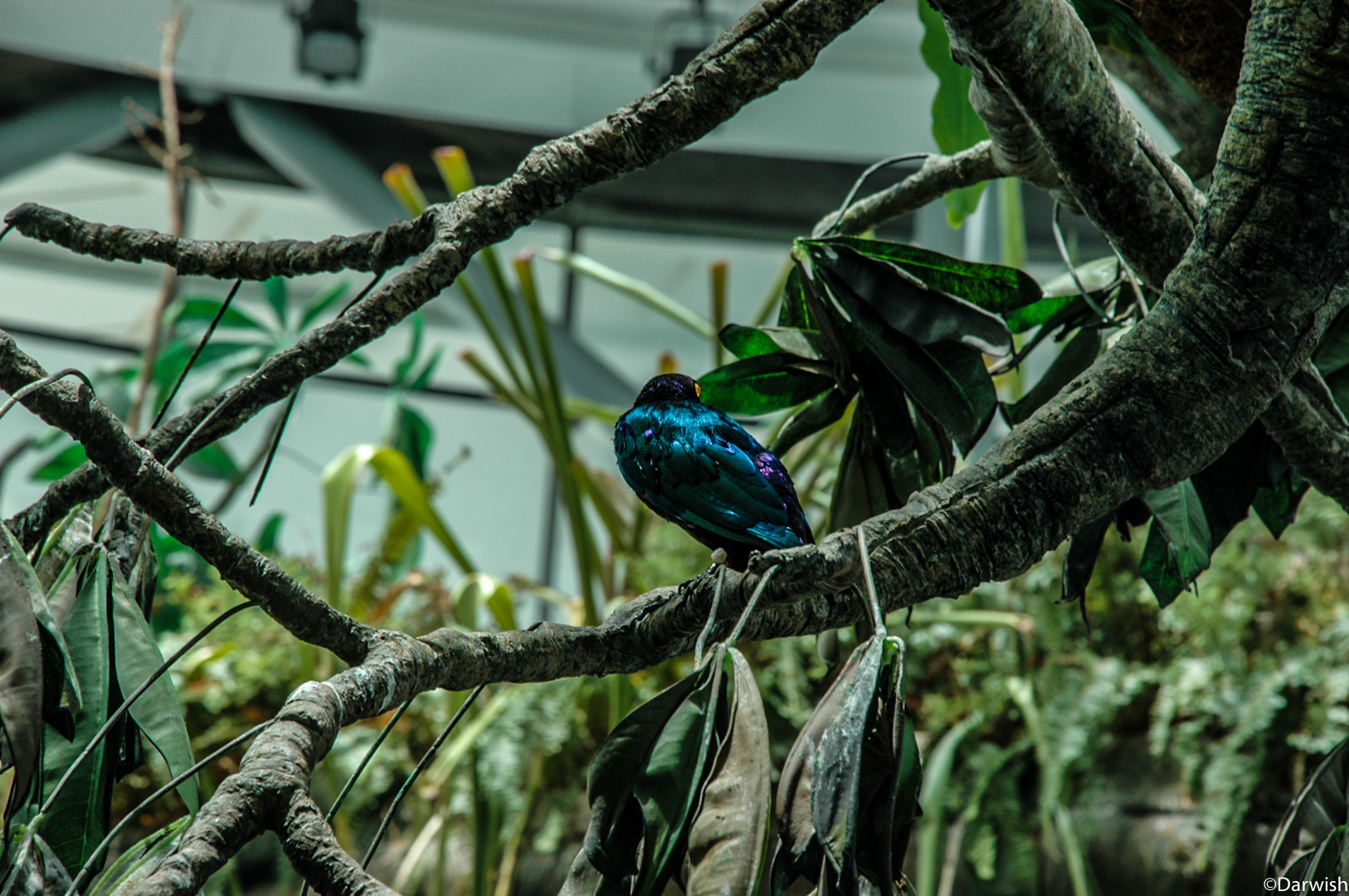 Green Planet, Taken by: Ahmed Darwish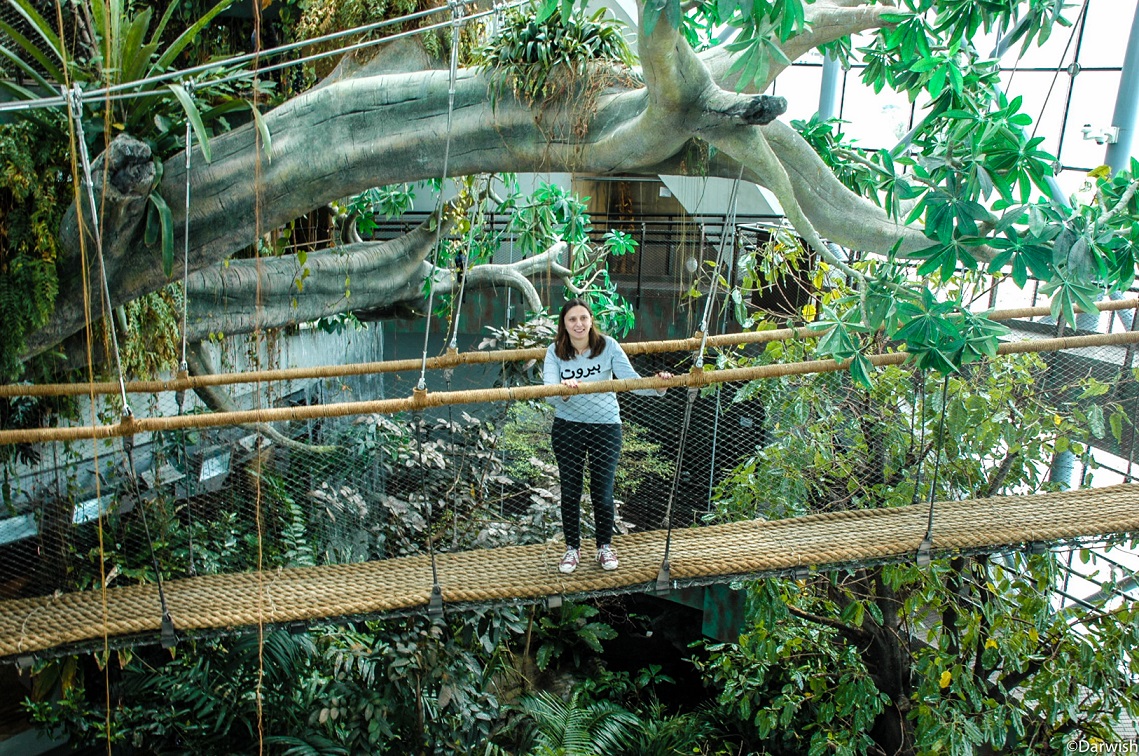 Green Planet, Taken by: Ahmed Darwish
A bit of rest was needed. After lunch, and some relaxing time at the hotel, we had a meeting with the management team, who led us on a tour through the hotel. Afterwards, the EXPO 2020 team met with us to talk about their exciting activities in the world of new ideas.
Mercato Mall was our destination for the evening, and like always, Visit Dubai helped us meet with the management team to get the full experience. We satisfied all our shopping cravings, then filled our bellies with an amazing dinner at the mall.
Day 3 – Dubai Mall Experience
This is when things really picked up in pace. We first met with the DTM Spokesperson of Dubai before we commenced our daily activities. We started with IMG Worlds of Adventure, and for those who don't know it, this is the happy place for all Marvel fans. IMG World offers rides and attractions for all things Marvel, every character gets his special ride, and fans are sure to find it difficult to leave this place. It also has parts dedicated to Cartoon Network characters. Of course, it wouldn't be complete without the Dubai touch, which is exactly why you'll find a 109,500 AED golden statue of Iron Man, yes, that's over half a million Egyptian Pounds.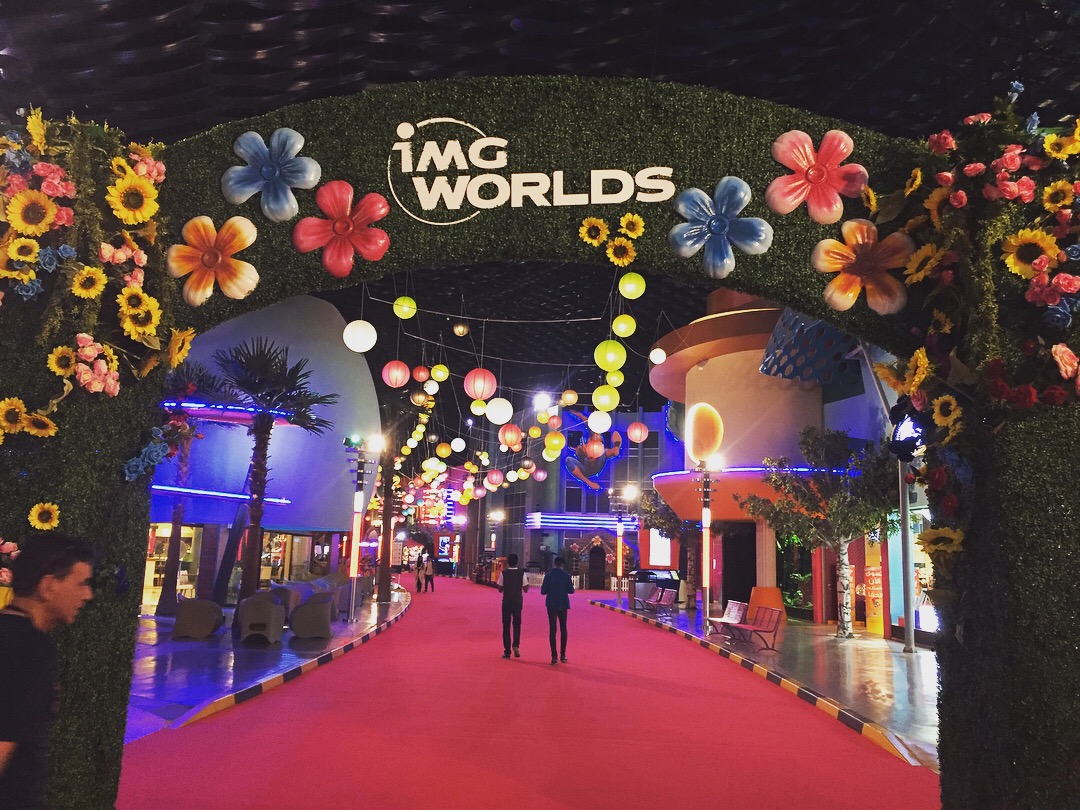 IMG Worlds of Adventure, Taken by: Ahmed Darwish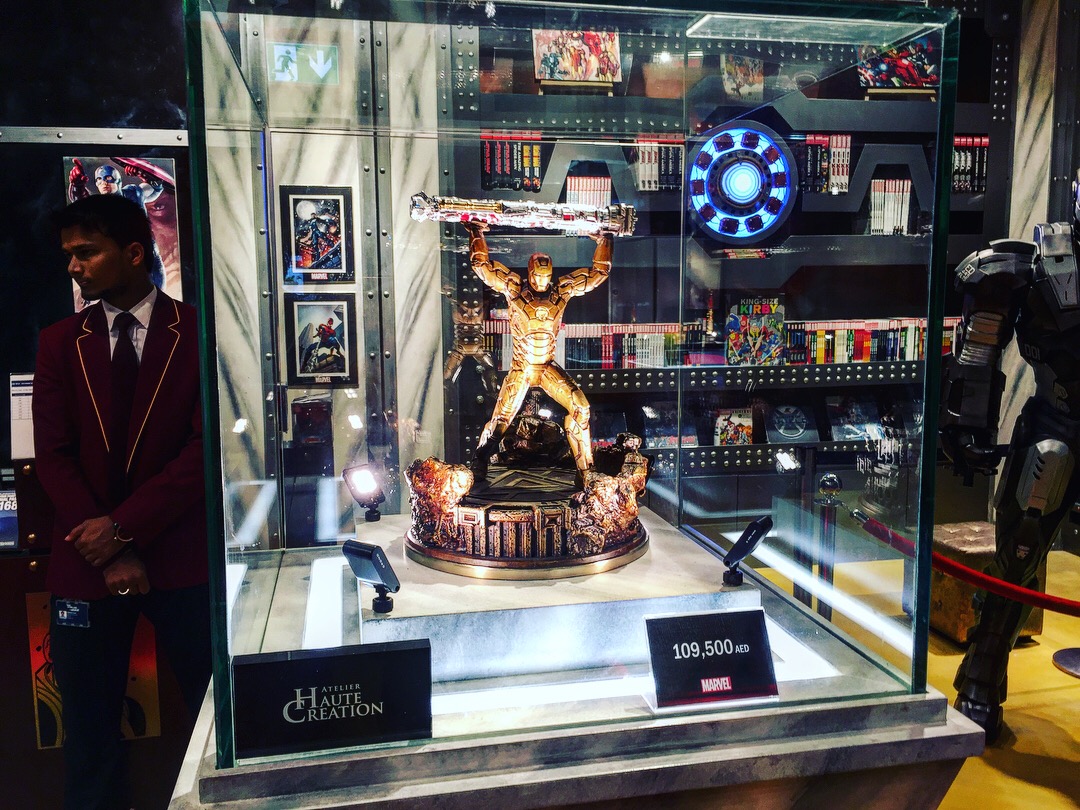 Iron Man Statue, Taken by: Ahmed Darwish
After a little rest we hit Dubai Mall, the biggest mall we've ever seen in our lives, and arguably the biggest in the world. You'd need at least two full days to check out all the shops in this mall, but for us, we went straight for entertainment.
Dubai Mall , Taken by: Ahmed Darwish
Our experience started with the VR Park, a fully-immersive adventure that integrates VR technology, rides, sports, adventure, action, and more, to bring forth a mind-blowing experience.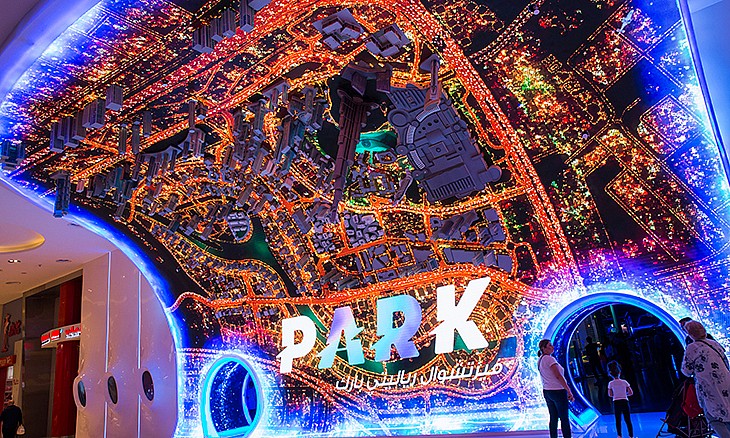 Next on the Dubai Mall Experience list was the Dubai Aquarium & Underwater Zoo. Imagine walking through the ocean seeing all kinds of fish around you, taking in the entirety of the sea world. That's exactly what the experience was like. Transparent glass tunnels took us through the aquarium where we saw the most amazing of sea creatures.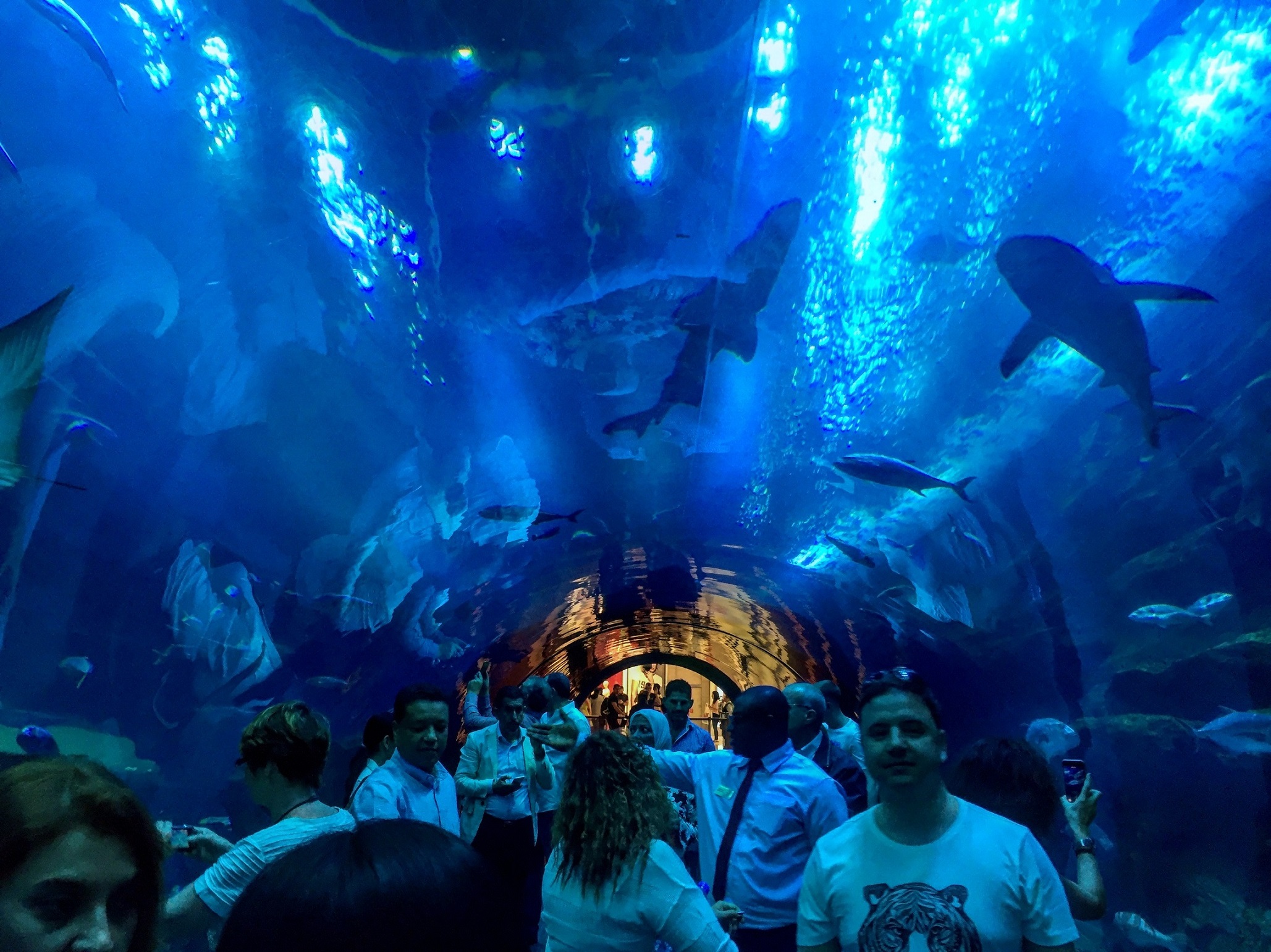 Dubai Aquarium & Underwater Zoo, Taken by: Ahmed Darwish
After a fulfilling experience, we went on to have dinner at Leto, the most expensive and up-scale restaurant we've ever seen. In Cairo, we have our fair share of luxury eateries, but Leto is on a completely different level, it embodies the true Dubai experience in terms of food.
Day 4 – Hello La Pita
We had our last breakfast at Zabeel House and said goodbye to the hipster-styled hotel. Our tour guides, Visit Dubai, had something special for us today. We started our morning by getting the Dubai Frame Experience. It sounds simple, what's there to see in a frame? Well, for starters, it's made of gold, and you can walk inside it! From inside the Dubai Frame, you get to look around and see Dubai from many different and beautiful perspectives.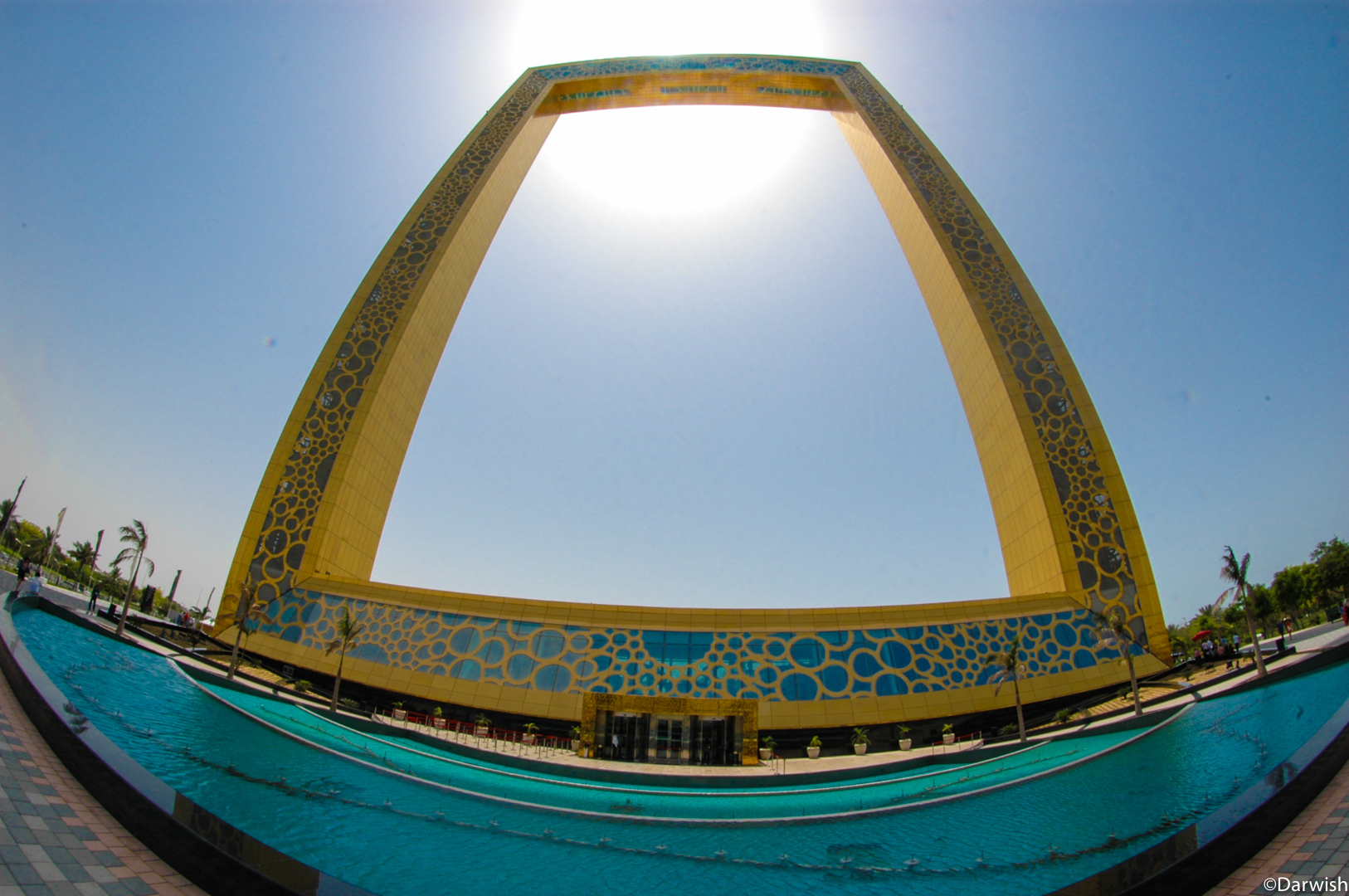 Dubai Frame, Taken by: Ahmed Darwish
After our stationary tour from the Dubai Frame, we journeyed to our next home, La Pita Hotel in Dubai Parks & Resorts, the benchmark for luxury hotels. Infused with a Polynesian style, La Pita prides itself in being the only hotel in Dubai Parks & Resorts. It has all the amenities you can possibly imagine, and boasts 504 rooms including 60 suites and 3 private villas.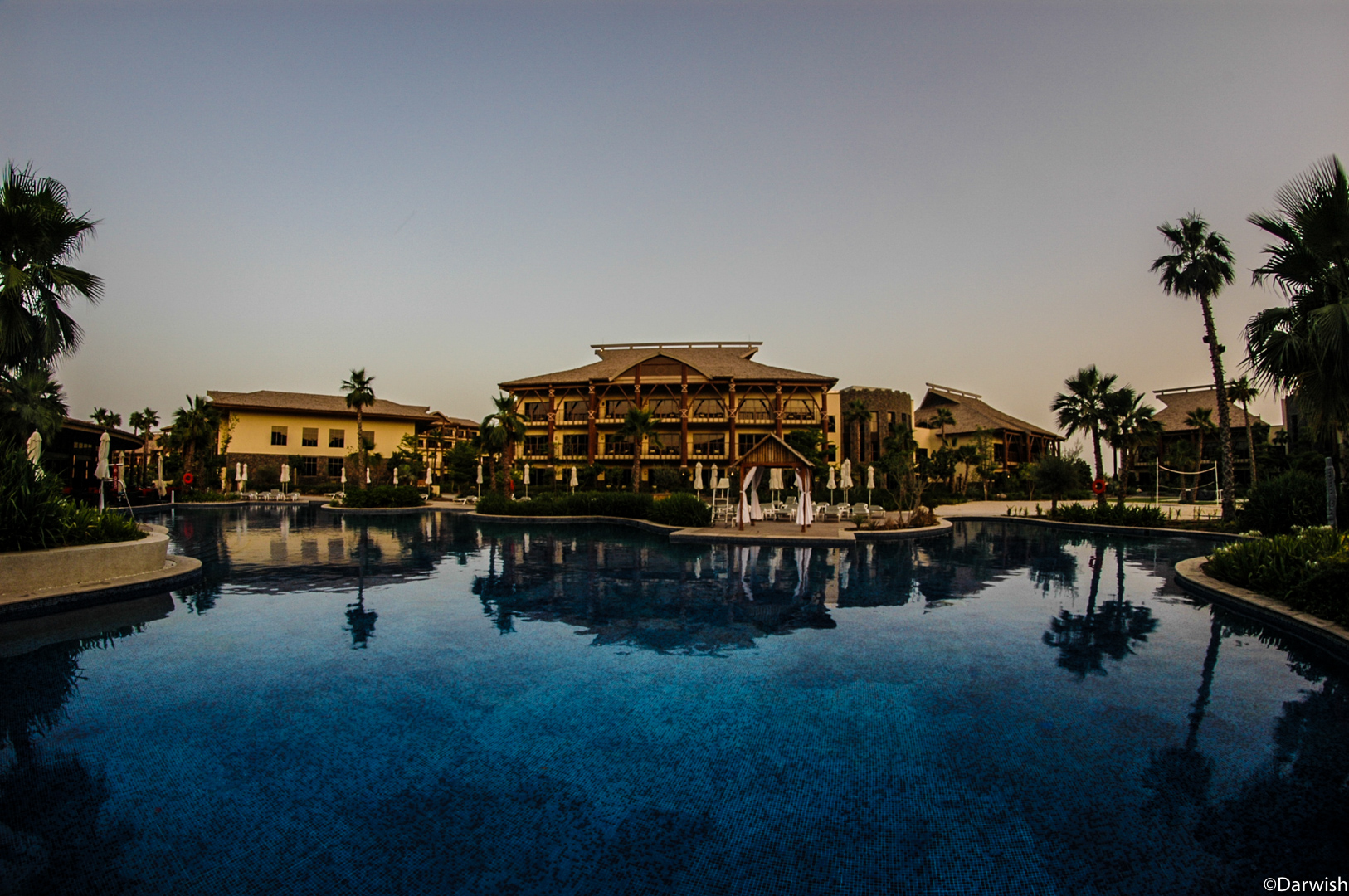 La Pita Hotel, Taken by: Ahmed Darwish
As per usual, we had our lunch before meeting with the hotel management for a grand tour of the premises. We had a bit of free time on our hands, before we started to prepared ourselves for a sophisticated night at La Perle. Created and produced by one of the world's most renowned artistic directors, Franco Dragone, La Perle Show features a cast of 65 artists, producing a one-of-a-kind performance of acting, acrobats, as well as aquatic and aerial stunts.
Day 5 – Lego Land Experience
Our last tour day was all about the afternoon and the evening. We had a free morning so we could enjoy the food, scenery, and amenities of the indescribably amazing La Pita Hotel. At night, it was all about Dubai Parks & Resorts. Our first stop was Riverland, the gateway to Dubai Parks & Resorts. It's a beautiful walk alongside a river where you can shop, eat, or simply take a walk, without having to buy a ticket for entrance. We had lunch there before we went on to one of favourite parts of the trip, Lego Land.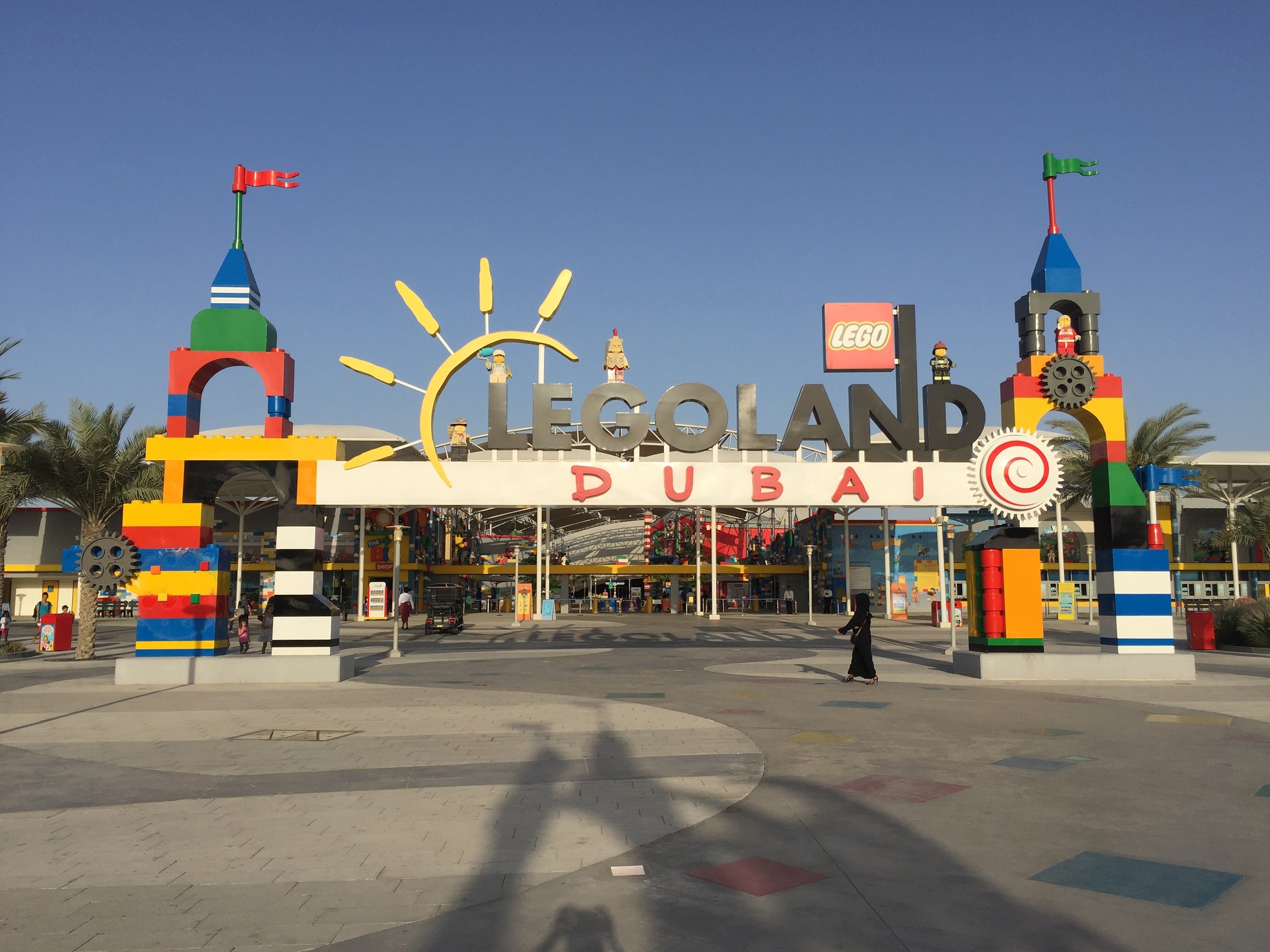 Lego Land Entrance, Taken by: Ahmed Darwish
Everything is Lego in Lego Land, and how can one not be happy around Lego? One of the most interesting parts that caught our attention was the mini Lego attractions area; they've created miniature-sized versions of the most beautiful places on Earth, including the Taj Mahal and our very own Giza Pyramids.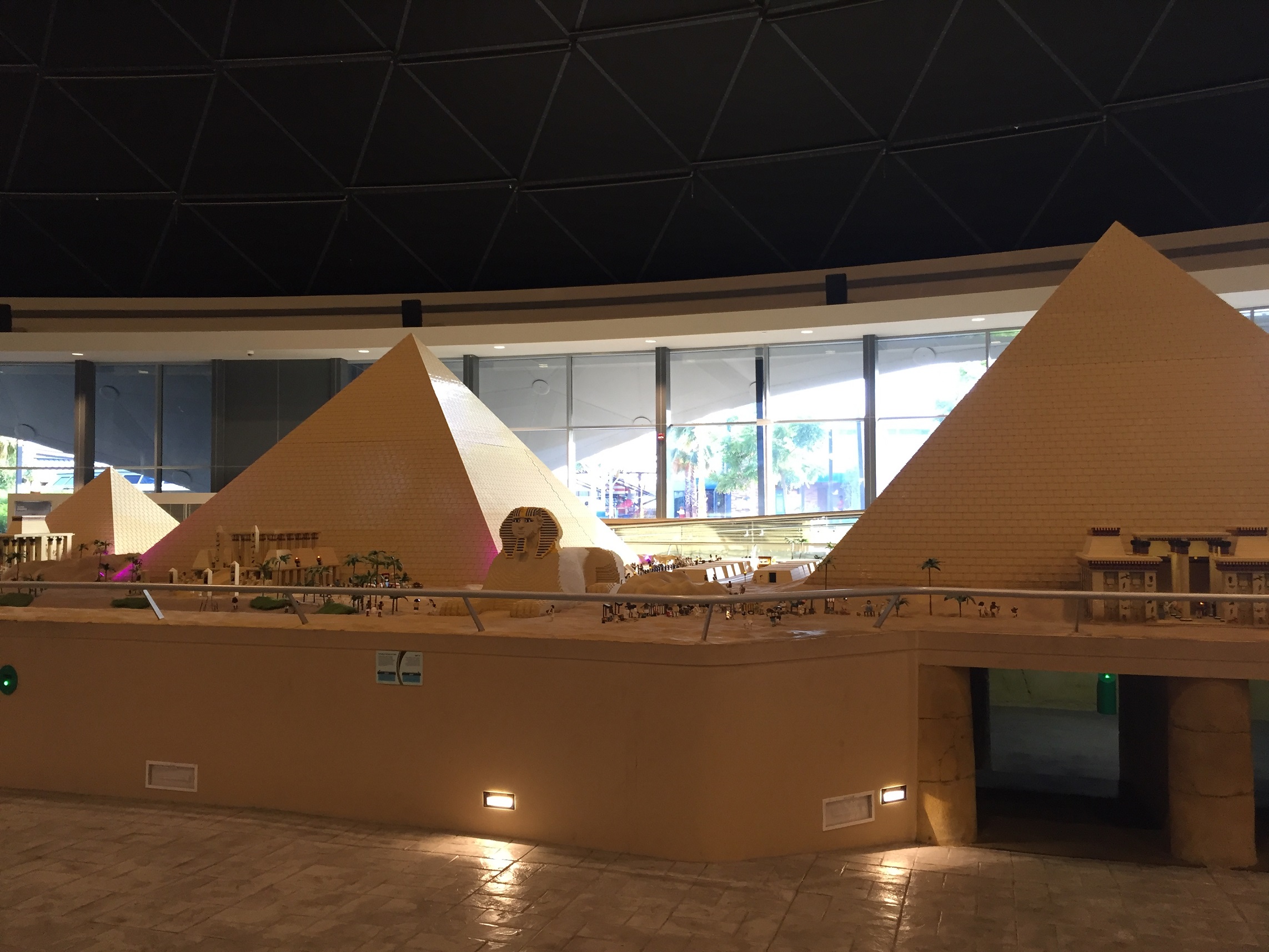 Lego Pyramids of Giza, Taken by: Ahmed Darwish
Cinema fans will be as excited as we were when we saw Motion Gate and Bollywood Parks. They are two film-themed parks with a ton of rides and amazing attractions, completely dedicated towards movies. Motion Gate is based on Hollywood, resembling all the styles of American films, while Bollywood Parks is created for Indian film fans, those who love all things Bollywood.
Day 6 – The Return
One of the saddest days in our lives. We had a quick breakfast and made our way to the airport where we boarded our Economy Class Emirates Air flight back to Cairo, you know just to make sure we had tried out what it would be like to travel on a budget. Needless to say, we were not one bit disappointed.
We do love Cairo and who doesn't like coming back home? But trust us, if you do Visit Dubai, you too will find it painful to leave.