Hilton Marsa Alam Nubian Resort: A Getaway to Egypt's Red Sea Beaches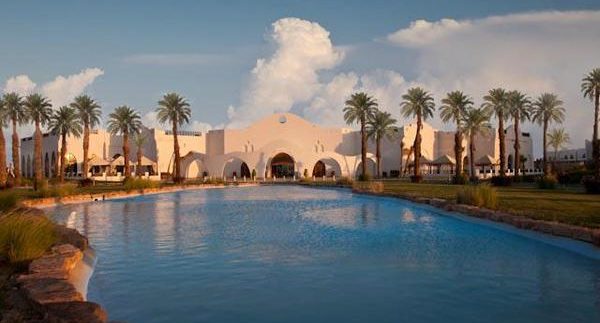 Now that the summer
heat is taking over the city, it is the perfect time to escape to the shores of
the Red Sea. Although Marsa Alam is not exactly the closest beach to Cairo, it
is undoubtedly one of the best in Egypt. The coastline is still relatively
virgin compared to Egypt's other shores that have suffered from over
development and popularisation; destroying their natural beauty as a result.
A roundtrip flight to
Marsa Alam is around 1200LE from Cairo, there is also a bus ride but it would take
15 hours to get there from the capital.
The Hilton Marsa
Alam Nubian Resort is one of the nicest places to stay if you want to pamper yourself.
The resort is just a 20-minute car ride from the airport and about half an hour
north of Marsa Alam's centre.
The hotel is
fundamentally Nubian in its décor, but it is accentuated with some modern twists
and overall has a homely feel to it. There are 250 rooms divided between separate
two-storey bungalows; seeing as the hotel only recently opened last summer, the
rooms are still brand new. The standard rooms are nice and spacious, while the
suites are designed with a separate bedroom and up to two bathrooms; all the
rooms have an outdoor seating area with either a dining table or low seats. The
bathrooms are luxurious with a rain shower, lots of nice body care products and
other deluxe amenities.
As a fun gimmick, every
guest is presented with a Nubian hat and a bracelet upon their arrival to the
room. The beds are super comfortable and
have a heavenly amount of pillows you can sink into. There are flat screens
TV's with international channels and internet is available at a surcharge. However,
you can use the computers found in the lobby or in the 'souk' area of
the hotel for your web needs for free.
With four swimming
pools you will never run out of options for a refreshing dip; two
out of the four have a built-in bar so you can sip on cocktails while lazing by
the pool. The main swimming pool is ideal for children as it's very big and the
animation team tends to hang out there. If you'd rather steer clear of those
shenanigans though, then head to the beach-style pool with waves which is
surrounded by sand and rocks and has one of the built-in bars where you can
enjoy fresh beverages. There is also a gym available for those who can't keep
away from working out; open 24 hours a day, it offers the latest workout equipment.
The best part of
the whole trip however is of course the beach. The resort is situated
on Abu Dabbab Bay, which is a haven for snorkelers and divers. The one downside
is that due to the reef on the resort's shore, you have to walk a good five to
ten minutes to be able to swim. If you don't want to walk that far every time it's
best to sit on the adjoining beach belonging to the dive centre. This would
mean you'd have to walk pretty far to the beach bar for a refreshing drink
though.
Day trips are
another way to enjoy your evening hours in Marsa Alam and if you don't have a car you
can book your trips through the hotel. An absolute highlight is the trip to
Samadai Reef, aka Dolphin House. The trip takes up the whole day but is
absolutely worth your time. It entails taking a boat out to a horseshoe-shaped
reef in the open sea. It isn't called Dolphin
House for nothing of course; Spinner dolphins are usually found there and
according to travel agencies – you can even
swim with them.

The hotel works on
an all inclusive basis and has a number of restaurants and bars around the
premises. The Marsa restaurant, located in the main hall, serves buffet style
breakfast, lunch and dinner. The items on the buffet are different everyday so
don't worry about getting bored with the options. We found that the chicken
dishes from the buffet fared exceptionally well.
For a typical
Egyptian meal it is best to head over to Souk Café. This outdoor restaurant
has an oriental menu with various appetizers and main courses to choose from. The
grilled items are especially delicious and come in such big portions that it's
difficult to have dessert afterwards, though you could relax with an after meal
shisha. Located near the main pool, the Breeze Pool bar is also a good option
for outdoor dining with more excellent grilled items. The fish comes highly recommended; lightly grilled and well seasoned.
If you are looking
for a party you are best off at Axis Bar; a DJ provides the music during the evening
hours and the waiters serve some wonderful tasting cocktails.

In case you tire of
the typical routine that includes swimming, snorkelling and other water related
activities, the hotel has a lot of alternative activities you can take part in
as well; such as Arabic classes, belly dancing class and yoga classes. There is
also a centre for children with endless entertainment appropriate for their age.

The staff at the
Hilton is very friendly and attentive, everybody will greet you with a smile
and service is swift in all the restaurants. As a matter of fact, we feel a lot
of Cairo waiters should be sent down there for some training!
For a couple of
days of ultimate relaxation the Hilton Marsa Alam Nubian Resort is a definite
go to. Marsa Alam is even worth visiting in winter since their temperatures are
moderate and the pools at the Hilton are heated; the rooms are so nice you will
never want to leave them anyway.

Room rates start at $120/720LE per night, but fluctuate regularly. Prices are available on the Marsa Alam Nubian Resort website.