Ibn Tulun Mosque: Cairo's Oldest and Largest Mosque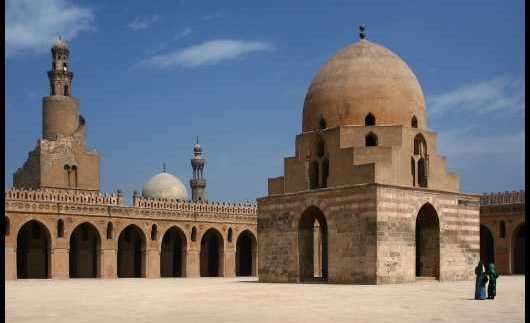 written by
Aleksandra Sekinger
Trying to see all of Cairo's ancient treasures can be overwhelming.
One sight that you positively can't miss is the Ibn Tulun Mosque, the largest
and oldest mosque in Cairo. Built between 876AD and 879AD by Ahmed Ibn Tulun,
founder of the short-lived Tulunid Dynasty; the mosque is still functioning and
open to the public from dawn to dusk except during prayer times.
Upon entering the mosque, be prepared to take off your
shoes. It's a good idea to wear socks, although booties are provided to
visitors free of charge to explore the mosque's premises. Women should wear
modest clothes with long sleeves and cover their hair. Also, refrain from
shouting and be respectful if there are people praying.
To fully appreciate this ancient place of worship,
it's good to know its historical background. The mosque's design was inspired
by the mosque of Samarra in Ibn Tulun's homeland of Iraq. It was built with the
intention of being large enough to house his entire army during Friday prayers.
At over 26,000sq meters, it is the third largest mosque in the world.
As you enter Ibn Tulun mosque, you'll walk into a large
courtyard. The arches of the courtyard are carved with beautiful stucco, which was
utilised for the first time in Cairo in this design. Each decorative moulding
on the archways appears different to the next, adding to the skilful
craftsmanship of the structure.
Art historians have suggested that the mosque's
courtyard was the first to use a pointed arch, hundreds of years before it
became popular in Europe. It's an arched, roofed-in gallery that holds in the
centre a very small fountain, which was built a few hundred years after the
courtyard. The courtyard is surrounded by walled-off wings called the ziyada,
which once held a vibrant Friday market.
The mosque's minaret is constructed in ancient Iraqi
style and is the only one of its kind in Cairo.
Two features distinguish this minaret from others in Cairo. First, the minaret
is constructed out of bricks rather than stone. Second, it has a spiral
staircase on the outside of its tower; a feature of classical Iraqi
architecture. If it's open; visit the
top of the minaret for the best view of the mosque's geometric architecture.
Don't miss an opportunity to visit this fantastic
site. It's free to enter, but the man at the door may cheerfully request
baksheesh when you leave. Tip to your heart's content, but this is complementary
not obligatory.
The Mosque is in the Sayeda Zeinab neighbourhood just
off El Salbeya Street. Taxi drivers will most likely know where the mosque is
located. While you're in the area, check out the Gayer Anderson
Museum, which is next door and the House of the Cretan Woman, just down the
street.