International Garden: Green Hideaway in Nasr City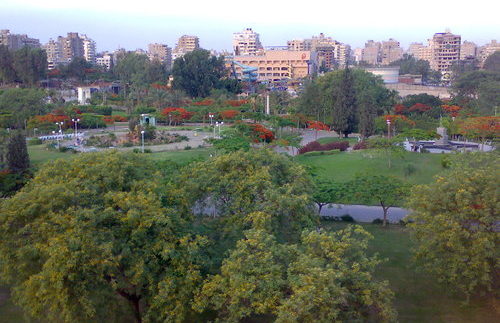 Anyone that has spent even a little time in Cairo can attest that the city can be overwhelming at times. With all the traffic and pollution
that seems to crawl through every corner, the city suffocates all that is green.

The International
Garden in Nasr City's busiest area, the 7th district, is an example of a
well-kept park that isn't as crowded all year round like other popular spots such as Al Azhar Park. Its 'international' aspect comes from the different places
that some of the plants and animals originate from such as Argentina, Saudi
Arabia, the UAE and even China. One entrance carries the flags of countries
that have a stake in the government-owned and regulated garden.
Besides the tranquil
open space, the area has a lot of features that, when discovered, make one
wonder how come it isn't buzzing with visitors during the daytime.
Located right next to Wonderland
Mall's arcade, and with a shared gate that grants direct access to said arcade,
the area makes a very suitable place to spend the day. It opens from 9AM until
as late as 11PM. You can bring a picnic blanket and some sandwiches for a picturesque
lunch on the fresh grass. They also have a couple of cafeterias with seating
areas and several little kiosks for drinks and snacks. Plus, with the Wonderland Mall
next door, a number of fast food venues are available as lunch options as well.
A walk through the
wide paths of the garden will provide some peace and quiet while exploring the
surroundings, something that you can also do with the garden's train ride which
explores most of the park in around fifteen minutes. The latter can be
less enjoyable noise-wise since, besides its squeaky wheels, the train tends to
be a favourite among excited, young visitors – especially if it's a visiting
school trip.
When it comes to its
entertainment facilities, the International Garden seems to beg for attention. A
theatre appeared out of nowhere, however our excitement died quickly once it
was sadly discovered that the theatre with its mere 2LE entrance fee doesn't
host shows any more.
The same can be said about
the mini-zoo where in between cages holding a beautiful peacock, African ostriches and
exotic birds, you find a dump of piled rocks that is evidence that the lonely
animals don't get many visitors.

However, inside the
zoo, there's a very interesting small museum of mummified animals and skeletons
which include South American cheetahs, lizards and enormous Asian
snakes that can eat prey almost triple its size. Though the museum is fairly
small, mainly a narrow corridor, it provides interesting fact boards along with
the exhibits.
While it's informing
and intriguing to look at the surviving bones and bodies of rare and ancient
creatures, the garden's administration seemed to have thought that ominous, scary background
music would add to the mood.
Coming from an
amusement park-style ride of horror, which we concluded was basically a dark
tent with flashing scary masks and low quality screams on repeat, the sound
effects can be heard metres away. If one might have doubts of entering such
place alone, then the worker's assurance that "they don't touch people inside"
won't make it any better.
Apart from the
International Garden and the nearby Children's Garden on Makram Ebeid
Street, Cairo is in desperate need of more green space with its ever growing population and
traffic. The International Garden really deserves a visit especially
with your
family or a large group searching for outdoor fun and unwinding.
It's fairly easy to
get lost in the International Garden and no one ever
bothers you or tries to sell you something when taking a walk or roaming the
park, which is a pleasure. If the garden is close to you, it would make a very
convenient place to finish some work or relax with a book under a shady tree.
The garden can be
reached from all over by public transportation to its spot at the very end of
Abbas El Akkad Street. Entrance fee is 2LE for both adults and children.