Naama Bay: Sharm El Sheikh's Vibrant Hub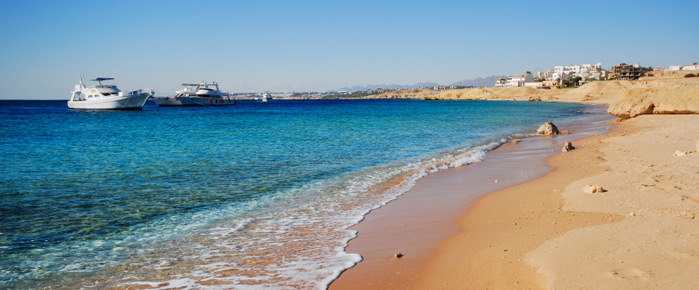 Naama Bay is one of Sharm El Sheikh's oldest and grandest attractions and a must see for all those visiting Sharm this year. This delightful place lies between the Airport and the Old City and is located right next to the marina.
Many of the bars and restaurants are situated right on the beach, providing a beautiful scenic view whilst offering an exotic food menu – including fresh seafood caught from the Red Sea – and refreshing beverages.
Focusing purely on entertainment, shopping and all the daily needs of tourists, this long audacious street is filled with lively entertainment all night long and will not fail to give your eyes a treat. While shops and food outlets are open during the day, it's the night time when the street really comes alive – ideal for the young and adventurous!
From the moment you arrive at Naama Bay prepare to be greeted by an overwhelming energy. The daring street glitters with colourful, dazzling lights as local party music fills the air. A simple walk will leave you with the most difficult decision: What to explore first?
Bedouin-style cafes are all in range here, providing a place where visitors can enjoy shisha and drinks amongst the dancing and singing. International restaurants are also plentiful including some of the more famous chains like McDonalds, KFC and Pizza Hut.
For the trendy nightclub goers, Hard Rock Café, Pacha and Little Budda are all located in Naama Bay. For those who don't enjoy the party scene so much but still enjoy a drink then Zaza is ideal. Zaza is a must visit, an oriental café/bar providing comfortable couch like seating all facing the stage in which shows are performed including belly dancing, fire spinning and live music.
This delectable bar serves both alcoholic and non-alcoholic beverages. Keep in mind though, most places charge a 10-15% service charge that isn't always listed on the menu.
It is not only food and drink that are amongst the pleasures here. Naama Bay has countless bazaars ideal for purchasing unique gifts and special souvenirs though be prepared for serious bartering and never accept the first price given.
Carrefour is located at the beginning of the street, providing an excellent groceries and daily essentials option that's barter free. Scattered throughout the area are smaller kiosks and newsstands that sell cigarettes, drinks and snacks.
There's also a shopping mall filled with jewellery stores, clothes shops and other merchandise. Ice cream parlours are plentiful too, which will be much appreciated in the heat.
Naama Bay touches on almost all your needs with oriental and international outlets, travel agents and currency exchange bureaus all within a five-minute radius.
However, this striking portal is not without it's cons. You will without a doubt experience frequent hassle from the locals beckoning you to drink in their cafés and buy from their shops. This can seem a little overwhelming if you are alone, especially for females. It's advisable to go with another person and try not to trust everyone.
Naama Bay is a very noisy street filled with constant deafening music so if you wish to have a conversation with someone you will probably have to wait until you are inside one of its outlets. Despite this, Naama Bay remains a large and diverse party open all night long in which everyone is invited to, but be aware – it's not for everyone.