No Plans Yet for Sham El Neseem? Read This!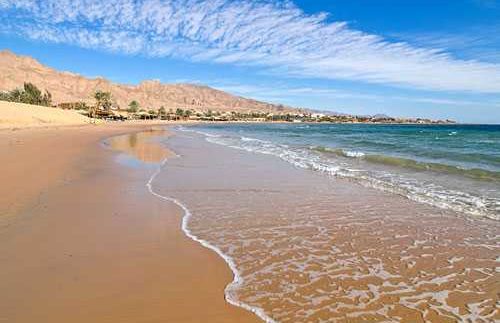 Spring is officially here (though we suspect it started a few weeks ago with that 30-degree heat wave) and what better way to celebrate it than the upcoming Sham El Neseem weekend, which combines Easter Holiday with the ancient Egyptian holiday celebrating the first breeze of spring.

As everyone has a long weekend off, with the exception of doctors and workaholics, expect the hotels to be overbooked and the beaches to be crammed with screaming kids. Cairo360 gives you some tips on alternative routes to take and different plans to make in the country that has so much to offer:

Get Thee to a Beach: if your idea of a holiday is lying horizontally for hours and only lifting a finger to turn the page of your book or to order a cool drink, then join other beach bums in Nuweiba. Avoid Basata at all costs, though, as it has been fully booked for this weekend since probably 1995. Ananda Camp is only ten minutes away from Basata, and much cheaper—last time we checked, their wooden huts go for 60LE per night. The camp touts electricity in your hut and possibly the cleanest bathrooms we've seen in all of Nuweiba. Call the camp's manager Ezz for reservations (012 356 1742). Another ten minutes away is Sawa Camp , which also offers basic wooden huts for around 30LE per person per night and some of the best grilled fish and chocolate crepes in the area. Call Salama (010 272 2838) for reservations. If you feel like exploring, most camps and all the hotel chains arrange safari trips to spots like the Abu Galum National Park, the Coloured Canyon, the Blue Desert and Nawamis, which are very small burial structures built centuries before the pharaohs.

Party All The Time: if shaking your tail feather is more your style, Tamarai will bring the high heels and Cuban cigars to Ain Sokhna by opening its own branch in Stella Di Mare on Sunday, April 4th.

Mediterranean-Bound: If you're being dragged to spend the holiday with your family in Alexandria, sneak away for a day on Bianki Beach, where Eid still rules over Section 2 and you can reminisce over the days of glory this beach used to see. For lunch and drinks, try Christina's (03- 4332014), or have a steak at Wagih on Shahr El-Assal Road. For some dancing, head to Déjà Vu Bar and Lounge (Call 0100 051511) in downtown Alexandria.

Adrenaline Junkie: Gouna's Mangrove Beach, Zaafarana, Ras Sedr and Marsa Allam are the best windsurfing and kitesurfing spots in Egypt, with surfers from all over the world flocking to the windy shores. Soul Kite Surfing Centre in Ras Sudr teaches kitesurfing at a starting fee of 100Euros for three hours. Equipment can be rented for 80Euros a day. For some quality scuba-diving, Marsa Allam is well worth the nine-hour drive. Avoid the hotels and call Mando (010 167 1681) for a simple beach resort.

Off The Beaten Track: If you're the explorer type, rent out a 4×4 for a trip into the Western Desert. El-Gara Cave is full of remarkably huge stalactites and stalagmites, which you can reach by driving through the Abu Muhareg sand dunes. Khaset
Expeditions organizes desert trips for around 60USD per person per day. Further down south, Lake Nasser Adventure offers the completely novel experience of fishing safaris and speed-boat rides in Lake Nasser, which at 550km is Africa's largest dammed lake.

Stuck in Cairo? Alternative trip company Egypt317 offers one-day trips around and outside of Cairo. The company is organizing a two-day trip outside of Cairo for Friday, April 2nd, promising sand boarding, off-road driving and camel rides. The facebook group Weekend Trips organizes camping, biking and other outdoor activities outside of Cairo every weekend. The group is organizing a two-day hike up the Red Mountain on April 2nd at 385LE per person.

Escape the Noise: If you need refuge from the heavy Cairo traffic and some fresh air instead, Siwa is the perfect spot with its endless sand dunes, hot springs and salt lakes. Enjoy quality accommodation and great food at the eco-friendly Shali Lodge , or the more picturesque Al Babenshal Lodge ,which is set in the ruins of a 13th century citadel. Both lodges have a small number of rooms to offer an intimate, relaxed environment while respecting and preserving Siwa's natural environment. A double room in both lodges costs an average of 380LE per night, breakfast included.