Nuweiba Camp: A Guide to The Good Life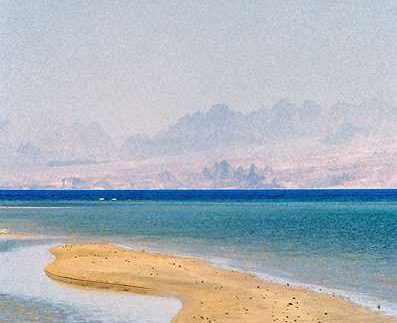 This year, the Eid holiday is
different for us Cairenes. This summer was cut short and most of us had to give
up the sea and sand for office hours and Ramadan in Cairo, so we're all looking
forward to our last chance to hit the beach.
Before you rush into your car and
drive towards Sahel, we recommend you drive the opposite way towards Sinai and
find The Good Life.
It's not a mythical fantasy; The
Good Life is
located on the Gulf of Aqaba, between Sinai's sandstone mountains and the Red
Sea's coral reefs on the Taba/Nuweiba Road.
If you're a nature lover,
adventurous and looking for something new to do with your life, then this clean
and comfortable camp makes a perfect Eid destination. The camp's upbeat young
owners Ramez El Ayat and Gamal El Jimo have given the camp a living atmosphere that's
so good; chances are you'll keep going back.
How to find it: When you pass the Taba check point, head down 30km to Nuweiba (just
before Basata) till you find a smiley face sign at the sandy entrance way. As
you make your way to the camp site, you will be awestruck by the breathtaking
scenery. It's magnificent to be in the midst of nature, surrounded by the
pristine clear blue water of the Red Sea and the old-as-time rocky mountains of
Sinai.
For lodging you have one of two
options. You either stay in the authentic wooden handmade huts or you can be a freelancer-
as they call them at the- and bond with nature by spending the night in your
own sleeping bag or tent in the open air.
The price per night is 75LE whether you stay in
a hut or freelance; you can add 50LE to include breakfast. As for lunch and
dinner, the camp offers a variety of international dishes as well as local
specialties with prices ranging from 25LE to 75LE. Soft drinks and juices can
be purchased at a fixed price of 5LE, regardless of what the drink is.
As the whole concept of The Good
Life is to have a routine-free life, there are
endless options available for how you spend your holiday. You can snorkel,
fish, spend some quality time with your favourite book or even draw on the
camp's drawing wall. Group sports such as beach volleyball and football are
also played, in addition to meditation and yoga.
The owners also organise weekly desert
trips guided by local Bedouins of the Tarabeen Tribe, visiting valleys,
canyons, and mountains. The rides and climbs are challenging as they entail
walking and trekking, but they're worth it if you're interested in learning about
the desert. The guides are friendly and welcoming of any questions that you
might ask.
Shopaholics will appreciate the handmade
Bedouin goods and varying accessories available for purchase as souvenirs. The
items can seem a bit pricey but you should bear in mind they were handmade and
the proceeds go directly to the Bedouins.
If this is your first time in a Red
Sea camp, then you should be prepared; this isn't your regular fluffy,
pampering hotel experience. If you aren't comfortable with insects or dark
nights, then maybe you should rethink this trip. Also, make sure to bring your
own personal blanket, towels, toiletries, sunscreen, snorkeling and fishing
gear, books and something warm to wear at night; as the desert can get a bit
chilly once the sun goes down.
Note that The Good Life is mostly crowded during national and international holidays, so
if you would rather enjoy the beauty of nature in solitude, then Eid is not
your time to visit. But if you're a happy-go-lucky type of explorer and fancy meeting
new people; then you shouldn't miss this opportunity to live the good life.
Don't bring along food as there
is nowhere to store it but you can bring along your own icebox packed with your
own drinks. For reservations, contact bookingthegoodlife@gmail.com or call 0183145314.