Ocean Diva Catamaran Sailing Tours: Living the Red Sea Good Life in El Gouna
You know those rap videos full of hot models cavorting in bikinis and spilling champagne on a sailboat? Well, we got to reenact this, except minus the hot models part, when we tried Ocean Diva's Catamaran Sailing boat trip from El Gouna's Abu Tig Marina. At 350LE per adult (and around 125LE per child over the age of 3), the daily boat trips aren't cheap, but they do offer heaps of sailing and snorkeling fun for all ages.
The large and distinctly red boat offers two trips to the Red Sea snorkeling spot of Dolphin House: a full day from 9AM to 5PM with snorkeling and a light sandwich meal included, or a shorter afternoon trip from 2.30PM to 5PM with beer, wine, champagne and canapes. Three guesses which option we aspiring rap video models went for.
Located less than an hour away from the Abu Tig Marina, Dolphin House is a cluster of reefs in the Red Sea known for dolphin spotting (duh) and colorful fish. Although dolphin spotting isn't guaranteed, we had such a good time snorkeling around the reefs that we completely forgot about them. Once the boat docks at the reef, you get around 90 minutes to snorkel, and we were lucky enough to spot parrot fish, napoleon fish, squid and blue spotted sting rays close to the boat. Even better, the spot was easy enough for children and first-time snorkelers to navigate easily without panic.
Once back on the boat, we were offered canapes of mini-pies and salmon pancakes, and a glass of local bubbly each. Setting back to El Gouna, we enjoyed the remains of the sunny day sitting on the trampoline front section of the boat, which is great fun as you can lie down and watch the water directly below you. Judging by the diverse collection of fellow sailors – tipsy twenty-something-year-olds chugging beer and dancing to electronic muaic, veiled grandmothers, newlywed couples and large families – it was clear that the trip was fun for everyone included, although honestly we could have done without the loud music blaring through our ears and echoing around the sea all day long.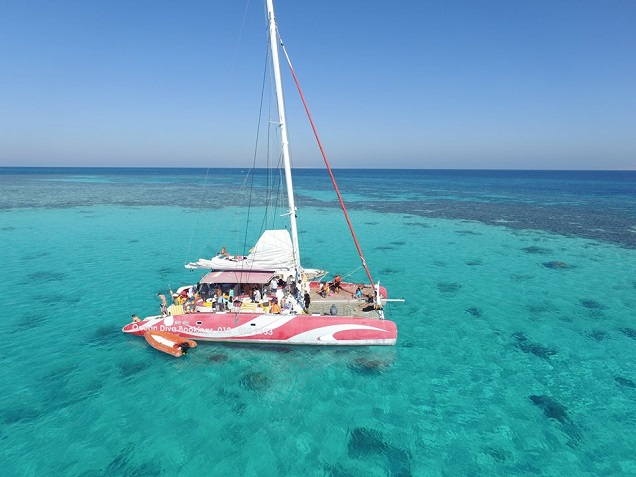 Although more expensive than the Mahmeya boat trips (250LE per person without the buffet meal), the Dolphin House boat trip was undeniably fun without a boring moment, and safe enough for kids of all ages to try. Also, the endless refills of booze didn't hurt.
For more information, please contact Ocean Diva Catamaran on Facebook.
(Photos courtesy of Ocean Diva Catamaran on Facebook)