Ras Sinai: Bustling Camp in Nuweiba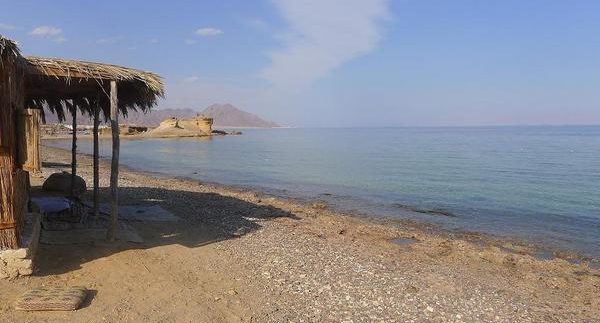 written by
Tanya El Kashef
It seems that Cairenes are starting to catch wind of just how nice the Nuweiba strip really is. While places such as El Gouna and Sharm El Sheikh have more or less held the reins of preferred holiday destinations over the past few years, we're slowly seeing Sinai become more popular with even the most finicky of people.
Located exactly at the Ras Shitan, a giant rock that protrudes into the sea, Ras Sinai camp is one of the larger, more established settlements of the area. More commonly known as Ayash by local Egyptians, the camp holds up to seventy huts scattered along the sea and some positioned higher into the mountains.
While you can choose a hut that has electricity, we believe that part of the whole experience is to spend your vacation without. However, to each their own. The huts are interesting in that each one is unique and built to accommodate its specific plot of land. Every hut has its own seating area, although they're designed and divided differently. Some have larger spaces to the front, while others have seating incorporated on the side – there is no standard shape, which of course, leaves them distinct and with more character.
For Sinai frequenters, Ras Sinai is considered the more commercial of the camps. It is probably one of the older ventures in the area and it attracts the most diverse and international of travellers. If you decide to go to Nuweiba on your own, or in a very small group, this camp is ideal, since it's always up and running and is never completely deserted – meeting people is also very easy.
However, on the other hand, if you want to travel to the desert with friends and indulge in some quiet time, to feel wonderfully cut off from the world, Ras Sinai may not be the best option – especially not during a national holiday.
During our stay, the camp was pretty packed which made the whole experience a little less serene, so going off-season to this camp in particular is highly recommended. Other than the unwanted crowds, Ras Sinai has a very strong community feel to it. There are resident hippies that never leave, and instead offer activities such as painting for travellers to revel in as they lay about.
The staff are rambunctious and friendly, quickly becoming familiar with you, but in a good way. It doesn't take long to feel like you belong there, but then again, all of Nuweiba destinations offer that perk.
The 'main hut' here is not a single enclosure, but rather several smaller areas placed around each other. Some seating spots are larger, others are smaller and cosier and while some are sheltered with a top, others are open to the sky; you can sit right up by the water or choose to sit closer to the cafeteria. This segmentation is a definite highlight of Ras Sinai because each spot offers a different layout and a different mood.
Situated on a pretty stretch of sea, it is sadly not the nicest to pop in for a swim. The shore is mostly pebbles and corals make it tricky to swim into the deep blue that waits beyond them. Plastic canoes, pedalos and paddle surfboards are available to take out though, which proved to be a lot of fun. Other swimming/water activity options are available at neighbouring camps. Moon Island, to the right of Ras Sinai, has a more accessible sea to swim in and they also provide snorkelling equipment (10LE) for those in the mood to explore underwater life.
As with most service in these camps, food orders take forever to arrive; always order your food at least an hour before you actually want it. The standard of food is pretty good at Ras Sinai; as well as the typical breakfast of eggs, white cheese, foul, salad and Saj bread (30LE), their 'toasties'(30LE-35LE) – essentially a calzone – make for a good snack as do their Om Ali and pancakes (25LE). Main courses such as the grilled chicken cost around 60LE.
Although beer and wine are technically available, they are more often not. But maybe the high season had something to do with that. Either way, the beer is very overpriced, costing 20LE a bottle. The wine never made an appearance.
The shared bathrooms are never a highlight of travelling to Nuweiba, with cold showers and mass-used toilets. Packing toilet paper and Dettol wipes is always helpful, as is accepting the situation and sucking it up for a few days. That being said, they are cleaned every morning, so the earlier you are the better.
Ras Sinai is great if you decide to pick up and go to Nuweiba for a few weeks on your own. You'll quickly become part of their existing community and are most likely to meet travellers from all over, stopping through on their way to the next destination. But if you choose to make it out there with your own group of friends, looking to get away from people, perhaps a more secluded camp would be the way to go.
Accommodation costs 30LE a night throughout the year and 40LE during high seasons. For reservations, call 01004442147 or visit their
website
.