Sharm El Sheikh: Fun for the Whole Family Along the Red Sea in Egypt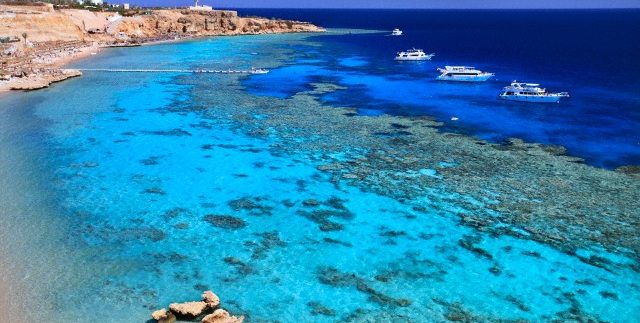 The first thing that comes to mind when you think of Sharm El Sheikh probably differs from person to person depending on the type of activities you could engage in over there, but one thing's for sure, there's something for everyone.
Located on the Sinai Peninsula, Sharm El Sheikh has become the most popular tourist destination in Egypt and the Arab world. It is perfect for those who love to bask in the heat, sunbathe on golden sands and swim amongst the exotic coral reefs and vibrant sea life. Warm all year round in the day and particularly hot in the summer months with temperatures exceeding forty degrees, the sea and swimming pools will surely draw you in.
The Red Sea is by far Sharm El Sheikh's greatest attraction and it's no surprise why; it's home to some of the most beautiful marine life that remarkably remains undisturbed by the people snorkelling close by. Once you've purchased a mask, thousands of beautiful underwater sights become accessible to you either at your own leisure, or on many of the excursions that Sharm El Sheikh has to offer.
The excursions are not exclusive to snorkelling either. Other options include diving trips, camel-trekking and quad biking. All at unexpectedly not-so-expensive prices. Most of the hotels will even get you the excursion deals without you having to look out for them.
Naama Bay and the Old City offer many places to dine throughout the day and during the evening hours as well as providing additional entertainment. An extensive range of fast food outlets including McDonalds, Pizza Hut and Kentucky Fried Chicken, plus more local cafés and restaurants serving almost any type of cuisine you may desire.
Pacha, Little Buddha and Space are among many nightclubs for a night of drinking, dancing and partying each boasting its own roster of local and international DJ's. Then there are bars like Zaza; a quieter bar with a stage commonly occupied with Oriental shows of belly dancing and fire performances; an excellent choice for those looking for a night of more traditional Egyptian entertainment.
Sharm also boasts a wide choice of hotels and apartments within easy reach of the unsoiled beaches and the airport itself is just five minutes from the city centre. Choosing the hotel you stay at may seem like a daunting task, but with the help of online reviews, Trip Advisor and hotel booking websites such as www.booking.com this has become much easier.
If you're going from Cairo to Sharm El Sheikh, there are two options; an aeroplane, which takes just under an hour and costs around 400LE minus taxes, or you can take a bus which is considerably cheaper around ( around 70LE per ticket) but much more uncomfortable and takes up to seven hours.
In Sharm El Sheikh, transport is always available. It is always possible to locate taxis wherever you are, though visitors should be wary of being ripped off. Another option are the microbuses that also run frequently, are very cheap: just 1LE from the loud and vibrant Naama Bay to the Old City; both perfect areas for daily shopping and the purchase of souvenirs.
This eclectic city is a delicious treat for the eyes from every angle; a combination of desert, rocky mountains and sea provides a breathtaking view offering perfect photo opportunities for the holiday album.
It is ideal for people wanting to visit a part of Egypt that has possibly the biggest contrast to typical Egyptian life with an important focus on tourism and fun, relaxing holidays. It is highly recommended for Europeans who wish to take a vacation a little further a field but still experience all the comfortable delights that typical European holiday resorts provide and for Egyptians who crave something different without the hassle and expense of travelling out of the country.
This sunny city is full of friendly people ready to share their hospitality and assist the daily needs of holiday goers from far and wide; after a visit to Sharm El Sheikh, it is clear why people always come back.