Sharm El Sheikh on A Budget: Dive into Sharm And Not Into Debt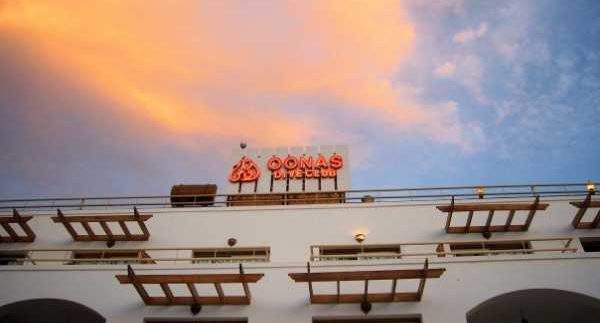 Sharm El Sheikh is arguably one of Egypt's hottest destinations for a long weekend of fun in the sun. As everyone well knows, however, kicking back and partying in the internationally-acclaimed Red Sea resort town comes at a price. Specifically, staying in a hotel in Naama Bay, at the heart of Sharm El Sheikh will cost a pretty penny. Or will it? Luckily, an affordable housing option exists for those travelling to Sharm on a budget.

Nestled on the North side of Naama Bay, Oonas Dive Club is one of the oldest and most moderately priced hotels in the area. In operation since 1989, Oonas received a complete facelift in 2007; all of its rooms and suites are now smartly furnished and modern. The single, double and three-bed rooms and suites are clean, spacious and available for between 190LE to 675LE per person per night. Price includes a simple breakfast that has a little bit of everything from fresh fruit, pastries, omelettes to yogurt and cereal.

While it caters to and accommodates divers specifically, Oonas offers all the normal fixings of a regular hotel. It features a restaurant and rooftop bar, and every room has a mini fridge, a clean bathroom, comfortable beds, clean sheets and ample closet space. If you're lucky, you'll get one of the rooms with an ocean view.

Oonas is far from pretentious, and boasts repeat customers from all over the world, which isn't surprising; considering how warm and friendly their staff is. Hotel employees are courteous without overstepping boundaries, which is all too common as many female travellers to Sharm can attest.

One of the best aspects of Oonas is the fact that it shares a beach with Sonesta Hotel. The beach is large and opens up to coral-studded water, perfect for first-time divers or those looking for an afternoon of snorkelling. Lawn chairs are plentiful, although finding one close to the water's edge may be slightly difficult anytime after 11AM.

Fill the day with juice or cool beers (buy them from the stand in the back, they are a few pounds cheaper than the beach's main bar), a banana boat ride (50LE a person for 15-20 minutes), and a burger from Sonesta Hotel (35LE) with freshly-baked fries.

For those interested in or passionate about diving, Oonas organizes day trips (single-, five- and 10-day trips) out to different points in the Ras Mohammed National Park, such as Shark Bay or Shark Reef. The hotel also provides PADI certification and other special dive courses, such as digital underwater photography or nitrox specialty courses. All dive instructors are either from England or South Africa.

If you want to go out for the evening on a tight budget, opt for dinner at Camel Bar, arguably Sharm's most popular bar. A predominantly British bar with flags and memorabilia from all over the world hanging on the walls, this is a great spot for a cold drink and their famous monkey nuts. The Fish-n-Chips plate (42LE) and Mexican Salad (38LE) are both highly recommended.

A few feet away, Pomodoro is an Italia restaurant next to Sanafir Hotel and a favourite among visitors. Food may take a while to be prepared, but it's still one of the most affordable dining options in the bay.

Overall, if you're looking for a quality beach experience and an affordable stay in Sharm, head to Oonas. Returning customers are not forgotten, service is excellent, and rooms are more than satisfactory at very affordable prices.