SOHO Square: Sharm El Sheikh's Dining & Entertainment Complex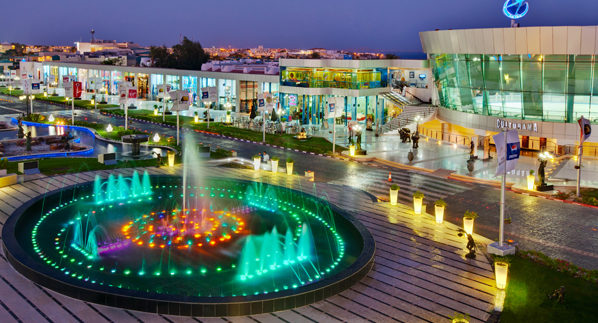 Across the huge number of holiday option around Egypt, SOHO Square stands as a must see for those visiting Sharm El Shiekh. With its name taken from London's very own SOHO Square, this charming destination offers a taste of both London and Egypt rolled into one. Though usually inundated with tourists from all over the world, many Cairenes also take delight in vacations to Sharm El Sheikh, and in particular, SOHO Square.
SOHO Square has won many awards for its entertainment and continues to grow in popularity and international recognition; Mr Emad Aziz, the owner of this grand complex, has appeared on television and received several awards due to its immense success.
Following a varied programme of weekly performances, the main stage hosts electrifying entertainment by performers from all over the world. The shows include exhilarating acts from fire performers, singers, belly-dancers and musicians, together with 'Barefoot', a performance group focused on oriental talents; fire spinners, dancing, ballet and circus acts.
However, the main attraction is, arguably, the highly celebrated musical fountain, switched on every hour from 6PM; a performance of its own, colourful water spouts are contrasted with explosions of fire, which shoot up into the sky to the theme-tune of famous songs, in a range of different languages.
SOHO Square is not only celebrated for it's entertainment, but also for it's large variety of restaurants and cafes; there is literally something for everyone at a range of prices, though most are much higher than in Cairo.
For an elegant evening meal there is a choice of sophisticated restaurants throughout the square; Steak House offers a chic experience, and if guests book early they can sit on a romantic balcony over-looking the entire square. Fusion is an open-air restaurant serving a range of Mediterranean and European dishes. Chinese restaurant, Zen, is amongst the most popular of the fine dining venues and is tied with Bombay, the Indian restaurant. All waiters are dressed appropriately, whilst the service is of the highest standard; should guests have a birthday or anniversary, the staff are ready to make the occasion a special one. A strict dress code outlines that long trousers and closed shoes are obligatory; if guests arrive in shorts or sandals they will be turned away or offered a pair of black trousers and slippers.
On the other hand, for more casual dining, there are a number of food outlets that do not require a dress code, but still offer a delicious assortment of foods. Akuna Matata serve a mixture of Moroccan, Chinese, Italian, Egyptian and Seafood cuisines, whilst Cafeccino is a small Lebanese fast-food outlet serving shawerma, kofta, rice and multiple Levantine delights.
It should be taken into consideration that during daylight hours. the square is pretty lifeless, with just a small minority of the cafes, bars and shops open. Once the sun begins to set, its evening energy awakens and continues right up until around 1AM, though a minority of the bars remain open after this time.
Pangaea is one of three nightclubs in SOHO. Costing 120LE for couples, the price is slightly high whilst the venue is not overly impressive with a small dance floor, bar area and comfortable seating. However, the club reels in various DJ's, singers and entertainment to liven up the atmosphere, along with offering various deals and discounts to some hotels.
Pangaea is tied with two additional bars; Ice Bar and Oxygen which both provide unique experiences. Ice Bar is as refreshing as it's name implies, particularly in the hot summer months. Literally made of ice, the tables, chairs and even the glasses are ice cold and guests will be provided with an Eskim-style fur coat to accompany the experience, all for 170LE, including one beverage. Oxygen Bar is an unusual experience, employing the use of a transparent plastic device, placed onto your nose to inhale a fruit-tainted gas – for lack of a better word – giving you a burst of energy.
The Sierra and Savoy hotels – located at each side of SOHO Square – work together, so guests within either receive generous discounts, and even have the possibility of eating for free at some of the restaurants.
Leisure activities are also available such as ice-skating and bowling which are ideal for both friends and families; once again, prices are aimed at tourists and may seem a little expensive. Most international holidays are celebrated within the Square and bring a change of decoration, entertainment, activities and events, aimed at all ages.
With the concerns of recent times, guests should feel assured that this establishment is highly secure, heavily guarded by twenty-four hour security.
Mimicking the bright lights of London, SOHO Square is a contemporary, commercial haven close to the popular resorts of Sharm El Sheikh, and is steadily growing in popularity for its sleek design, quality entertainment and diverse dining options.
You can find out more on the official SOHO Square website.