The Cairo 360 Guide to Travelling in Eid El Adha 2012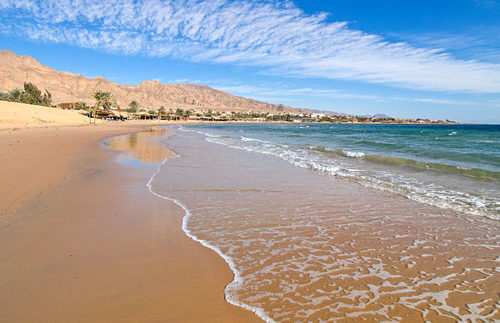 The good
people of Cairo have never needed an excuse to escape the stresses of the
capital. But now with a long eid weekend upon us, we can really let loose. If
you're reading this in the hope of finding somewhere to go, shame on you – you've
really left it late. Many of Egypt's coast-side hotels, resorts and camps are
fully booked. But as always, Cairo 360 has your back. There are still plenty of
options.
Sharm El Sheikh
Forever
popular with sun-worshipping tourists, Sharm El Sheikh will almost certainly be
a hotbed of parties, tan-lines and sunburn. Along Naama Bay, the Novotel offers
a standard double room for 1400LE (per night) or a family suite for a little
more, at 1550LE. Down the coast, Iberotel Lido offers double room at half-board
in the range of 100LE. At a cheaper rate, Laguna Vista's bed and breakfast
falls somewhere between 700LE and 750LE.
Gouna
There's a
few more options around Gouna, with the cheapest being the Captain's Inn;
600LE-700LE for B&B. If you have some loose change rattling about at
home, the Mövenpick's B&B will set you back double with anything between
1450LE to 1700LE. If you want to celebrate in style with the hotel's deluxe
rooms, you'll have to fork out 2200LE. Slightly lower down the price scale,
Three Corners has standard double rooms at 1400LE and family room suites at 1500LE.
Sliding the scale even further is popular hotel, Dawar El Omda. Standard rooms
go for just uner 1000LE, while the deluxe rooms go for a little more at 1250LE.
Hurghada
Gouna's
older, grander neighbour boasts one of the best hotels in Egypt. The Hilton
offers a great, all-inclusive package for 1400LE for a double room. Meanwhile,
the more modest Pyramisa Blue offers standard double rooms for 720LE-900LE and
deluxe rooms for 820LE-960LE – keep in mind that their overlapping rates are
owed to that unfair disparity between Egyptian and foreigners.
Marsa Alam
The western
shore of the Red Sea owes much of its popularity and traffic to Marsa Alam – a popularity
that has seen the area's resorts and hotels fully booked for months. There are
a couple of options, however, with the Hilton offering double rooms for
1100LE-1500LE. Meanwhile, the Movenpick is more expensive at 1700LE. It also offers
its deluxe rooms at 2300LE.
Nuweiba
Egypt's favourite hippie getaway offers an alternative seaside break. The Mövenpick
in nearby Taba is fully booked, but the abundance of beach-based camps means
there's always somewhere else to go. As one of the most popular spots, Maagana
Camp offers a half-board service, with beach huts for two people going for
around 250LE and their mountain shacks costing a little more at 300LE.
There are
plenty more camps worth investigating, including : Basata, Ananda, Bakraj3, Soft Beach, Freedom Camp, the Good Life and Edn.
Dahab
Just down the coast from Nuweiba, Dahab's popular resort,
the Iberotel Dahabeya, offers double rooms at between 850LE and 1050LE. If you
fancy exploring the deep seas, La Reine offers double rooms at 250LE and suites
at 300LE on B&B basis – this, of course, doesn't include the costs of diving

North Coast
Where do you start with the North Coast? As always, 'Sahel'
will be part central for Cairo's rambunctious youths. If that isn't your scene,
the Jaz Almaza is a peaceful getaway in Marsa Matrouh; they charge a reasonable
750LE for a double room. Closer to said rambunctious action, standard rooms are
available at Porto Marina for between 800LE and 1100LE
Aswan & Luxor
Our beloved south may not be the trendiest place to go, but
boy is it special. Basma Hotel in Aswan offers rooms for between 520LE and 650
LE, while the Pyramisis Isis charges 400LE-500LE. The Mövenpick charge almost
triple at 1200LE, while Anakato offers half-board at 1300LE and full-board at
1500LE.
There's little left in Luxor, but the Sonesta offers double
rooms at anything between 1200LE and 2100LE.
Happy Eid Cairo!