Tunis Village: A Perfectly Stress-Free Weekend Getaway in Fayoum
As much as we love Cairo, taking a break from the bustling city life every now and again is a must for the sake of mind, body and soul. The wonderfully serene Tunis Village in Fayoum gives you exactly that – and much more.
Still unvisited by many, the majority of Cairenes will prefer to spend their peaceful weekends away at the likes of Nuweiba. Fayoum may not have a beach like Sinai, but the magnificent Lake Qaroun and the Wadi El Rayan waterfalls are quite a sight to behold. The village is utterly simplistic, with the local housing built along the road to-and-from Qaroun Lake, while the rest of the villas and houses are made with an artistic theme throughout.
Tunis Village is a great place to disconnect from the outside world and, if you're into that sort of thing, for bird watching. It also has a long history in the arts, with the Mohamed Abla Art Center offering courses on photography, writing and pottery among other things. Many artists travel here specifically to teach or learn.
Where can I stay?
The village is home to three hotels/eco-lodges; Sobek Lodge, Zad Al Mosafer and Kom El Dikka. First you come across Zad Al Mosafer at the beginning of the road coming into the village with its own path for vehicles. There's another entrance from the inside of the village but it can only be accessed on foot. As soon as you arrive, you are greeted by a field of orange flowers. All the décor is Bedouin inspired, the venue itself is quite spacious, with an area for bonfires surrounded with tent seating areas and a library where they host a book club every Friday.
The rooms are pleasingly primitive, brown in colour and oval in shape, with vibrant coloured curtains and the gentle chirping of birds as a soundtrack. There's a forn baladi (traditional Egyptian oven made out of clay) where fresh bread is baked every day and even a swimming pool that, unfortunately, isn't equipped for the winter. Don't expect any fine-dining here, but the food is satisfying, with traditional foods like feteer with honey or cheese on the list of must-try dishes. The prices vary depending on the season, you can find out more here.
The second hotel, which resembles the first in price but has a homier vibe and better food, is Sobek. The buildings resemble simple Nubian architecture and features Nubian themed seating areas. Sobek also offer a winter-equipped swimming pool and an elevated seating area where you can waste hours just gazing into the green fields. The downsides are that Sobek is smaller than Zad Al Mosafer, and that the entire area is welcome to dogs, so if you're not a fan, you may find it uncomfortable here.
The rooms are equipped with all required means of comfort, although sometimes we found the bathroom supplies lacking. Prices, again, vary depending on season, for more information, click here.
The third hotel is Kom El Dikka, and you can consider this hotel a different story altogether. Directly overlooking the lake, the prices here are quite steep, reaching 900LE per person per night. The housing is similarly simple and surrounded by green spaces and flowers, while a range of activities are also available. You can look them up and find out more information here.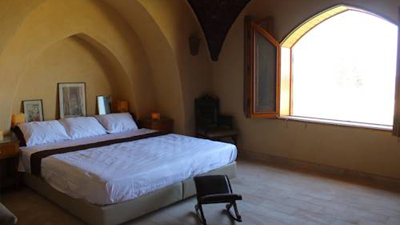 What can I do there?
Tunis Village is primarily known for its ceramic arts; so much so that there are workshops that teach and sell ceramic works of art dotted around the village. We weren't kidding when we said that the area is a prime spot for bird-watching and, for 500LE, you can be taken on a tour around Wadi El Rayan in a group of no more than seven and be provided with all tools necessary to learn about the extensive bird life in the area.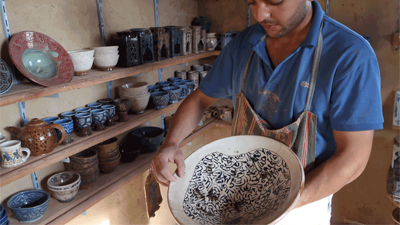 Tunis Village is only 30km from Wadi El Rayan, where you can enjoy activities like sandboarding, parasailing and enjoy the waterfalls. This also puts you in close proximity to Haroun Palace and the Fayyoum Museum.
But outside of the technicalities of accommodation and organised activities, Fayoum's natural beauty is, in itself, enough reason for anyone looking to escape and disconnect from the breakneck speed of Cairo.