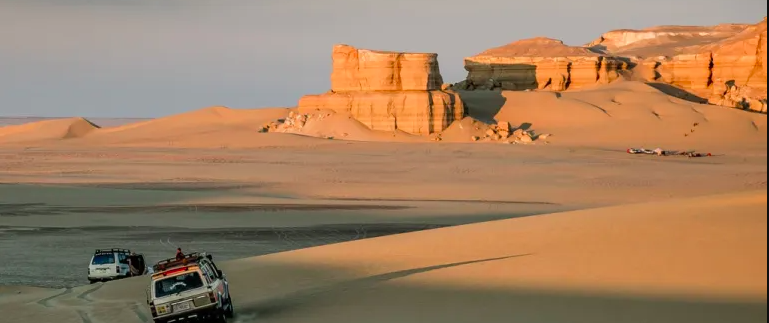 written by
Haajar Abu Ismail
For anyone looking to get a break from city life, Egypt has plenty of beautiful nature to experience. Here are a few places inside and nearby Cairo that are great for a picturesque retreat!
Wadi Degla Protected Area

The Wadi Degla Petrified Forest offers a sample of Egypt's natural desert environment, and it's right next to Maadi! The canyon features rocky walls as well as trails for walking and biking, making it an ideal spot for anyone who wishes to escape the hustle and bustle of the city for a few hours without venturing too far. The location also features various species of animals like deer, red foxes, rabbits, and a wide variety of birds! A calm day of birdwatching or exploring the valley's old fossils awaits at this refreshing nature retreat, so be sure to visit!
Address: Maadi, Qattamiya, Ain Sokhna Road, Cairo,
Ahimsa

Dahab Island is a 4,200-metre-long island located in Cairo near the eastern Nile shore south of Roda Island and near Qorsaya Island. Ahimsa is a healing space on Dahab Island with the goal of connecting with nature. They offer yoga, meditation, workshops, retreats, and more! Anyone uninterested in the athletic aspect is free to partake in their picnics or breakfast menu while relaxing by the Nile and watching boats go by.
Address: Aswan Western Agricultural Rd, Gazirat Ad Dahab, Giza District,
Dahab Palace

The Dahab Palace makes for a spectacular sight on Dahab island and was built by Prince Naguib Abd Allah. This gorgeous palace was built with the spirit of the old Egyptian Mamluk palatial architecture, and it shows. Between the traditional architecture and the surrounding nature, walking through the grounds feels like being on the set of a historical drama. The best part: the palace is open for events! Weddings, lunches, dinners, photoshoots, or even regular outings can be had at this location. Reach out to +201006746021 to book or check out their Facebook!
Address: 49 Nile Corniche, Cairo
Wadi Al Rayan

Less than 2 hours from Cairo, Wadi El Rayan is one of Egypt's most popular nature reserves. Located in Fayoum, the area is named after King El Rayan Ibn El Walid, who resided in the region with his army. The reserve is vast, and there's plenty to see, including lakes, waterfalls, the Valley of the Whales, and El Rayan Mountain. There's no shortage of impressive natural sights to be found! Lucky visitors might even witness the local wildlife, including gazelles, foxes, and rare species of birds.
Address: Wadi El Rayan, Al Fayoum Desert, Fayoum
The Nest At Botanica Farm
     
Located on the Cairo-Alex Desert Road at Exit 5, it takes about an hour to reach the Nest from Maadi and Downtown Cairo. Located in Botanica Farm, The Nest is set in a botanical forest. It is essentially a space meant to accommodate anyone looking for a nature retreat. The Nest offers accommodation and is an apt venue for classes or events. They even allow camping! Reach out to their Instagram to find out their rates!
Address: Exit 5, Cairo-Alex Desert Road