Wadi Degla: Natural Protectorate Just Minutes Away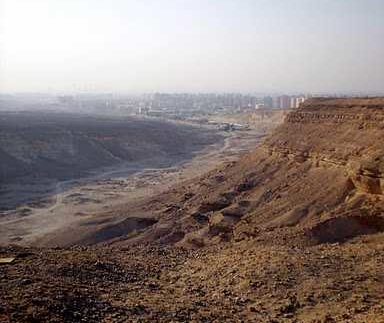 Newcomers to Cairo
may not know that a nature protectorate is located a mere ten-minute drive away
from Maadi. Step through the entrance gates of Wadi Degla Protectorate and
leave Cairo's congestion and pollution behind. In front of you lies a winding
valley that continues for as far as the eye can see, flanked by rock
formations. Wadi Degla is a perfect escape for hikers, bikers, rock climbers
and nature lovers alike. Even for those who lack athletic prowess, the
protected area is still worth a visit for a picnic or to observe the phenomenal
views from atop the plateaus.
Initially, the protectorate was an escape known mainly
to Maadi locals and expats, but it has become increasingly popular among Cairenes
from other neighbourhoods over the last few years. The Egyptian Environmental
Affairs Agency designated Wadi Degla as a protectorate area in 1999. Though its
status should provide it environmental protections, the area still suffers from
environmental degradation and threats.
Littering is not allowed in Wadi Degla, and the green
trashcans planted every few hundred meters make it easy to abide by this rule.
Unfortunately, plastic bags and other trash are still strewn throughout the
protectorate, some dropped by visitors and some blown in from the adjacent
trash dump. Environmental protection and conservation groups have made recent
efforts to clean up Wadi Degla and its environmental threats have garnered
media attention.
Despite these challenges, Wadi Degla remains an almost
pristine escape. The air feels clean and temperatures are noticeably cooler
than in Downtown Cairo. The area is completely quiet and the city appears impossibly
far in the distance. Visitors will be amazed at how a short car ride can
transport them from Cairo's
noise and crowds to absolute serenity and silence.
If you are lucky, you may even spot some of the
protectorate's wildlife. Apparently, Wadi Degla is home to various species of
birds, reptiles and bats, and even larger animals such as foxes and gazelles,
though this reviewer has yet to see anything too exciting. There are also many
fossils from times past when the valley was covered with water.
The rock formations surrounding the valley are ideal
for bouldering and exploring. In most areas, they aren't too steep; so you don't
need to be an experienced climber. Instead, you just need proper shoes and the
willingness to become covered in sand and dust. Cyclists and joggers will most
likely stick to the trail that leads through the valley, as it is where the
terrain is the smoothest. The protectorate is also a great location for a
picnic, although you should take note that barbecuing is not permitted.
Wadi Degla has something for everyone; whether you're
an avid runner or somebody who just wants to take in the expansive desert
views. If you seek an adventure that is worlds away from Cairo, Wadi Degla is
your place.
For directions, take the Autostrad road to Maadi, and turn east towards
Zahraa El Maadi. Follow this road for 3km until you come to a large mosque on
your right. Turn right after the mosque. Turn left at the Wadi Degla Sporting
Club. Follow this road and turn right before the Nissan Service Centre. Drive
until the Wadi Degla entrance. Taxi drivers in Maadi generally know how to get
there.
Wadi Degla is open every day until 6PM. Entrance costs
5LE for foreigners and 3LE for Egyptians.