Weekend Trips: Cairo's Weekend Warriors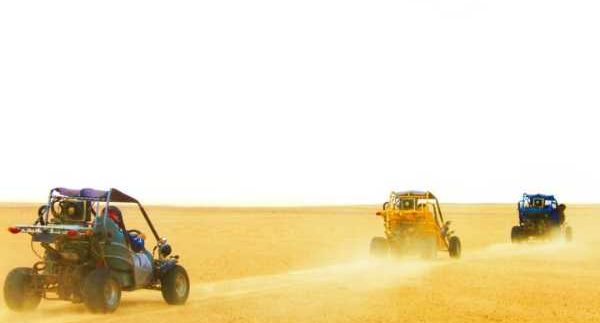 A cure for the common Cairo weekend has
been available for over a year now, but if you weren't one of the thousands of
fans of Cairo's Weekend Trips' Facebook page; then chances are you
didn't know about it. Until now.
To put it simply, Weekend Trips is a group of highly organised and
driven young professionals, the type of people you would expect to spend their
college days organising stuff. Instead of throwing parties, they organise day
trips out and around Cairo, with occasional excursions to Sinai and some parts of the desert.
Out-of-the-ordinary activities are their specialty; so expect hiking trips,
sand-boarding, camping trips and a smattering of water sports. The idea is that
we shouldn't spend our weekends rooted to the same tired couch or sipping the
same cup of coffee; but instead, we should try something new; something to get
our blood pumping.
Part of the reason that Weekend Trips has had such a success with its excursions
is because they draw upon the considerable resources and experience of the
parent company, Holiday Tours, which has been operating in Egypt for almost 40 years.
Weekend Trips' most popular excursions include their sand-boarding trips
to the Qattanaya desert. The organisers take care of everything, including
transportation, meals and necessary equipment. Weekend Trippers are often told
that the most important thing to bring is a camera, an extra t-shirt and
sunglasses. On each trip, team members are on hand to provide instructions and
training for the neophytes in both English and Arabic.
Weekend Trips has two Facebook groups, each limited to 5000 members to
ensure the quality of communication, as well as an email mailing list to notify
followers of upcoming events and trips. Each trip costs in the region of 200LE
to 250LE, depending on the nature of the
trip itself. While kite-boarding trips in Ras Sudr definitely cost more than a
horseback riding trip to the Pyramids; whatever the cost, the result is
virtually guaranteed 100% fun.
The Weekend Trips headquarters is located at 14, Alfy Street in Downtown with another branch at the Cairo International Airport Terminal 2. For further inquiries,
cal 02 2590 5289 from 10AM to 5PM, Monday through Sunday.