Summer is here and we're all thinking about where to head in order to have a great time. If, however, you're one of those people that like to think forward, let us tell you about a newcomer in the North Coast market that will surely make your eyes sparkle in admiration.
Landmark Sabbour is presenting its latest project in Egypt with the North Coast marvel, Zoya Ghazala Bay. Zoya is all about privacy and panoramic views; it understands that North Coast retreaters are looking for a place to relax affront a beautiful sea view, and as such, have brought in internationally acclaimed I. El Habrouk architects to master the whole development, ensuring maximum privacy and views for all of the units in Zoya Ghazala Bay.
When we first heard about the idea, we were especially intrigued by how they could pull this off. While most North Coast residencies focus on filling up the area they have with as many units as possible, so they can maximize their profits, Landmark Sabbour is focusing on maximizing enjoyment and privacy for the residents. Still, the massive 62-acre land area houses 360 units of various sizes and types, all enjoying a very impressive 420 square meter beachfront area.
So what will your unit look like? Well, first of all, you could choose from as small as a 100 sqm chalet that is as compact as it is enjoyable, to a whopping 375 sqm standalone villa that will rival the best of beach houses you've ever seen. The development has been masterfully planned in a manner that gives every home a private seafront retreat, redefining your idea of North Coast retreats and luxury living.
The units which will be designed will utilize massive windows to ensure maximum sunlight, and exposure to the beautiful views of green landscapes, blue skies, and an extending sea view. Some units will have spacious green patios or outdoor terraces, so you can relax with friends and family in a perfect private setting that embodies what retreating to the North Coast is all about.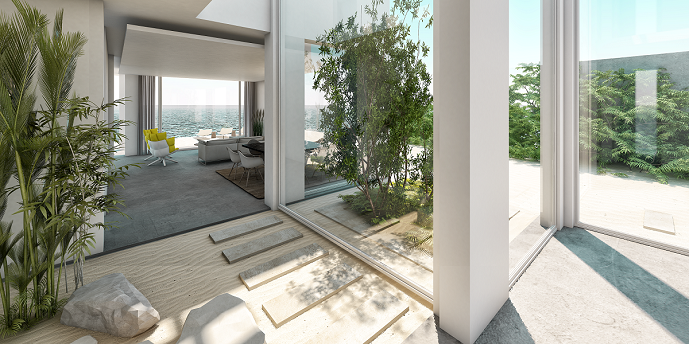 But what will the compound itself be like? Well, aside from beautiful landscapes, you'll have access to a diverse range of amenities and services including a world class spa and gym so you can elevate relaxation even further, as well as keep up with your training schedule. A number of fine dining restaurants will be available for a lavish night out, you'll have an entertainment venue to make things a bit more interesting, and a gourmet market so you won't miss your favourite grocery shopping items. The compound will also be home to a deluxe 380-room hotel.
We're betting you can't wait to get your hands on this place, but you'll have to wait for a little while. Units are available in different categories, and for a hassle-free option, you can purchase fully finished, air-conditioned units. The project is located at 142 km Alex-Matrouh Road, and the units will start at 2.65 million EGP. But don't worry, you can pay a 10 percent down payment right now, and pay the rest over the span of 7 years. Delivery at Zoya Ghazala Bay is scheduled for 2022.
If you're still pondering your decision, check out Landmark Sabbour's website, their Facebook Page, or call them up on 16295.