360 Essentials: Best New TV Shows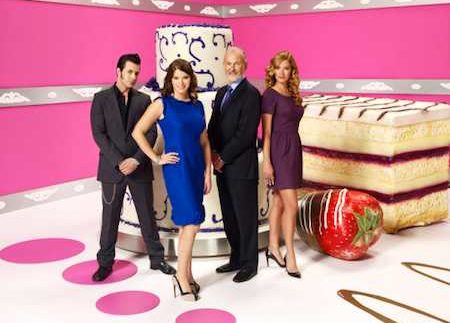 Autumn is always an exciting time in Cairo: the weather starts to lose
the heat of the Egyptian summer, the nights get longer and bring with them the
sophistication of dressing up for winter. For fans of television, it also means
that there is a whole slew of new TV shows to watch. Even if we don't get CBS
or FX on our satellite TVs, the internet allows us to keep up-to-date with the
latest shows from the US and Europe. Say hello to good entertainment, and
goodbye to your limited bandwidth quota.
Alan Davies stars in this British comedy about a fine dining chef
struggling with past relationships and brushes with Michelin Guide recognition.
The show's characters are colourful and funny in their own right, ranging from
the detached and slightly insane restaurant owner to the dysfunctional waitress.
There are moments of The Office-like awkwardness, but mostly
the humour comes from the intelligent interplay of characters, almost always
pairing up the straight man with the buffoon. This is comedy for foodies
without the food porn.
Donal Logue, the lovable obese pothead from Tao of Steve, takes centre
stage as a recovering alcoholic and former police officer-cum-private detective
in Ocean Beach, California. The show's opening theme is reason enough to watch
the rest of the show, which holds your attention by introducing short-story
arcs and identifiable moral dilemmas for the main characters.
While there are
elements of comedy; Terriers is, at its heart, a show about dealing with
loss and change, and ultimately; making amends.
Comically touted as 'the new Friends' in an episode of 30 Rock
(also on NBC), Outsourced revolves around Todd, a young
American executive sent to Mumbai, India to take over a customer service call centre.
While there are references to the wide-eyed American's marvel at the Indian
culture, it is more about the Indian employees adapting to the American culture
foisted upon them by their new boss. Hilarious turns by Diedrich Bader (The Drew
Carey Show) and a mostly Indian cast make this show worth watching.
Top Chef: Just Desserts – Bravo
When a reality TV fan dates a foodie, there is only one show that they
will end up agreeing on watching together: Top Chef. While this spinoff
of the popular series does not have the beauty of Padma Laksmhi or the gruff
presence of Tom Coliccio, it does have the sarcastic effervescence of Gail
Simmons, editor of Food and Wine Magazine. Watch her as she presides
over America's up-and-coming pastry chefs concocting new ways to end your meal.
Bravo is a network that does competitive reality shows well, as fans of Project
Runway will attest, and Top Chef: Just Desserts will instil a
newfound respect for pastry chefs as more than just sugar spinners and
bakeaholics.
Just starting its second season, Community is often overlooked to
the detriment of fans of good comedy. The premise of the comedy revolves around
a study group of misfits at a sub-par community college (a phrase that is
almost redundant in and of itself). Each character brings zany humour and quick-fire
one-liners to a group that society would deem as total losers at the game of
life.
The first season of Community is highly recommended; so that you
can get in on all the inside jokes and self-referential humour.
From the popular twitter feed springs a television show. How the show
was born is not important– we'll take any excuse to see William Shatner as a
cantankerous old man trying his best to shut out the outside world. These
attempts consistently fail after his youngest son moves back in, bringing a
whole new slew of changes from which there is no escape. Will Sasso (Lower
Learning) is particularly hilarious as Shatner's eldest son that is almost
incurably cheerful and excited.
This is recommended viewing for sure; but this TV
show doesn't seem to have the staying power to last more than a couple of
seasons.