360 Essentials: Ultimate Chick Flicks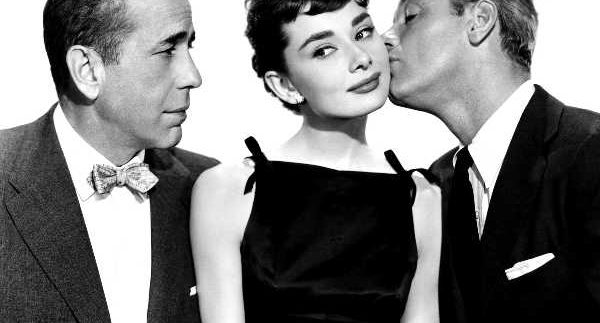 Cliché? Yes, but everyone's got their list and here is ours. So when you're in the mood to snuggle on the couch in your jammies with a bucket of ice-cream, pop one of these into your DVD player and you'll be guaranteed a cosy, entertaining night.

The Shop around the Corner (1940)
The endearing inspiration behind You've Got Mail has dapper James Stewart sparring with sharp-tongued Margaret Sullavan in a clever tit-for-tat that leaves us swooning. The film's endurance is in its details; two humble shop clerks living vicariously through pen pals who turn out to be each other, portrayed with authenticity and heart. "Take me out of my envelope and kiss me" says Stewart, and with that face, who could resist?

Sabrina (1954)
Is there a more stylish film? Sabrina is all the delightful girl fantasies combined: waif goes to cooking school in Paris and becomes an impossibly glamorous heart-breaker who sings 'La Vie En Rose' enchantingly and cooks a mean soufflé. All this while juggling William Holden and Humphrey Bogart. And who could forget the divine Givenchy dress from the 'Isn't it Romantic' tennis court scene? Impish Audrey Hepburn is flawless and perfectly elegant – we should all see the world through rose coloured-glasses.

When Harry Met Sally (1989)
This is the film that spawned a thousand Rom-Coms and confirmed Meg Ryan as America's sweetheart. The film follows the relationship of two strangers who share a road trip to college and agree to disagree, only to bump into each other years later and become friends. Witty banter ensues, including Billy Crystal's classic "white man's overbite" and Ryan's infamous diner scene.

Pretty Woman (1990)
A classic Cinderella story with a decidedly modern twist, Julia Roberts sets the screen on fire with her flaming red locks and leaves Richard Gere helpless in her wake. Her infectious trademark laugh steals the show and takes her from Hollywood Boulevard to Rodeo Drive and some serious shopping. Complete with knight in shining armour, most fairy-tales don't end as well as this.

A Walk in the Clouds (1995)
This much-overlooked, richly atmospheric drama traces the story of a beautiful young woman who finds herself in quite a predicament and needs the help of a handsome kind stranger. Keanu Reeves isn't the most emotive leading man but plays the strong silent role well and is really just a backdrop to the real star of the show, the Napa wineries shot so vibrantly. From the director of Like Water for Chocolate, the film includes a breathtaking butterfly wings scene.

Shakespeare in Love (1998)
Literary nerds, rejoice! This is how Romeo & Juliet was meant to be. The film postulates that the play may be based on reality, and Gwyneth Paltrow radiates as Shakespeare's muse Viola. The wonderfully witty British comedy incorporates elements from several of the bard's plays and a replica Rose Theatre was constructed for authenticity. The players are tender and passionate, and Dame Judi Dench plays a terse Queen Elizabeth, for which she won an Oscar. Shakespeare never looked so good.

Chocolat (2000)
Chocolat creates a captivating world filled with quaint little French towns and delectable confections. Juliette Binoche is her usual vivacious self, breathing life into a staunchly traditional community, and the eccentric characters who find refuge in her patisserie are right out of a storybook. Inhibition flies out the window and even gypsies make an appearance, lead by a sexy guitar-playing Johnny Depp with an Irish accent. The film will leave you desperate for some Mexican chilli-chocolate… and Johnny Depp.

Love Actually (2003)
Ten storylines spanning several countries and generations merge to create a vivid manifestation of the different aspects of love. The brilliant holiday film was an instant smash, and the multi-layered tale sees Hugh Grant as a Prime Minister in love, Laura Linney abandoning her hot Brazilian crush, and Liam Neeson's young son articulating his feelings better than anybody. Heart-warming and clever, this movie is a definite must-see.

Something's Gotta Give (2003)
Positively charming on all fronts, Diane Keaton is a striking playwright in her 60s toying with the idea of romancing Jack Nicholson, who's never dated a woman his age, while stealing the affections of a Dr Keanu Reeves. Scenes are filled with heavenly French music, and her amazing Hamptons mansion is every woman's dream, inspiring a home make-over phenomenon. By the writer of It's Complicated, the film is especially sweet for those with design sensibilities.

Pride Prejudice (2005)
Jane Austen had to make the list and none is more enduring than this novel of class, love and misunderstanding. The period costumes are more muted than in other films and one gets a sense of what it might have been like to live in England at that time. The relationships between the sisters is lovely, and the bitter hostility between Elizabeth and Darcy is too volatile to be believable, but with an ending like this: "You have bewitched me body and soul, and I love, I love, I love you", all is forgiven.

Julie & Julia (2009)
Julia Child was just someone generations of women watched on television, had a voice we all mocked, and used A Lot of Butter. This film celebrates her unconventionally idyllic life and shows her as full of vigour. Meryl Streep plays Ms Child ridiculously well, who, much like Sabrina, really did take cooking lessons in Paris. The luscious food will make your mouth water, and the refreshingly sweet, kind and supportive husbands will knock your socks off. Celebrating good men and happy marriages, the movie is touching.