Al Kahera Wal Nas: Cairo's Ramadan Series Master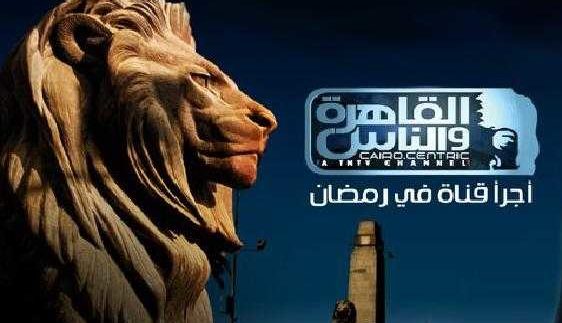 written by
Haisam Abu-Samra
Before Cairo
became the city of ten million satellite dishes, families used to gather around
the TV set every Ramadan to watch either of the state-run and ingeniously
titled Channel 1 or Channel 2. This post-fetar ritual became a yearly
television tradition. With the deluge of satellite channels, TV series and shows
became dispersed among different satellite networks, and the programming itself
was inconsistent to say the least. Gone was the unity of the experience that
brought us all together.
Last year, advertising tycoon Tarek Nour and his agency Tarek Nour
Communications (TNC for short) tapped into this vacuum and came up with a solution,
Al Kahera Wal Nas (or Cairo Centric); the one-stop
channel to end all perpetual channel surfing. This channel basically brought together
the most popular Ramadan TV series and talk-shows under one umbrella. Plus,
they produced their own edgy content as filler between the segments, which
proved to be as entertaining and popular as the blockbuster TV shows.
TNC are no strangers to television programming themselves: the agency has
been producing Ramadan TV shows for the last two decades. By the mid-2000s, TNC
had bought the entire post-fetar time block on the biggest two local TV
stations; so having their own channel seemed like the next step.
Al Kahera Wal Nas premiered in
2009, promising to air only the best in Egyptian TV and only for the month of
Ramadan. Billing itself as 'the most daring channel in Ramadan' because of its unprecedented
concept, the channel became arguably the most successful and popular TV
channel in Egypt. It aired not only the best TV shows, but also interspersed the segments
with commercials produced almost entirely by Tarek Nour's advertising agency; thus obtaining an enviable
stronghold on Egyptian TV. And true to its word; the channel
closed shop right after the end of Ramadan, promising to return in 2010.
How successful can a channel be if it only runs for one month? Well, committing to a seasonal schedule makes sense in terms of
credibility, and it's also economically viable: Ramadan advertising accounts for
60% of the TV industry's revenues. Plus having only one month of content to
produce allows for a higher budget and a better quality of production.
After gaining public attention last year with controversial and
star-studded talk show interviews by Tony Khalife and Lamis El Hadidy, Al
Kahera Wal Nas is back this year with an enviable line-up of all major TV
series, such as Al
Gamaa, Al Aar and Cleopatra.
Again, a buffet of exclusive talk shows (from gossipy to
in-depth-interviews) will be aired throughout the night after fetar. The highlight
is Tony Khalife's show (now called Belesan Moaredek, or In Your Opponent's
Words) that interviews celebrities such as Ragheb Alama, Carol Samaha and actress
Zeina, who
will open up for the first time about her sister's cocaine arrest – it's ok,
she got paid US$40,000 to ease the pain.
El Hadidy has been replaced by Wafaa El Kilany, another blunt hardball interviewer,
who has already made waves with her controversial interview with Ghada Abdel
Razeq. Last of all, renowned Lebanese journalist Nidal El Ahmadieh is set to interview
much talked about figures such as Rami Ayash and Susan Tamim's lawyer. All of
the top-notch dramas will be aired after fetar, with re-runs at noon the
following day. What makes Al Kahera Wel Nas a cut above the rest is its
censorship-free airing. As it's a private channel, it's able to air Al Gamaa in
its full, unedited version. The more controversial, the better, we say!
TV drama aside, the channel has produced its very own fawazeer
series with the always-bubbly Myriam Fares in Fawazeer Myriam. One wonders how many costume designers suffered
sleep deprivation as a direct result of working on this show. Each episode (or
riddle) is divided into three segments. First, you get to guess what line of
work Miss Fares got herself into. Second, Fares will bust a dance number and
you have to guess which country the dance came from. Third– and this is the
money right here – Fares recreates an old Tarek Nour commercial and you have to
guess (more like remember) the name of the product.
As for comedy, Mekki's Al Kebeer
Awi and its pop-culture humour is your best bet for laughs, while the
filler show Bahs Midan Zai El Assal
has been attracting a lot of viewers this Ramadan. The short segment consists
of a TV interviewer masked as a researcher asking random people on the street some
hilarious questions. As Egyptians, we rarely admit to not knowing the answer to
a question; and thanks to our amazing ability to make up stuff on the spot,
hilarity ensues on this show.
Stay tuned for extensive reviews all through the month of shows airing
on Al Kahera Wal Nas.