Every Thursday, we've been keeping you folks updated on the proceedings of YouTube views for the top male-lead and female-lead shows. Today, since we're approaching the end of the Holy Month, we thought we'd step things up a bit, and make our analysis even more comprehensive.
So, let us start with the methodology so you guys understand how we got the numbers. But before that, we must make the disclaimer of stating that YouTube views change by the second, so a few thousand views can be made from the time we fetch data for a show. However, you'll see that the differences are substantial enough to give a strong indication.
Our methodology was to fetch the exact number of views for each episode of the top shows from their main YouTube channels. This does not include Facebook views, or YouTube views of show highlights or summaries, but only YouTube views of full episodes. Since Ramadan's Nesr El Sa3ed take a bit more of time to upload their episodes, we counted only up to the 21st episode for all shows, despite most of them having uploaded the 22nd episode. Please bear in mind that this is not a critical review of the quality of these shows, but of their popularity according to YouTube views.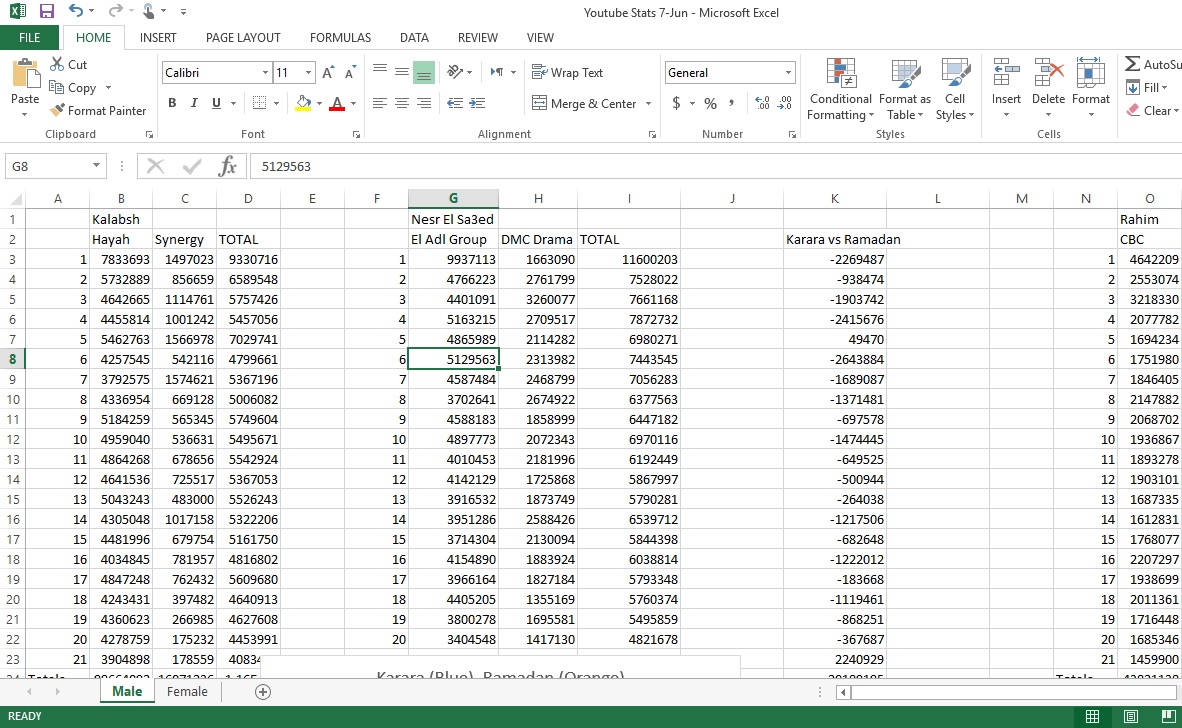 We've heard a lot of chatter about the great success of Ehab Galal's Rahim, so we decided to include it in the analysis to make sure we've not missed a contender. Rahim is the only show to be featured on three YouTube channels, CBC Drama, On Ent, and Egyptian Arts Group. From these three channels, Ehab Galal and co. managed to garner a highly impressive 99.6 million views for their first 21 episodes. A number that puts them in third place.
For the last few weeks we've been hailing Amir Karara's Kalabsh 2 as the most popular male-lead show, especially since it manages to maintain a very consistent and impressive number of views, opposite Ramadan's Nesr El Sa3ed, which declined significantly. This week, however, after summing the views of Amir Karara on Al Hayah and Synergy, we see that Karara has over 115 million views, a very impressive number that gives him a strong lead over Galal.
Yet, such an impressive number did not put Karara in first place, because Ramadan somehow managed to gain a 20 million lead over Kalabsh 2, by pulling off a whopping 135 million views on his two YouTube Channels: El Adl Group and DMC Drama. While Karara's main channel, Al Hayah, has a lead of around 6 million views over El Adl Group, Ramadan's main channel, it was actually the secondary channels that won the race, as DMC Drama got 42 million views, compared to Synergy's weak 16 million.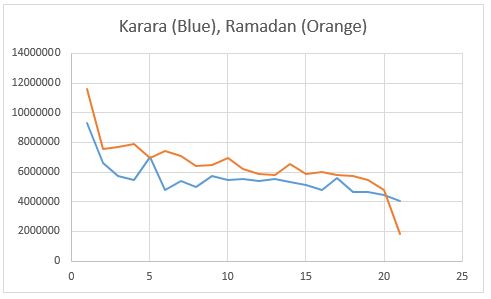 But the trend for Ramadan has been in decline since last week, and this week, it still is. Just take a look at the following figure. Nesr El Sa3ed suffered a huge decline after the first episode, which is common for all shows, but more significant with Ramadan's. And while both maintained a largely steady rate, Karara had a lot more peaks that still failed to put him ahead of Ramadan. But the warning signs are there with the last two episodes that show a steady rate for Karara, and a substantial decline for Ramadan.
There's been a lot of allegations circling, and mainly targeted at Ramadan. Many have doubted the sudden rise in views, and while it may be completely natural and legit, many believe it's down to purchasing of fake views, and they back their allegation by claiming that Ramadan's views have jumped by a whopping 15 million views in just one day. Karara is also not out of the woods, many have doubted that his name and stature could garner such a large number of views, especially with the huge difference between Kalabsh and Kalabsh 2, while on the other hand, Ramadan has established himself as a megastar in Egyptian Cinema and TV Drama.
So what do you think of all those allegations? Are they true, or is it just haters being haters? Do you think YouTube views are a true indication of popularity? Or is there a more accurate factor to indicate the success of a Ramadan show. In all cases, stay tuned for our upcoming article on the female YouTube battle!