Abdeen Palace: Cairo's Military Memorabilia at its Finest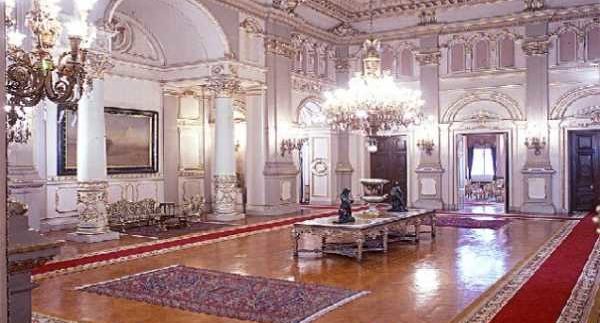 Many of us in Cairo don't
usually fancy looking at weaponry for hours on end, reminding us of all the
bloodshed in Egyptian history. Although we'd like to stick to the happier things in life, we heard
the sparkle and grandeur of this Cairene palace was something to behold. So, we decided
to man up and take a little trip.
Let us just say this: you can't miss it. As the official headquarters of the Egyptian Presidency where foreign dignitaries are received and ministers are sworn in, Abdeen Palace
itself is huge, taking up a four block radius on the East side of Downtown.
With enough guards to form an entire army, the amount of doors may have you
confused as to where the entrance is.
Head to the ticket booth on Gamaa Abdeen Street, where tickets cost
15LE for foreigners (10LE for student ID holders) and 3LE for Egyptians (2LE for student
ID holders). The entrance lies directly across the street. Warning: Guards will not
budge on the palace's policy of not allowing visitors to enter with any kind of
camera device, including mobile phones with cameras.
Once inside, you will be blown away by the pristine, sprawling
lawns lined with perfectly trimmed hedges, flowers, fountains; beautiful and
perfect for a sunny day.
Designed by French architect Rousseau, the palace was officially opened in 1874 after ten years of construction. Originally built to be the centre of the royal court, Abdeen Palace has obvious medieval influences with its intricate cuts in the entryways and
supremely organised layout.
Though the palace has 500 rooms, don't feel too
overwhelmed; the museum doesn't cover them all. The various halls are nicely
labelled and provide a clear path for your museum viewing route. Upon entering
each hall, security is tight and each piece is organised by number and
description accordingly. Carpets are perfectly arranged, while each hall is
immaculately clean.
As President Hosni Mubarak is the last president
to actually reside here, a vast majority of the museum is
dedicated to him. The Mubarak Hall contains case upon case of gifts received
from leaders abroad, dating back to the 18th century– the gifts, not the leaders– all in the form of
weapons. The elegance of each piece took us by surprise, from ivory encrusted
pigeon-head handles to an absurd number of refined jewels.
Don't miss the Arms Hall, which contains interesting and– dare we say fun– objects on display, including King Farouk's button collection.
You will also find model Pharaonic crowns, beautifully painted cigarette
snuffs, and a vial made of crab claws; all belonging to the collection of Rateb
Pasha. Dating back to the late 17th century, a German sword decorated with precious
stones and polychrome enamel is located in the centre
of the room.
Did we mention the magnitude of the weapons in this
place? Among the collection of single shot revolvers, machine guns, and a
blunderbuss here and there; make sure to check out the bronze bust of King
Farouk, which seemed a strikingly accurate portrait.
Other halls on site include the Silver Museum
and the Presidential Gifts Museum as well as the Historical Documents Hall,
which was closed at the time of this reviewer's visit. If you're in the mood for a history
lesson of weaponry in Egypt
and a serious collection of Mubarak memorabilia; you won't be disappointed by scouring
the exquisite grounds of Abdeen
Palace.
The museum is open from Saturday to Thursday, from
10AM to 2PM.