Al Masar Gallery: 'Nostalgic Dreams' by Georges Bahgory
157 B 26th Of July St., Floor 0

11AM-9PM, Fridays by appointment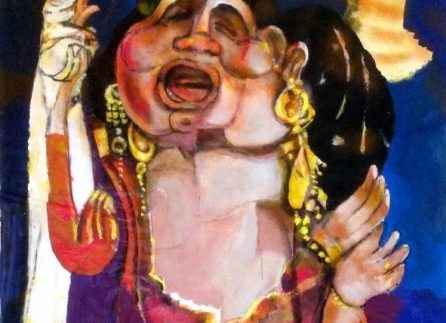 Born in Cairo in 1932, Georges Bahgory has, for a long time, stood as one of Egypt's most significant artists during his time. Based in Paris since 1970, Bahgory continues to spend several months a year in Cairo, where he draws inspiration for his witty political caricatures along with paintings, drawings, pencil sketches and sculptures.
As the title of his latest exhibition 'Nostalgic Dreams' suggests, the collection shown at Zamalek's Al Masar Gallery is inspired by Bahgory's memories of days gone past. Not drifting far from his usual motifs, the works feature many individuals seen on the streets of Cairo such as a bread seller, or a coffee shop patron.
There are numerous pieces that feature musicians, such as 'Serenade', 'Chanting' and 'Oriental Quartet'. In these paintings, he has placed specific attention on bringing the musical instruments to the limelight. In addition, there are yet more paintings depicting Oum Kalthoum, whom he is known to be rather fond of.
Evidently, the years have given Bahgory refinement, vision and mastery of colour. From the outset, the canvases feature bold, violent paint strokes, but on closer inspection, there is delicacy beyond; he takes the time to smudge and blend his paint so intricately that the details remain subtle whilst managing to fill the pieces with motion.
'Nostalgic Dreams' sees copious use of traditional khayameyah fabric. 'Dervish Dancer', for instance, is almost completely composed of the fabric, whilst 'My Reincarnation' features a blue woodpecker, coloured by the khayameyah print, perched on Baghory's head. The traditional print has a profound presence in the paintings and is heavily reminiscent of Egypt, bringing an air of homesickness to Bahgory's work.
As previously mentioned, Baghory's sense of humour has him casually depict himself in many of his paintings. Whilst he tends to draw his facial structure and hair with an impressive degree of accuracy, he chooses to exclude his eyes. In 'Me, My Friend & the Monalisa', the viewer sees Bahgory alongside a similar looking man to his left while a figure – hinting at the Mona Lisa – is casually included in the bottom right corner of the painting. Aesthetically pleasing and quirky, this painting left us curious as to what inspired it.
As a very vivid and colourful collection, 'Nostalgic Dreams' is another example of the immense talent and timeless nature of Georges Bahgory's work; but beyond his technique, it's the exhibition's quirky nature and depth that truly shine.