Al Masar Gallery: 'Vitality' by Essam Darwich
157 B 26th Of July St., Floor 0

11AM-9PM, Fridays by appointment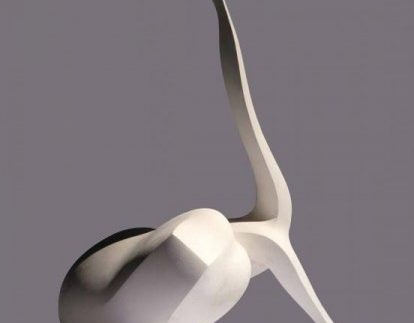 Based in Cairo, Essam Darwich is a prominent Egyptian sculptor who also works as a professor in the Fine Arts Institute's Department of Sculpture, all the while producing new collections for exhibition.
Born in 1970, Darwich is one of the younger members of the Egyptian modern art movement. While he has been celebrated locally for his talent and contributions to the Egyptian art scene, his talent has seen him exhibit his work abroad, in China, Serbia and Yemen.
His local recognition and ability to produce large pieces with accessible, visual appeal has seen his work erected in the centre of Lebanon Square in Mohandiseen, while his award-winning statue of veteran Egyptian footballer, Saleh Salem, can be seen at Al Ahly Club in Zamalek.
Held at Zamalek's Al Masar Gallery, 'Vitality' is a self-referential collection that addresses Darwich's craft.
Believing that shapes are the essence of sculpting, Darwich feels that form is constantly changing and struggling to establish a notable presence under the hands of a sculptor; therefore he attempts to celebrate different shapes in their original form in his sculptures. Seemingly, the exhibition is the artist's self statement towards his art, through his art.
Seeing that plants go through a similar transformation during the germination phase, Darwich has used them as a metaphor in representing the struggle of shapes as they change and develop. Those used include the wheat germ, a bean and lentil, amongst others, whilst parts of the human figure and felines are also used to represent the same theme.
Two pieces, titled 'Growth 1' and 'Growth 2' shows young beans sprouting, both of which are elegant and stylishly modern. 'Lentil' is similar but larger, carved from blue tinged granite.
From an aesthetic point of view, Darwich has used high quality bronze, nickel with silver, bronze, polyester and granite, resulting in minimal, bold statements that attempt to expose the origins of sculpting. Unrelated to the main subject, his renowned sculptures of Om Kolthoum and Sayed Darwich are also on display.
In 'Vitality', Essam Darwich's style is modern and eclectic, with finely polished and curvaceous pieces. Collectively, the pieces will be attractive to those that appreciate contemporary art, however, classic sculpture enthusiasts may be better off looking elsewhere.