Amir Taz Palace: Coptic Art Revealed
27, Al-Syoufiya St., Al-Khalifa district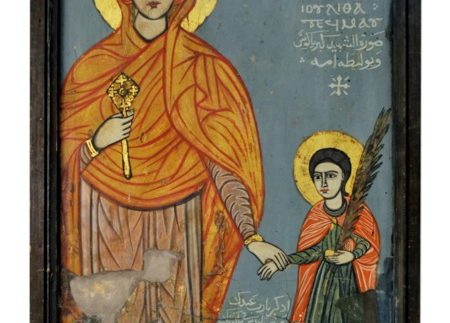 Egypt's past is not a one-trick pony. As part
of what continues to be a long, diverse history, the Coptic period is often
lost amidst tales of tomb curses and animal-headed gods. It may have been a
brief era in the grand scheme of things, but the art produced in said period has
been collected from eight different museums across Egypt including the Coptic
Museum, the Museum of Islamic Art, as well as the Bibliotheca Alexandrina, and assimilated into an exhibition called Coptic
Art Revealed.
The choice of the
Mamluk Palace of Amir Taz in the khalifa area is an uncharacteristically subtle
statement of presenting Egypt's history and art in spite of any
narrow-mindedness that may exist even now; and it is welcome, but more so because
of the aesthetics of the palace itself. Despite having been damaged extensively
in the 1992 earthquake, a reported 16-million-LE renovation has transformed the palace into a first-class venue.
The gallery
itself starts you in a baptism of fire. Images of the Virgin Mary and the Holy
Family are displayed within a circular stage surrounded by glittering pearl-white
twine draped from the ceiling. The way that even a gentle breeze parts the draping
gives this section a magical quality not afforded to any other element of the
exhibition. You won't even mind parting them yourself, like opening a curtain
to reveal a treasure.
From then on in,
visitors will need to rely less on their perception of how pretty things look,
and more on their comprehension of the items' historical significance. The exhibition
tries to tell a tale of Egypt's history,
and it does it well. Visitors should not be disappointed by the prospect of seeing
a piece of linen, a comb, or a jar; every piece is uniquely and intricately
made, and just as uniquely and intricately put into a bit-sized context.
Don't think of this as another exhibition at
another gallery, but as a small travelling museum. The two hundred or so pieces
are combined in a well-thought-out way, which allows visitors to absorb the
narratives of a time that historians found difficult to pin down to exact dates,
a time that holds deep resonance and relevance to the history of Egypt.
Exhibitions like Coptic Art Revealed
are as meaningful now to Egyptian art as any nouvelle vague of local art in Cairo.