Art Corner: 'Colourful Passion' by Hanan Ghanem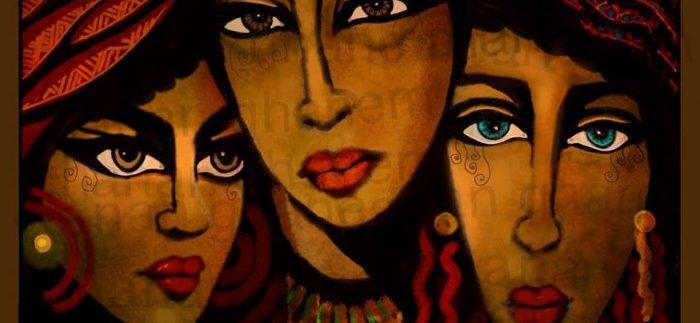 Hanan Ghanem's 'Colourful Passion' is the latest exhibition in Cairo to demonstrate that Egypt is not only brimming with talented artist, but that said artists form an eclectic and evolving scene.
Born in Alexandria in 1972, Ghanem graduated from the Faculty of Fine Arts Alexandria. Having held several solo and group exhibitions in Cairo and her hometown, her latest collection, 'Colourful Passion', displayed in Zamalek's Art Corner Gallery, explores a reflection of her identity with passionate colours and a world within a canvas.
While her inspiration for this particular exhibition was the January 25th revolution, 'Colourful Passion' conceives a notion of a force and vigour that woman – in the collective sense – reaps through adversity
Infusing an idea of female sentiment in all of her pieces, Ghanem's paintings are all painted on large canvases, almost life-size.
Showing both struggle and beauty, her large canvases show faces of diverse women from different cultural backgrounds, reflecting expressive features and symbolic fine points using a combination of radiant and gloomy colours.
With exceptionally diverse imagery, Ghanem's unique talent lies in her ability to create life-like narratives with a twist of illusion.
One of the larger canvases stood out, taking on a pitch-black background and sinister looking figures in natural colours. A large face with attractive Arabian features, piercing eyes detailed to the point where it feels like they're staring back at the audience with an expression of grief.
Highlighting the borders of the piece was blue-azure smoke, portraying a spiritual essence. The whole piece was rather unnerving but flares with talent.
In another painting, her use of colour blasts more intense and passionate vibes featuring another engaging feminine character with ice-blue eyes. The face is eclipsed with dark shadows and vibrant shades of red and orange, giving a dramatic effect. While the piece itself is complex with details and outspoken with colours, it dominates the rest of her work and may slightly overshadow it.
Ghanem's pieces combine intensity, beauty and a dramatic use of colours which all come together to make very individually-engaging artworks.