Art Talks: 'Beauty & The Beast' by Sabhan Adam & Hossam Dirar
11AM-8PM (Fridays from 3PM-8PM)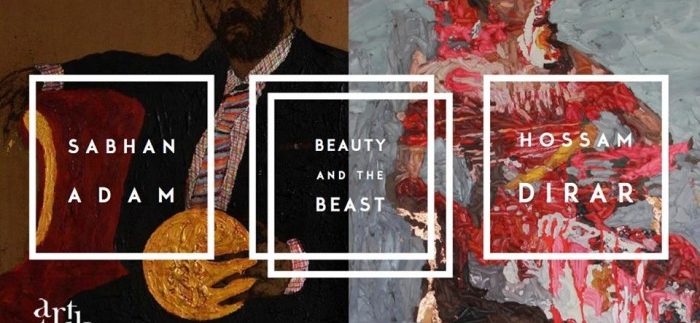 While art is rampant across Cairo's galleries, rarely does an exhibition manage to take our breath away. 'Beauty and the Beast' – a dual exhibition of 'The Beast' from Sabhan Adham, and 'Beauty' from Hossam Dirar – is a demonstration of jaw-dropping talent, perfectly intertwined at Zamalek's Art Talks.
Born in Syria in 1973, Sabhan Adam is a self-taught artist and has exhibited his works extensively worldwide. Unleashing his pain and anger onto paper, Adam reflects the suffering and events happening in his homeland, resulting in dramatic, awe-inspiring portraits.
Largely using mixed media on canvas, the majority of his paintings are large and almost life-size, looming over the audience in a menacing manner. His figures are half-human and half-animal; while the clothing humanises his characters, the faces are scribbled and sketched, appearing with animalistic features.
Some of the faces sport icy blue eyes, but lack any other colouring, while the clothing is colourful, often incorporating captivating glitter and gold accents. In one of his paintings, a man-beast sits condescendingly, cross-legged and confident in a colourful suit, tie and formal shoes, his fingers long and spindly, with piercing blue eyes. In another, a man-beast is dressed in what appears to be a galabeyya. Disturbingly, the face of this piece is distorted, with an extra eye and nose, and splatters of red paint dripping from the mouth.
Had the exhibition been solely made up of these beautifully ugly depictions, the collection may have felt a little too intense and hard-hitting. It was for this reason that his paintings were hung alongside Hossam Dirar's contrasting collection.
Born in Cairo in 1978, Hossam Dirar is an award-winning graduate of Helwan University and has since also exhibited around the globe. Depicting beauty on the surface, Dirar's work follows society's, and his own, definitions of attractiveness.
With the aim of capturing unique identities, his subjects are often passersby; women he sees whilst going about his everyday life. Fragmented, without too much emphasis on their features, Dirar attempts to radiate their beauty and personalities from within, quickly, so that the memory of the moment doesn't fade.
His large canvases show the heads and bodies of beautiful women, blurred behind a collage of audacious paint strokes. His work is pleasant, attractive and easy on the eye, using a rainbow of bold, cheerful colours and thick, textured layers of chunky acrylic paint.
Despite being visually similar in technique, each painting manages to give off a different vibe; 'I Think We Met Before in My Dreams' exudes a kind of peaceful, dreamy innocence, whilst the mesh of creams, oranges and burnt autumnal colours give it a fading, calming feel. In contrast to this, 'Mirror Mirror on the Wall' boasts the most intense stare, along with a stern expression.
Alongside the main exhibition, several abstract sculptures from the acclaimed sculptor, Sobhy Guirguis, are displayed in his memory.
Beauty And The Beast puts a fresh new, realistic and artistic twist on the innocent childhood fairytale. Both artists are undeniably talented and their works fit together flawlessy, making it one of the most visually and theoretically stunning collections we've come across.